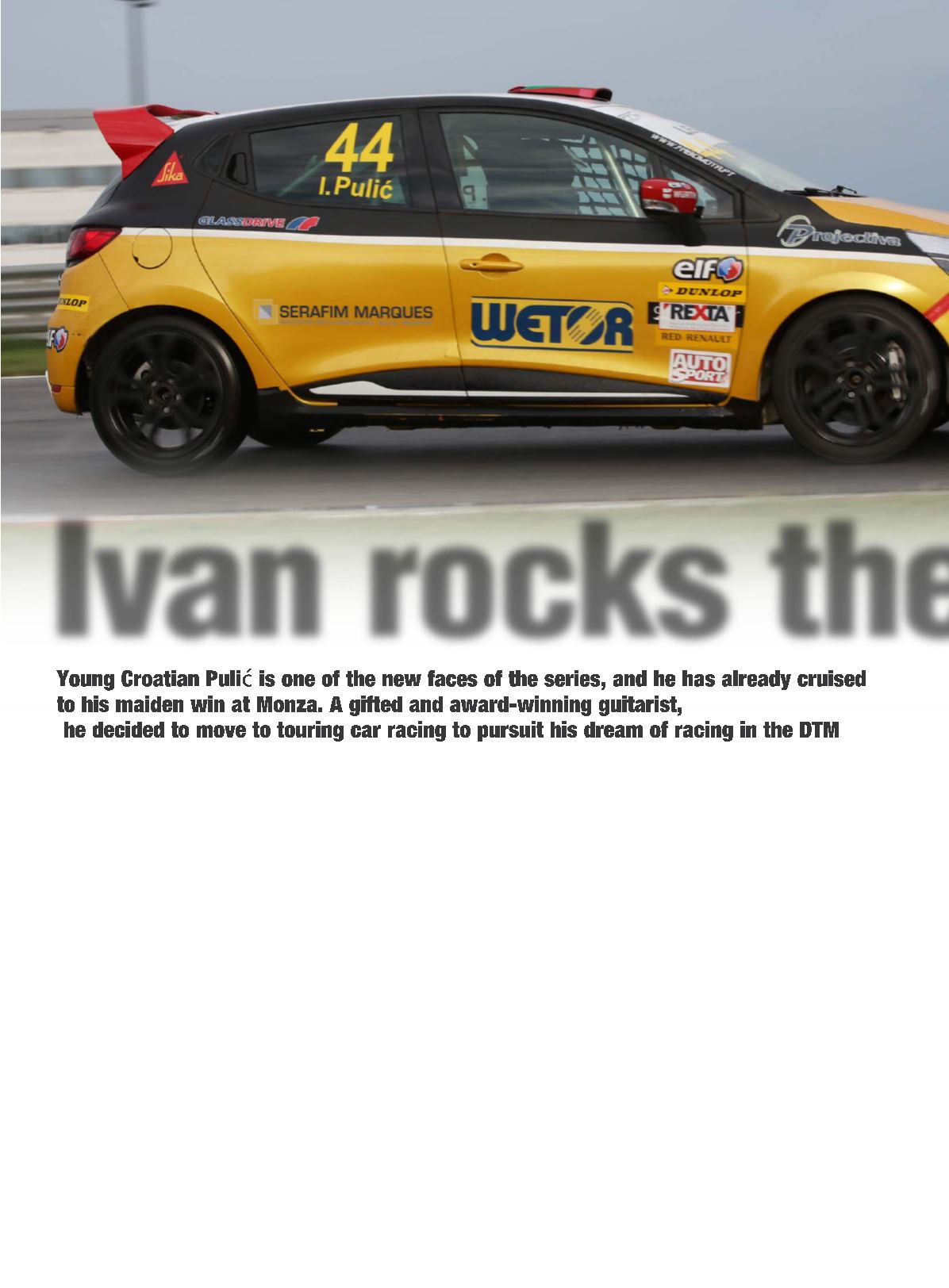 is one of the new faces of the series, and he has already cruised
to his maiden win at Monza. A gifted and award-winning guitarist,
he decided to move to touring car racing to pursuit his dream of racing in the DTM
cruised to his first win in the
Clio Cup Italia at Monza after having had
a first taste of victory in last year's Clio
Cup. Despite he his father is also
involved in racing, Ivan got a late start
compared to many of his rivals but now
he wants to catch up and become a
professional. We asked him about his
goals, his experience so far and why he
chose the Fast Lane Promotion series.
Why did you choose the Clio Cup
"My father is a three-time FIA Hillclimb
champion and he still is a very strong
racer. There are some top hillclimb races
in Italy so racing in the Clio Cup Italia
was a good compromise in terms of
logistics. Also, in addition to the Italian
championship, I also take part in some
Your father is also a racer, you
should have started racing as a kid,
"Actually, no. I've always loved to play
guitar so I focused on that. In 2007 i
entered a competition among Croatian
guitarists and I ended up being the
number 1. After a bit, I woke up and I
thought that I was already a number one
with guitar... so I told my father that now
I wanted to be number one in car racing
So no more guitar for you?
"I still play, but nothing at professional
level because I don't have the tim. Now
I'm fully-focused in becoming a
successful racing driver. I started with
some hillclimb races at 16 then I moved
to touringcars, becoming the youngest
Croatian Champion in the Fabia
Biodiesel Cup. Now I joined the Clio Cup
because I want to become a
Not having raced go-karts, it's very
important to learn how to battle in
close quarters. Do you think that
the Clio Cup can teach that aspect?
"Definitely. I think that in terms of
managing battles the Clio Cup has no
rivals in developmental racing. Also,
often the challenge on-track in much
closer than many other and more
famous championships. It's a very good
compromise and it teaches you things
that are definitely going to be useful in
the rest of your career".
Do you like the new Clio Cup car?
"Even if there isn't an huge difference in
terms of performance, the chassis of the
new Clio is very good. But I have to say
I'm a little traditionalist. I like old stuff. So
while the paddleshift and ABS work great,
I prefer the old style, the classics.
Regarding the new turbo engine, I quickly
figured it out. I started my career with a bi-
turbo diesel car, so managing high loads
of torque is not a problem anymore".