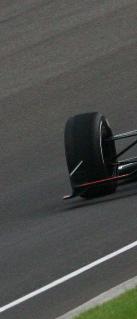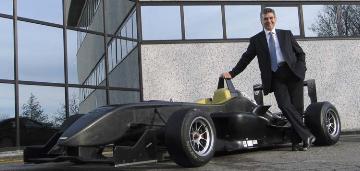 4
to China, surprisingly passionate about
motorsports during last year's F.1 event.
The other area of interest is the Middle
East, where motorsports are already very
popular, as can be seen from the number of
circuits in the Emirates. Our aim in these
new countries is to create a development
path for young drivers, starting with the
training championships, with the ultimate
goal of making it into F1 or Indycar".
With the birth of Mondiale Endurance
will we see Dallara increase its
consultancy commitments to this category,
which seems to be able to attract interest
from so many important International
"This is a very important area for Dallara.
We are already involved as consultants and
manufacturers with the big names.
Increased interest in this type of activity
can only mean greater commitment for
Let's talk about the simulator: are you
satisfied with the technological boost and
the benefits it has brought to Dallara's
"We didn't really dwell too much
on the aspects concerning our image.
I'm very satisfied with the technology
because it helps our engineers to improve
their knowhow: we now have a much better
idea of the interaction between the various
components of a car (engine, weight,
aerodynamics, etc.) The simulator provides
us with realistic simulations before we
start building the car, and this helps us to
determine the best package, and hence
What's the verdict of people who have
"Everyone remarks on the instrument's
versatility, its similarity to real track
conditions, and the negligible differences
in the lap times between the two.
It is also proving to be a useful tool for
both the major OEMs (engine, electronics,
tyre and car manufacturers) and the racing
teams, enabling them to test different
setups and/or solutions, and evaluate how
the vehicle reacts to modifications.
And let's not forget the drivers who now
have the chance to train with new cars and
on new tracks, and improve their
understanding of the car's dynamics
through interaction with the track
The dramatic incident at Las Vegas
demonstrated that it is always possible to
improve safety. What developments can
we expect to see in this area, which has
always been so important to Dallara?
"Dan Wheldon's accident shocked us
profoundly and reminded us just how
much there is still to do in this sport,
which is, by definition, dangerous.
The new Indy car, which Dan helped to
develop, includes a number of features
designed to increase safety.
Safety is a continuous commitment and
should involve all the stakeholders; the
circuit designers, the organisers, those
regulators and the drivers themselves must
share the same objective: to reduce the
risks, which are always present".
"Dan Wheldon's accident shocked
us profoundly and reminded
us just howmuch there is still to
do in this sport, which is,
by definition, dangerous.
The new Indy, which Dan
helped to develop,
includes a number of features
designed to increase safety"