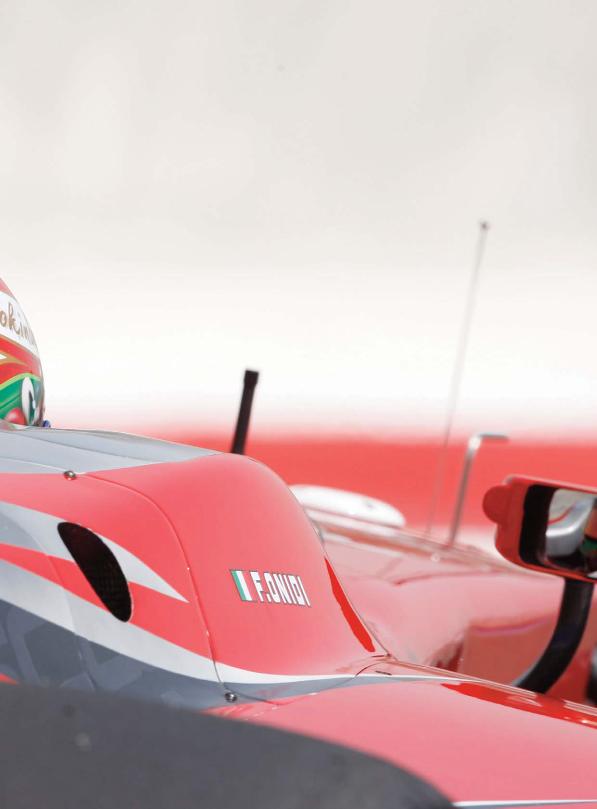 11
You finally made your GP2 debut, what
do you expect from racing in this
"Surely I'm extremely happy to be in GP2.
I had been trying for several years, now I
found the right budget to do it and I can
say it's a really demanding category, with
a bunch of great drivers. A category
where experience counts a lot but I race
with a great team like Coloni and I think I
have all the best possible chances to do
well. In the first three races we faced
some issues but now we're improving,
finding the right pace. We'll be able to do
well in the next few races".
What are the car's strongest points in
"It's a really powerful car, demanding and
complete. In the past years I raced in
Formula BMW, Formula Renault, AutoGp,
tested in the World Series, and this is the
most complete racecar I've ever driven. It
incredibly rewarding for a driver and it
teaches you a lot. It can also become
incredibly helpful when approaching
What is the feature that suits your
"It gives me positive feelings in almost
all compartments. It has great brakes,
I like the engine's torque curve and more
than that it's a car that must be driven
clean, without overreacting. Usually I
have a pretty delicate driving style and I
found myself really well-suited".
"Not at all, it's a little more complicated
but that's right. I think that with
some good technicians a great balance is
If you could suggest an improvement
to the Dallara engineers what whould
"Maybe I would like an even more aero
Are you and your team satisfied of the
assistance provided by Dallara?
"From my perspective, yes, completely.
And since I never heard any kind
of complaints I'm convinced that the
team is very satisfied too, also concerning
Are you looking forward to make your
way to Formula 1 or you have alternative
"My dream is definitely to get to
Formula 1. Everybody knows how little
chances are available though, especially
seen how Italian drivers are considered
How can you explain the lack of Italian
"I have been asking myself why.
I don't think that Italy is lacking good
drivers, not by any chance. For us is
definitely bad. Maybe we gave
ourselves a bad name, or there's not
enough interest. It's also due to the lack
of institutional support. The German
manufacturers give a great support to
their drivers. We have Ferrari, but they
don't seem interested in having an Italian