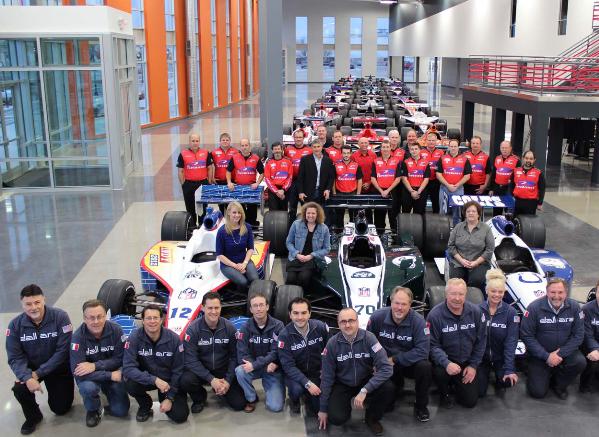 8
and we have already sold 55, which
demonstrates the accuracy of our sales
forecasts and that, despite the current
economic crisis, interest in this sport
The total investment amounts to 12 million
dollars; after the Indy 500, which represents
the highpoint of the Indycar manufacturing
activities, and once the new building has
been completed, we will decide what steps
to take next: the intention is to evaluate
other businesses where Dallara's unique
skills can make the difference".
What developments are you planning for
the entertainment sector with your partners
at Indy Racing Experience?
"We have received numerous ideas, and it's
important that we make a fast start. We
should be ready for the inauguration of
the building by the beginning of May. We
have already contacted a number of
catering firms: we would like to create an
"Italian style Starbucks" offering made in
Italy products (coffee, pizza, ice-cream
etc…). And then there's the interactive
museum project: we want to present how
an Indycar is born in an entertaining way,
using images, sounds, multimedia displays
and games to illustrate the dynamic
principles of the car, as well as other
aspects such as simulations, aerodynamics,
design, structural analysis, quality control,
The content may vary and be updated so
that, rather than remain static, it
continues to offer an insight into the
present and future of racing cars.
We expect it to be a big hit with the fans,
there is a lot of enthusiasm for the idea".
Since the first stone was laid, what have
been the reactions from the American
motor racing world that made the biggest
"Without a doubt the way our neighbours at
the Speedway made us feel welcome. We
were already well-known in the motor
racing environment, but we were also made
to feel at home by ordinary people, and this
makes it much easier to go about your daily
business. The locals are cordial,
spontaneous and natural: they go out of
their way to make things easier for you".
How is you relationship with the Speedway
administrators and the local authorities in
"Excellently, there is a continuous exchange
of information. Mitch Daniels, the governor
of Indiana enquires directly or indirectly
about the current state of our activities on a
Did you organise anything to mark the
46th Superbowl, which was held in
Indianapolis for the first time this year?
"Our partners at Indy Racing Experience
came up with the idea of preparing 33 cars
with the colours of the 33 teams that
compete in NFL. These included the two
Indy 2012 show cars, in the colours of the
two finalists, the Giants and the Patriots.
Initially, the cars were lined up on a
starting grid in our building, then
transferred to the centre of Indianapolis,
before being distributed to 33 different
points around the state of Indiana two or
three days before the Superbowl.
It was an enormous success with the public
and fans, attracting large numbers of
visitors throughout the day. The marriage of