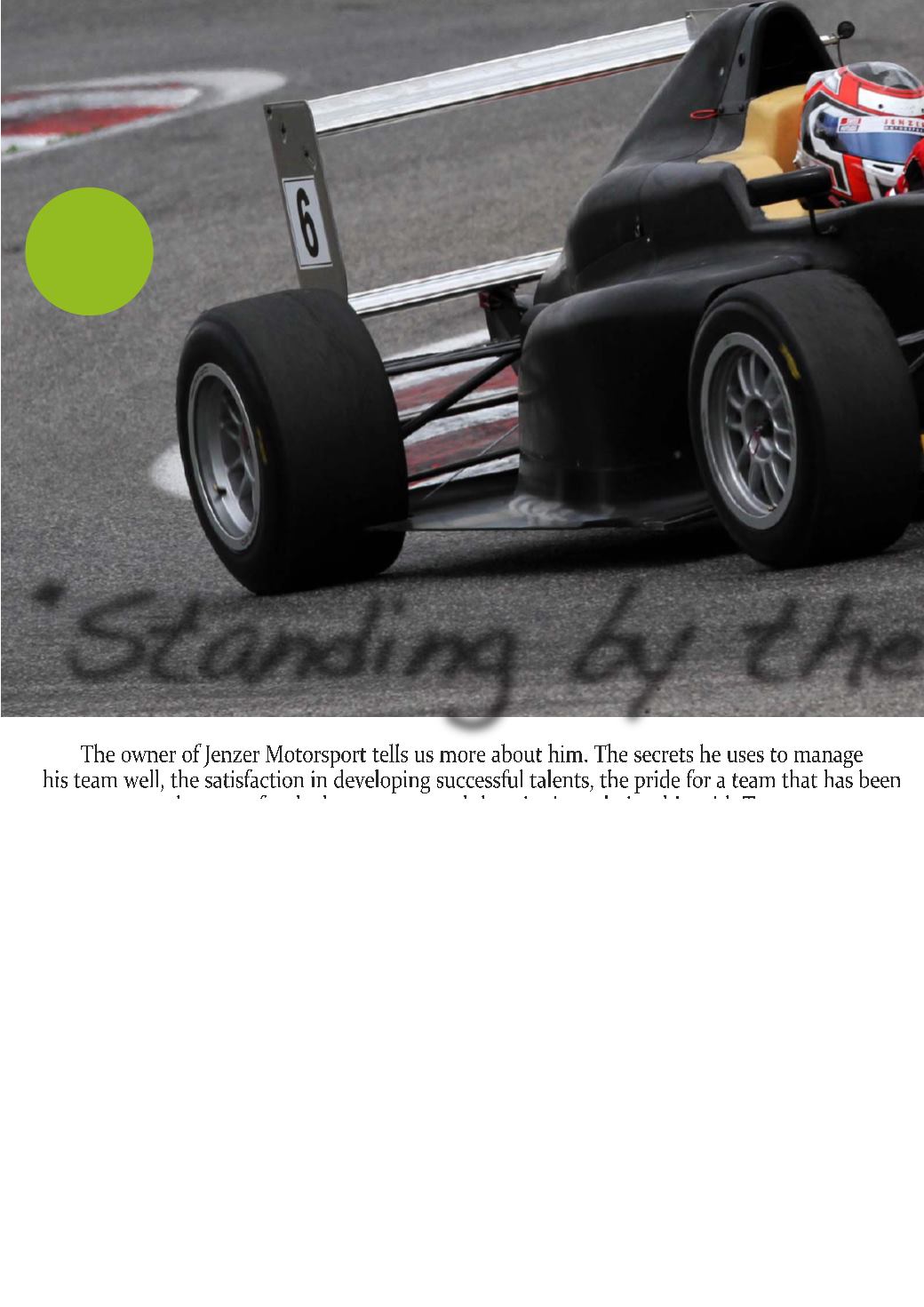 30
by Antonio Caruccio
Are you excited for the new challenge in F.
4?
«I would not say excited. We have been racing
with our team for the last 22 years. But we are
happy because the Formula 4 project is a new
step in motorsports. We're glad to be part of
What was the element that persuaded you
to join this brand‐new series?
«It has been a good decision, taken in an effort
to reduce costs. The car requires a reduced
budget, and the same goes for the spare parts.
The limited amount of test is good too as well
as the support given to the teams for taking
part in the championship. The open‐wheel
school is the best one to develop the drivers
who aim to be professionals, and the Formula 4
is the first championship they'll line‐up in».
Jenzer Motorsport has a long‐standing
relationship with Tatuus. Can you explain
why? What are the strongest points of the
Italian company?
«Tatuus is definitely the best small
manufacturer around. They are extremely
professional and they do things in a simple
manner. In many years working with them, we
never had problems or delays in the deliveries.
The few issues we experienced were promptly
When your first contact with Tatuus
happened? Do you remember a particular
episode?
«It was 1998 and we are talking about Formula
Ford. It was the first car we bought from them.
From that point on, we always worked
together. We followed the Tatuus policy with
the agreement for the Formula Renault 2000
with Renault sport. The same happened with
Can you talk about your experience in
F.Abarth?
«From a technical standpoint,
we didn't have a single technical issue with
the chassis. Things might have
followed a different path in terms of the
organization, while the details that "ruined"
some of the factors regarded the engine and
gearbox. But the chassis constructor has
nothing to do with the hiccups, as the
components came from external
The owner of Jenzer Motorsport tells us more about him. The secrets he uses to manage
his team well, the satisfaction in developing successful talents, the pride for a team that has been
on the scene for the last 22 years and the winning relationship with Tatuus