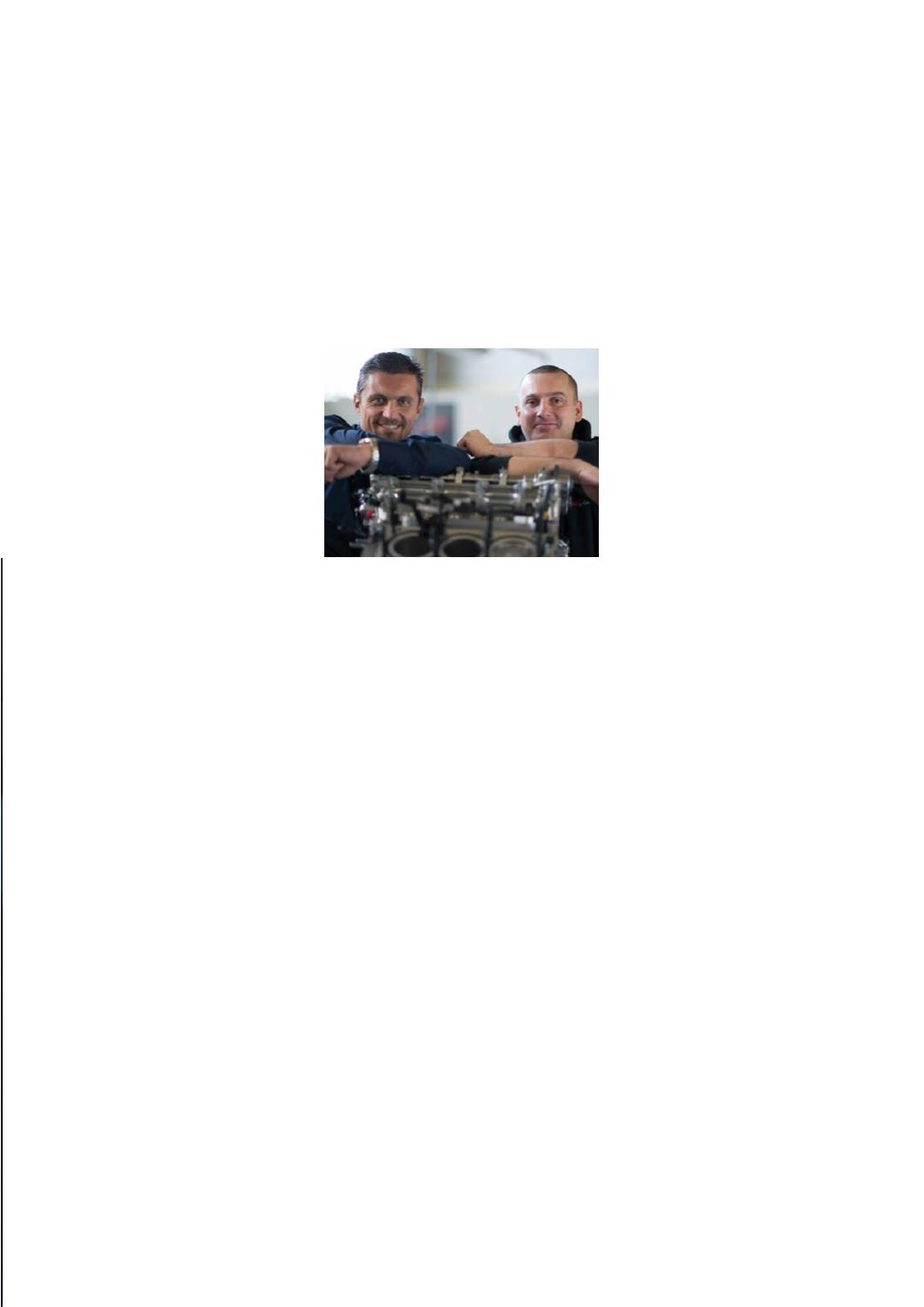 27
bi Stefano Semeraro
How much important have been, in your
personal history, the experiences with
Ferrari, Alfa Romeo and Abarth to face
your current challenges?
«I was born in Arese so every time I woke up
in the morning I saw the Alfa Romeo banner
and that helped me to decide what I wanted
to do as an adult. As for most part of the
engineering students, one of the biggest
ambition was to find a place in motor racing. I
graduated while I was already working for Alfa
Romeo in the production department, and
while I was researching for my thesis and do
internship I was lucky enough to get in touch
with the racing department. It wasn't internal
but demandate to N.Technology which was in
substance the Alfa Romeo work group for
racing. In 2001 I was asked to join
N.Technology and that's how it all started.
Alfa Corse managed the the activities of Fiat
Group which were ‐ if we exclude Ferrari ‐
concentrated on Alfa Romeo and touring cars.
I immediately asked to be directed to the on‐
track activities, and due to the lack of
personnel in that field, I was asked to enter
the group.During that period I had the chance
to develop, together with Ferrari Corse Finite,
a GT car, the 550 then 575 GT. Working with
Alfa Corse and Ferrati Corse Finite, I learned
how to approach technology and its problems
in scientific way. Nothing was left to fate and
everything need to be tested, analyzed and
tested on‐track again. For me, it's been
important to learn new methodologies that I
then put in practice in my following
experiences. When I face a new challenge
today, I know how to start ‐ and continue ‐
and it's tanks to those years».
How Autotecnica started and in which
fields it operates?
«Back in the days of Alfa Corse and
N.Technology, the race engines fitted in the
cars of Tarquini, Giovanardi, Farfus came from
Autotecnica, which was founded by Edo
Riboldi and Roberto Federici. Being in the on‐
track crew, I got acquainted with Riboldi. I
collaborated with him on the track an at his
headquarters. Then when the two
shareholders decided to stop, but they also
wanted the company to go on so relied on me
and my current partner who is the Renzo
Federici, son of Roberto. The other great
lesson taught me at Alfa Corse was that there
are management roles and tasks to respect.
Having with me a partner that takes care of
the operative part, the building process and
the decisions in the test room, it's vital for me
as I can focus on the strategy and
administration. I also do something technical
but it's not a routine. Autotecnica was started
with the idea to differentiate the roles, and
find figures that could relate with the outside
while still having separate management roles.
Today's Autotecnica was also started to re‐
qualify a company made by two geniuses that
led it for 30 years (it was incorporated in 1977)
but with a more precise structure. Now it has
administrative, technical office, production
departments, all elements that I experienced
in the past and I knew that they could be a
plus for the company. Every year we invest in
an effort to be a little less artisans and a little
more business‐oriented. During the first year,
we built the test room, during the second we
invested to build some office, and in the third
we got a warehouse. This year we decided to
acquire some work centers to bring in‐house
the production of the componente we then
test on the engines. Next year, we'll build a
second test room. Every year it's a new step, a
measured one, that enabled us to anticipate
the times. Despite the fact that this is a
moment of crisis, investing is a good
What are the main challenges of being an
Italian engine builder? And the
perspectives?
«From an engine builder standpoint,
unfortunately the rules are favoring cost
control. They start from stock engine and they
have to stay stock in several categories.
Regarding Tatuus, the CN2 is equipped with
an Honda engine which is stock under many
of its aspect. In Formula 4 and Formula
Abarth the car use single‐make engines, but
while you could prepare them as you want,
are for most part stock ones. Rules like
Super2000 or A Group that enabled us to
invent are getting retired. As a consequence,
today our goal is to join the development that
the manufacturers want to use as platforms
for their production. We are partnering
Mugen for the PY 012 and that will probably
lead to future orders. We partner Fiat and
Abarth for the Formula 4 championship and
it's very important as they will entrust
Autotecnica for the development and orders
that they can't complete.
Another strategy is related to globalization.
We already had contact with American,
Australian or Chinese customers. We are very
proud that foreign structures are willing to
contact a company with 15‐18 employees. It's a
good way to get known abroad. If we want to
succeed we need to partner a constructor like
Tatuus and companies like Fiat, Abarth,
Mugen or Brabham, for whom we are
developing a prototype, or other constructor
that can elevate the level of our work».
How the collaboration with Tatuus
started? What are the most important
projects?
«The relationship with Tatuus started during
the Formula Master years, a car that had
engine issues at the start. I was called to give
an opinion ‐ I worked for the Fiat group at the
time ‐ and then in six months I left and joined
N.Technology that had become independent. I
started working with Tatuus every day for two
years, it's a company with wide competences
and an infinite know‐how. It's a company you
can deal with in terms of technology. In 2008
I decided to start the new adventure and the
contact was lost because Tatuus was working
with Renault but the trust matured in
Formula Master was there. When new projects
started, De Bellis and Sandonà thought about
Autotecnica for the engine. We did everything
we could to satisfy them and we got three
important gigs. Formula Abarth, with the
success and satisfactions of the teams in a
moment when they were discouraged and the
economy was tough. The Formula 4 has great
potential and it's a great challenge because
Italy has the honor and responsibility to host
the first and only F.4 series so far. Tatuus is
the car manufacturer and we manage the
Abarth engine. It's an international showcase.
We all have to give our 110% to provide a
reliable product, with a good appeal, part of a
package that the teams and drivers like. We
are sure that if we'll be able to develop a
product with this character, sooner or lather
other nations will call us to build the new car.
It's a test for the Italian system. We want to
give an hand because Italian technology is still
quite fascinating abroad. The PY 012 started
when we started to rebuild our relationship
with Tatuus. It's difficult to set‐up and we are
still developing it.. It's a different product that
competes with other constructors. We are
aware that we talk about some true
powerhouses but we keep developing it,
Tatuus does it in the wind tunnel or on‐track,
we do it in the test chamber and with the
design. We know that working with N‐type
rules that prescribe the use road engines
brings to do a lot of research on every detail
to gain just two or three horsepower, but they
I fondatori: Giovanni Delfino e Renzo Federici