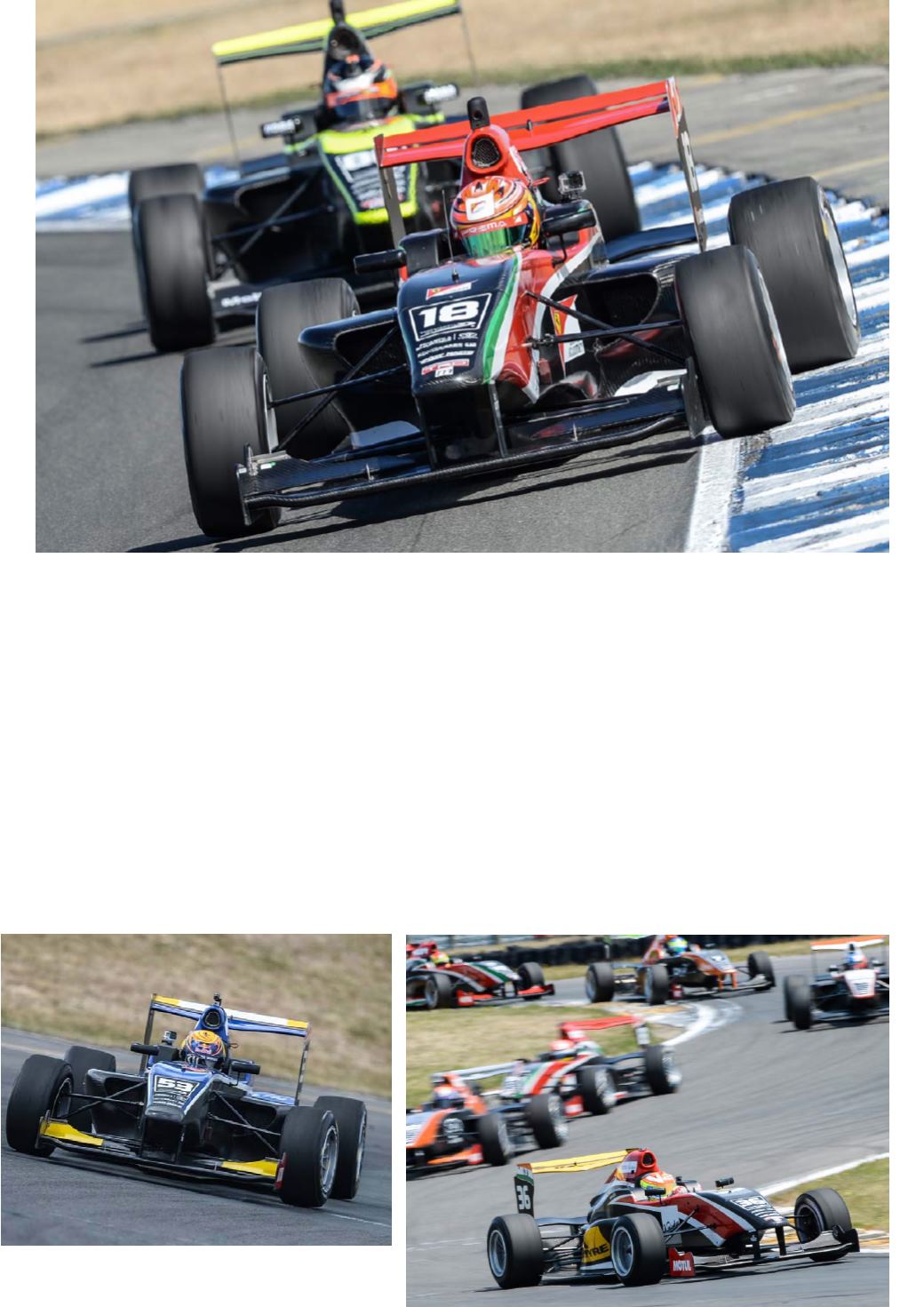 14
Stroll, an instant-winner
Callum
Ilott
Arjun Maini
Lance
Stroll
Taking a look at the 2015 championship, what emerges is that the
goal has been fully achieved. The title went to Lance Stroll, who was
off to a flying start and cruised to three wing before Ruapuna and
Teretonga before administrating the advantage he had in standings
throughout the rest of the season. For the Canadian, the move to
the FT50 car has ben a logical step less than 12 months after making
his single‐seater debut on a Tatuus Formula 4 Italia car. His main
contender was experienced team‐mate Brandon Maisano who also
rivalled him for the Italian crown. The Frenchman knows the Tatuus
machinery well for having raced in Formula Abarth and in
prototypes with the PY012 in the past. The FT50 also highlighted the
skills of drivers coming from more competitive environments like
the FIA Formula 3 European Championship, as confirmed by the
third place scored by Santino Ferrucci. The biggest surprise of 2015
has been without a doubt Indian Arjun Maini, fourth in standings.
Despite a limited experience in the BRDC Formula 4, he showcased
his talent, climbing his learning curve race by race and improving
his chemistry with a car designed to highlight the driver's touch.
The local drivers struggled a little more as they were at their first
contact with a more demanding car than before. Despite the early
adaptation issues, Jamie Conroy and Brandon Leitch had a good
chance to grow and grabbed one win each. In addition to providing
better performance, with an improvement of more than one second
per kilometer on all tracks, the FT50 gave proof of phenomenal
reliability. No mechanical problems or failures emerged since
testing so teams and drivers were able to focus on set‐up
development right away. The new Tatuus car also proved as safe as
ever. James Munro, Artem Markelov and Maisano can testify that as
they all rolled over at Teretonga and Taupo but did not suffer from
any physical consequence.