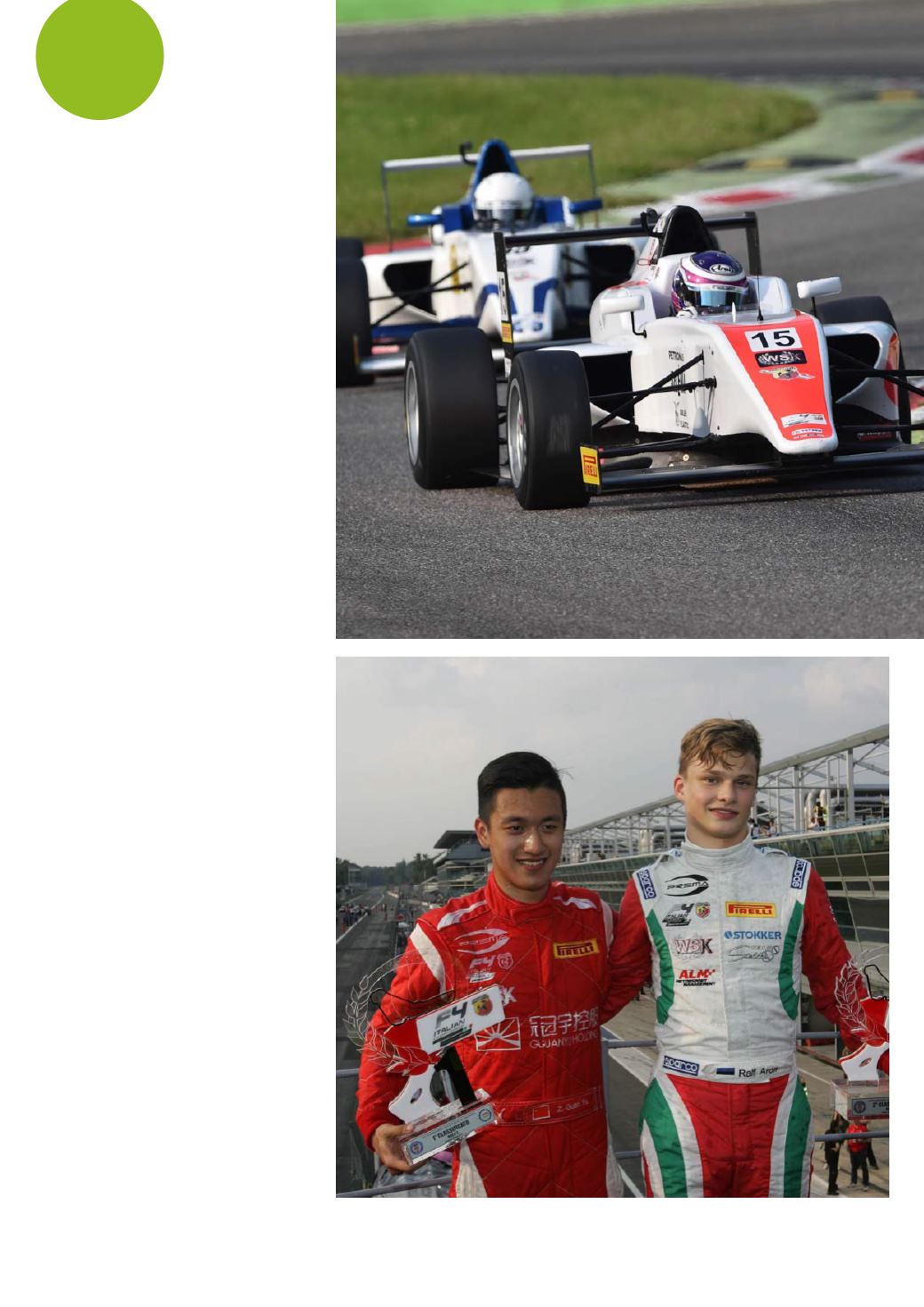 4
di Marco Cortesi
The Italian Formula 4 Championship continues
in its successful run. Despite the early fears
regarding the impact of new national
championships on the amount of available
drivers, the first Formula 4 series in recent
history continues to be a forefather for al the
European developmental movement.
Chinese racer Zhou
keeps impressing
Vallelunga and Monza hosted the first two
rounds of the series and the field proved high‐
quality both in terms of teams and drivers. In
other word, the Italian Formula 4 Championship
continued in its positive trend started last
season. Prema Powerteam has been the leading
squad so far with five wins in six rounds held so
far. While it was Ralf Aron to lead the way with
two wins at Vallelunga, it was Guan Yu Zhou to
dominate at Monza. The young Chinese, part of
the Ferrari Driver Academy, delivered three
comeback victories and showed both speed and
consistency in traffic.
Guaranteed quality
with reasonable budgets
Team Mucke has been really close to the lead
too, with one win scored by David Backmann
near Rome and several good performances put
together by quick Robert Shwartzman. All of
that with good outings by Joao Vieira, running
with Antonelli Motorsport and Bar Barouch
from Team Israel. The best Italian is currently
Matteo Desideri, also part of the Antonelli
stable, who made it to the podium once. In
general, not only Formula 4 is not shrinking and
is promoting new names. It has provided some
interesting crossings between championships,
thanks to the commitment of Tatuus and the
national federations towards providing an
excellent product at reasonable budgets.
F.4
Guan Yu Zhou e Ralf Aron
Marino
Sato