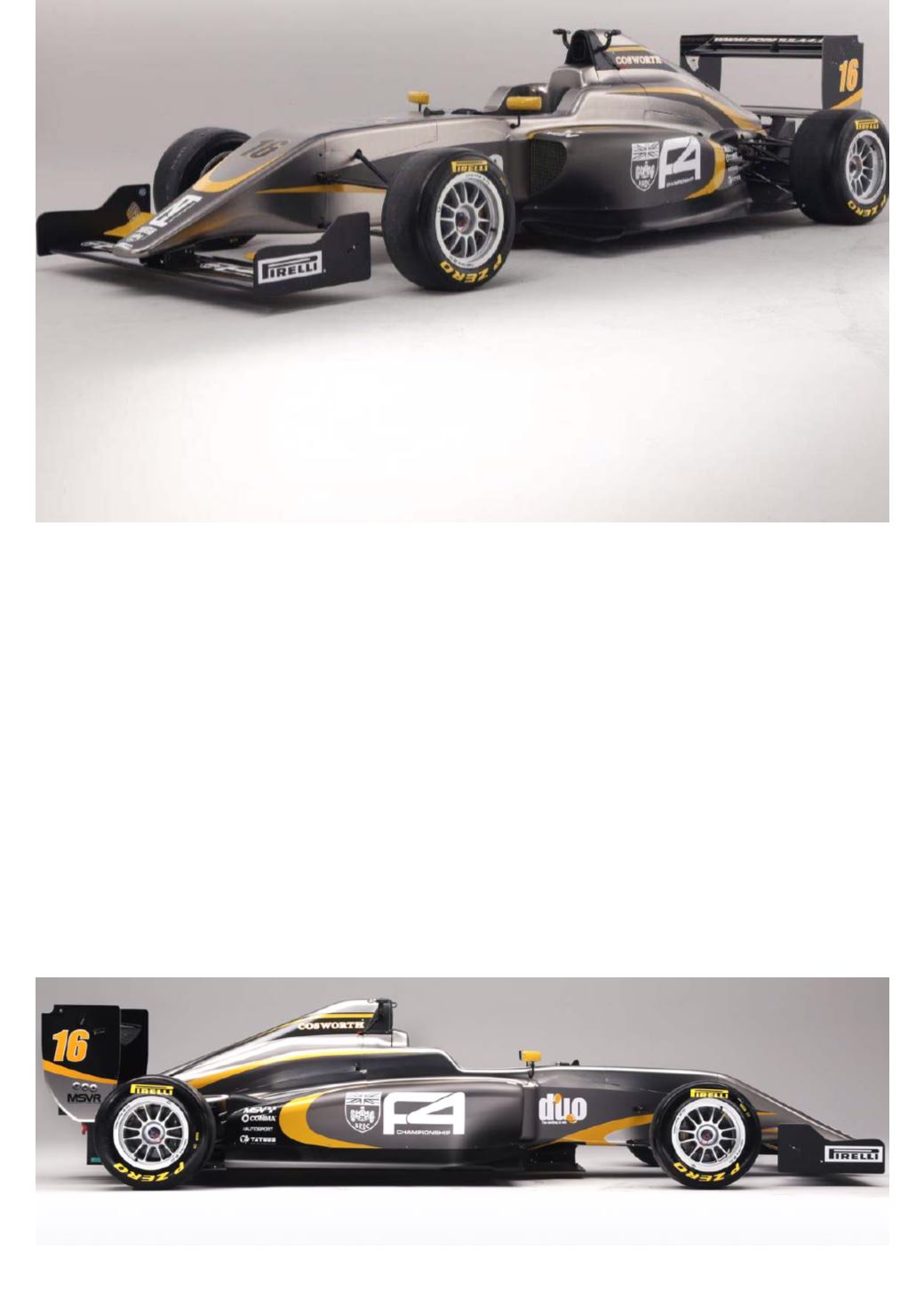 8
A "superb car", as it was defined in the United
Kingdom. It's the brand‐new Tatuus‐
Cosworth MSV F4‐016 which will make its
debut in the BRDC Formula 4 championship,
the British series promoted by Jonathan
Palmer's MSV. The car made its debut on the
last 30th of May in Silverstone.
The baseline comes from the Formula 4 cars
that has been running in the Italian series
since last year and now has expanded its
presence throughout Europe.
The UK series allowed substantial upgrades
though and will be reaching higher
performance levels. The chassis still features
the Formula 4 monocoque, compliant with
the FIA Formula 3 standards, but it's fitter
with aero upgrades providing a dramatic
increase in terms of downforce.
The engine is an atmospheric 4‐cylinder,
230‐horsepower unit paired by a 6‐speed
Sadev gearbox. The AP brakes are fitted with
4‐pot calipers and Pirelli provides the tires.
«It's a new and exciting concept ‐
explained Palmer ‐ Thanks to the experience
gathered during the last few years in the
BRDC series, we created a car that can fill a
gap in the international developmental
panorama. At the beginning, our cars had a
steel tube chassis fitted with a 185‐
horsepower Ford Duratec engine, while the
new one has the really appreciated
Tatuus FIA F.4 Chassis. Also, we introduced
new developments that will make the car
quicker compared to both the BRDC F.4 and
the FIA F.4 ones. The new Cosworth engine
has 230 horsepower at 8000 rpm. It's
powerful, reliable, manageable and sounds
really well. The new limited slip differential
will enable drivers coming from kart racing to
manage the power and complete their
training before joining the Formula 3 or GP3
ranks».
Commercial Director Gianfranco De Bellis
and Technical Director Artico Sandonà
attended the reveal «We are happy that
Tatuus was chosen to develop the new F.4
BRDC car ‐ said De Bellis ‐
The British one is a very important market for
us, while MSV is a capable promoter and we
are sure that the championship will have a
great future». The same enthusiasm was
shared by Sandonà: «The new car is an
example of how the FIA F.4 can be developed
to reach higher levels of performance and we
are proud we were chosen by BRDC for
helping them in this step». 24 of the 26
planned cars have already been sold,
confirming the interest in the series.
The championship will begin in 2016
although an 8‐race "Autumn Trophy" is
scheduled later this season. The first four will
take place between November 7th and 8th at
Snetterton.
Brand-new Tatuus-Cosworth
car launched at Silverstone
for 2016 BRDC F4 Series