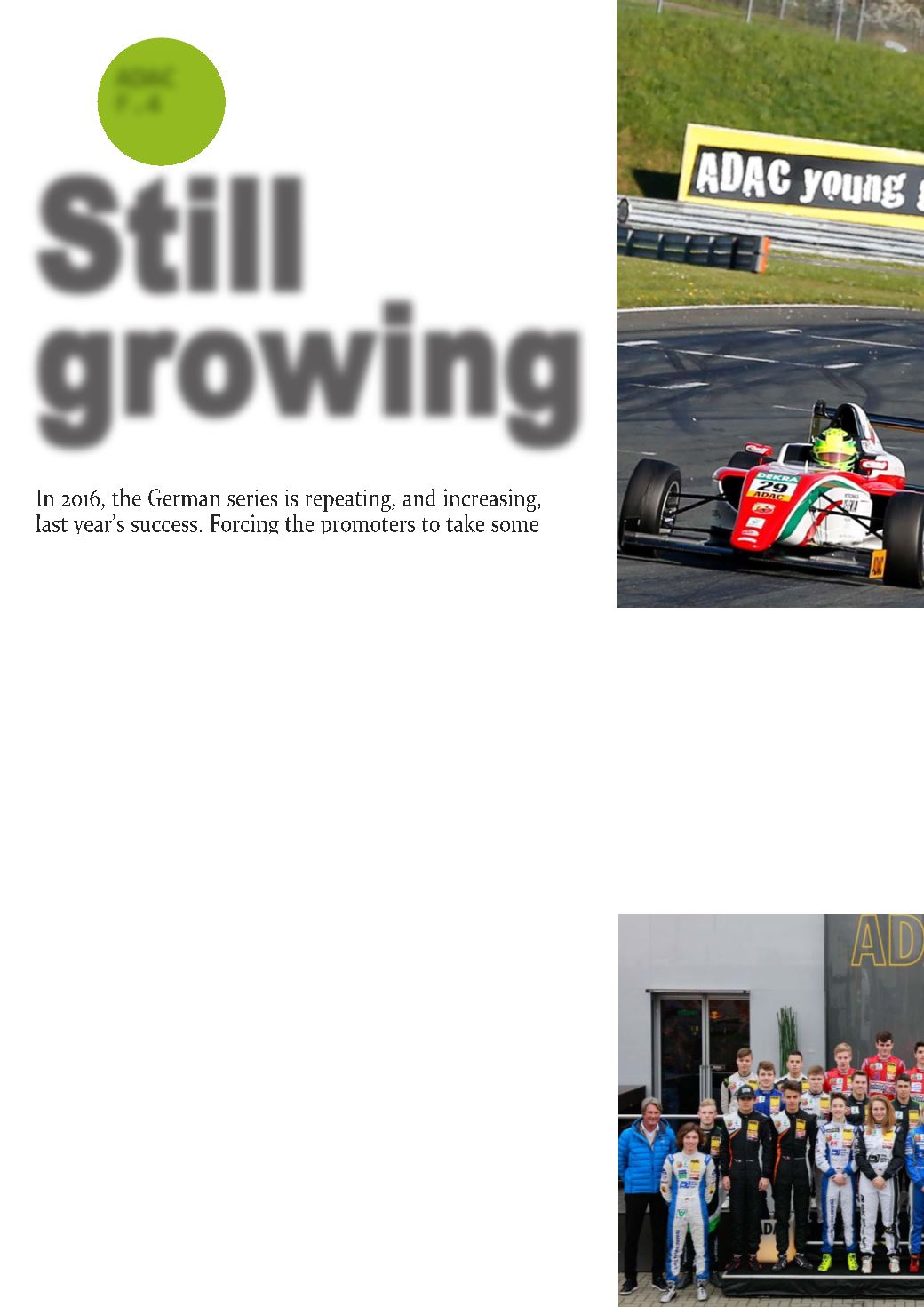 16
In 2016, the German series is repeating, and increasing,
last year's success. Forcing the promoters to take some
resolved but smart decision in terms of rule
adaptations. Schumacher jr is one of the stars of the
series, together with four female racers
By Jacopo Rubino
After completing a successful debut season,
Formula 4 continues to grow in all Europe,
including Germany. The 2016 championship
has so far brought on-track a total of 38
entries. The new additions to the roster kept
flowing, providing the ADAC promoters with
the pleasing, although quite tricky, necessity
to adapt the event format. The 22 fastest
drivers of qualifying can access the three
feature racer that count for the championship
standings, while the rest of the pack must
earn their way in with an eliminatory heat on
Saturday morning. For the backmarkers, the
risk of an early exclusion is huge, so it's
imperative for them not to make mistakes.
Mawson, the leader
Schumacher, the antagonist
For sure Joey Mawson did not make many
mistakes so far. The young Van Amersfoort
driver scored three wins and leads the
championship table with 126 points. If in
Oschersleben the Australian had scored a
spectacular runaway double, in race 3 at
Sachsenring he delivered a stunning
comeback from 9th place. Currently,
Mick Schumacher, one of the most anticipated
contender, stands as Mawson's main rival.
Son of 9-time F.1 World Champion
Michael Schumacher, he moved to Italian
team Prema, and he's showing huge
improvement compared to last year with a
consistent tally including one win and one
pole position. In the second round of the
season, Mucke driver Mike-David Ortmann
also broke into the scene by winning
race 1 and 2, but Kim Luis Schraam
and Jannes Fittje must not be forgotten.
Dane Nicklas Nielsen is leading the rookie
trophy with 129 points, trailed by Prema's
American Juan Manuel Correa.
An impressive run
by Sophia Florsch
The German Formula 4 series features four
female racers: Carrie Schrenier (US Racing),
Marylin Niederhauser (Racing Rossler),
Michelle Halder (Engstler) and Sophia
Florsch. Driving for Motopark, the latter
proved more and more impressive.
She scored four top-10 finishes
so far including a spectacular fifth place at
Oschersleben when she completed
the last lap with a damaged rear wing after
being punted by Job van Uitert.
Without the incident, the 15-year-old
German would have cruised
to a well-deserved podium finish.
ADAC
F.4
Still
growing
The Tatuus racecar
reunites Italy and Germany
The ADAC F.4 Championship shares the same
technical platform of the Italian F.4
Championship, with the appreciated Tatuus
racecar fitted with a 160-horsepower Abarth
engine, Pirelli tires and Magneti Marelli. An all-
Italian package that keeps impressing the teams
for its performance and reliability. The resulting
stability provided the drivers with the chance to
race in both series: 11 drivers have opted to run
both in Italy and Germany, with an outstanding
gain in terms of experience.