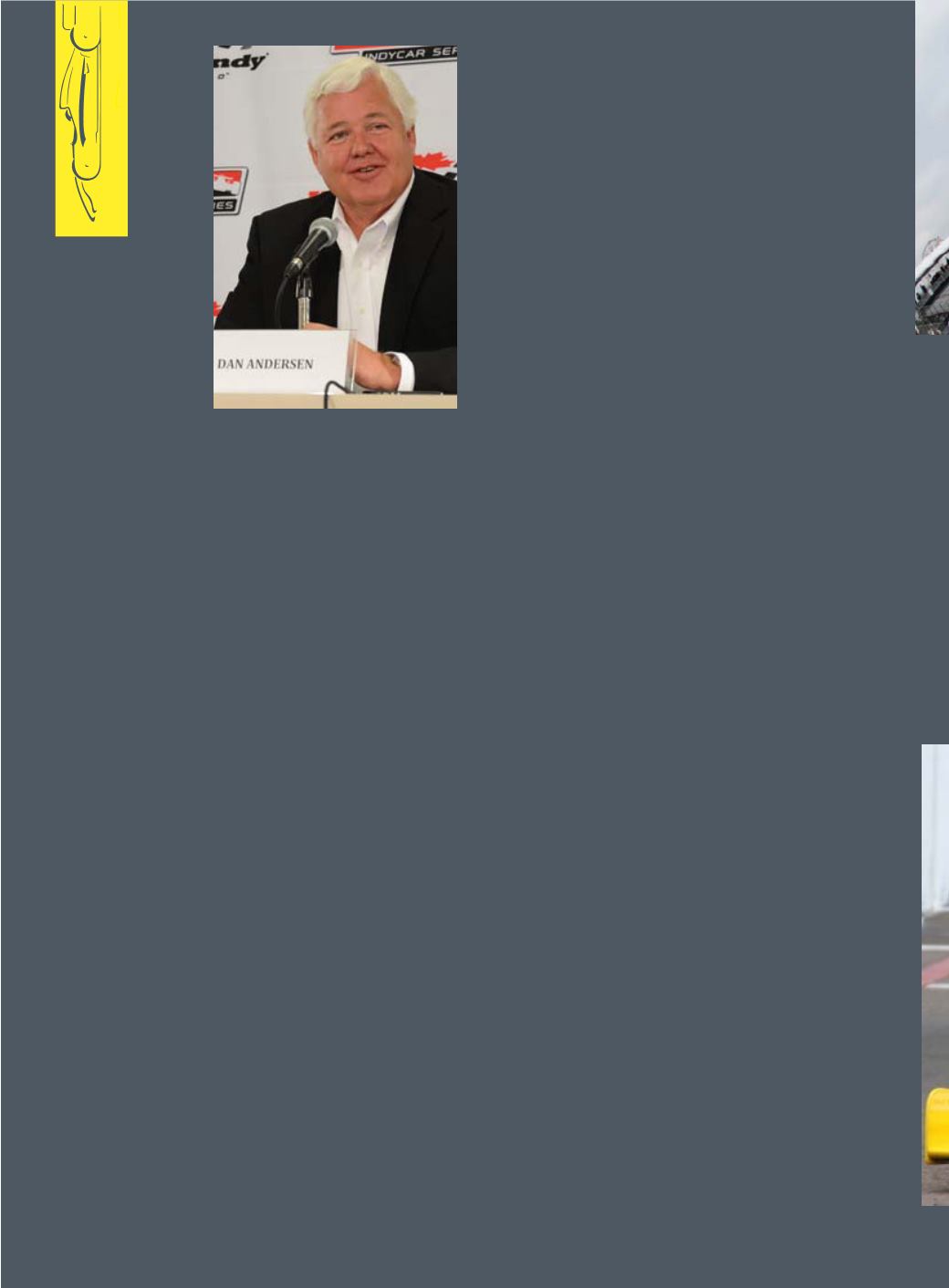 8
How did the
relationship with
Dallara - in
particular with the
American branch -
develop? Which are
the strenghts of the
Italian brand? Could
you watch Dallara
simulator in action?
«My personal relationship with Dallara
goes back only a few years to when
Andersen Racing bought new cars and
ran them in Indy Lights. They ran a
professional operation in Indiana, were
great to deal with, and the cars were
good race cars. As a team owner,
naturally the prices were always too
high, but now that I am on the other
side, I see why, and the current team
owners come to me to complain!
As a brand, Dallara is clearly the world
leader in open wheel race cars, in my
opinion. I have full faith in the
company, which is very important to
me as I want partners I can rely on. I
have not yet seen the Dallara Simulator
in action, looking forward to the day».
Could youmeet Mister Dallara?
«I did meet him in Indianapolis during
last year's Indy 500 week. We
discussed, with several other Dallara
engineers, possibly modifying the
current car for several more years of
use, but I soon decided that was not
the best solution for us for the future
of Indy Lights».
Which features will 2015 car have?
«The car will offer the latest in safety,
technology and performance, and will
meet FIA and Indycar criteria,
including Indycar criteria for chassis
penetration and cockpit rim. It will
have full length side intrusion panels,
EPP foam behind and under the driver
along with foam hip panels, and raised
monocoque for head protection. The
chassis will be significantly lighter,
with an increased nose length for
energy absorption, and improved
attenuator design, increased yaw
stability and an increased width
underwing in front of rear wheels for
added protection
against wheel to
wheel contact.
Other car features
include a fully
integrated paddle
shifter, and a full
Cosworth data
system with
specifically
designed steering wheel with integral
display. Power is provided by an AER
450 HP turbo 4 cylinder plus a 50 HP
push to pass. Cars will be delivered
with Motegi techno mesh aluminum
wheels, PFC brakes and Dynamic
dampers».
The new season marked the change
of the engine too, moving to a 4-
cylinder one. Could this
downsizing - similar to F1 -
represent the worldwide future of
Motor Racing?
«The HP and efficiency derived from
turbo four cylinders and the fact that
manufacturers are increasingly using
these type of engines in street car
production make it a smart move. I do
think that this engine downsizing is the
future of open wheel racing, possibly
other forms as well».
Could 2015 car show an engine from
a big worldwide constructor?
«We have selected AER as the engine
builder and it is still possible for a
manufacturer to step in and badge
this».
Which should be the future goal of
this category? Will an effective
production chain involving the
"ladders" F.2000, F.Mazda, and Indy
Lights and IndyCar ever be in place?
«Indy Lights is the top step on the
development ladder leading to Indycar.
It also trains drivers who find
themselves in prototype sports cars and
other types of racing as well. The
future is strong. We already have the
Mazda Road to Indy, a three step
ladder which starts with the USF2000
Championship, then a move to Pro
Mazda, then to Indy Lights. Mazda
provides scholarship funding to the
winner sufficient to move into the next
step. There is nothing else in the world
like this ladder».
Some Indy Lights successful drivers
have fortune even in senior
category, some others lose their
way. Why does it happen?
«The number of seats opening up in
the top level (Indycar) is small so each
year there is no guarantee a successful
driver will find a seat. Nevertheless,
many Indy Lights drivers do advance,
including drivers such as Carlos Munoz,
Tristan Vautier, Josef Newgarden, JR
Hildebrand, Marco Andretti, Graham
Rahal, James Hinchcliffe, Ed Carpenter,
and even going back to Tony Kanaan
and Helio Castroneves. The pyramid
narrows at the top, drivers must win,
and be ready when a seat opens up,
then take full advantage of the chance.
It is certainly not easy being a
professional race car driver».
Do you think Indy Lights will be
able to grow F.1 drivers in future?
«There's no question we have the
talent, but F1 seems political, looking
at it from afar, so I don't know if that
is realistic».
Is Motor Racing ready to welcome
and build many more woman pilots?
«Yes. We have several in the pipeline
now, in Pro Mazda, training and ready
to move up».
Are you in favour of American
teams in F.1 - possibly the
participation of European teams in
Indy Lights too - or do you think
these realities will always remain
separate?
«I am in favor of both, though team
ownership in F1 is a large financial
commitment I'm sure. We think
European teams should look at Indy
Lights as our business model is
designed to help teams in operating
profitably, and the weather is pretty
good here in season as well».
Stefano Semeraro