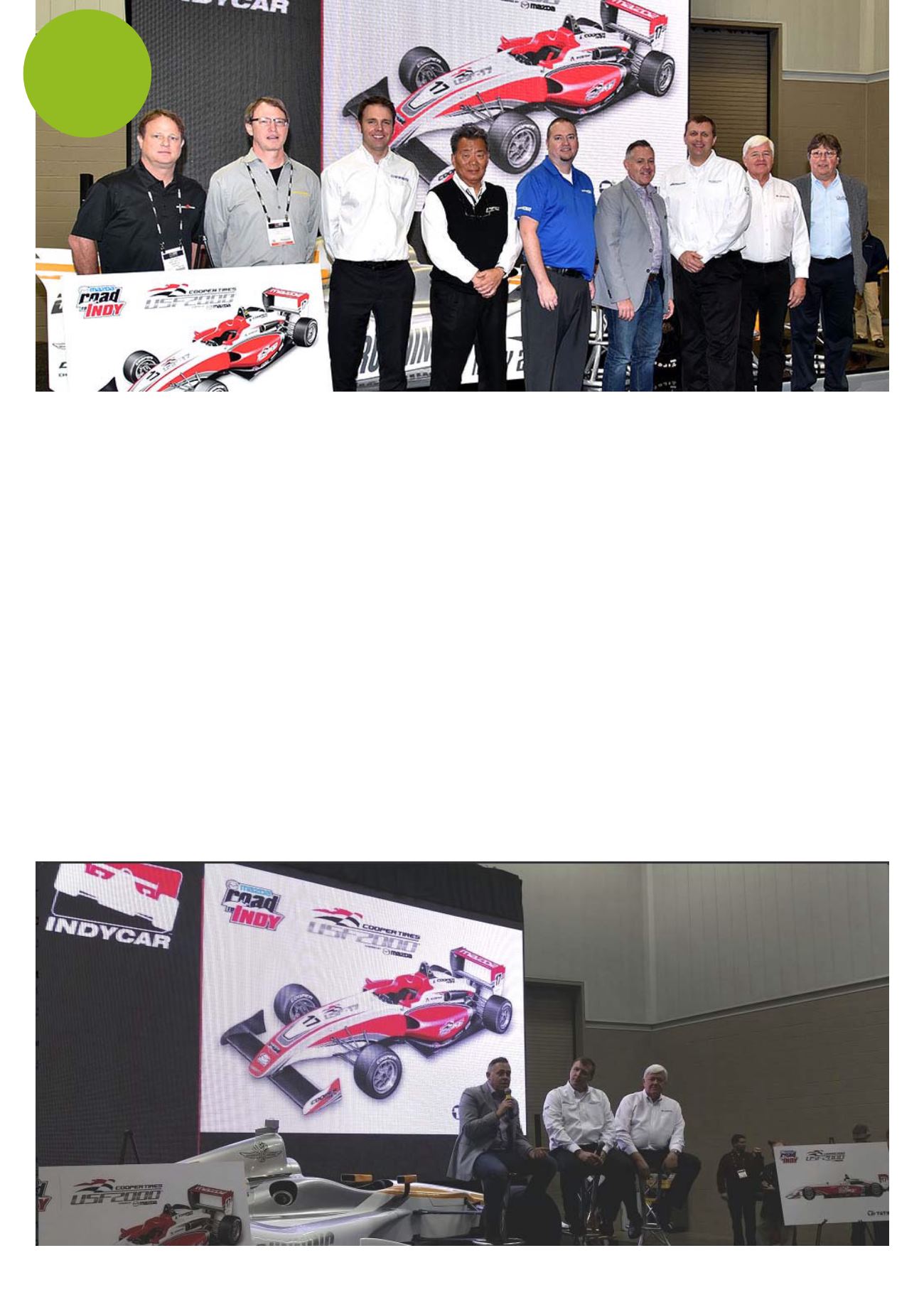 4
by Stefano Semeraro
There is a Road to Indy's cathedral of speed, and it's a really Italian road.
Andersen Promotions, the company behind the "Road To Indy" program,
announced that the first two steps of the ladder leading to Indy Lights
and IndyCar (which currently use Dallara cars) will feature Tatuus‐made
racers. The same base chassis, built by Tatuus, will be used for both the
Pro Mazda and the USF2000 series. USF2000 will be starting with the
new car in 2017, while Pro Mazda will follow in 2018.
The USA are renowned for being the land of opportunity, and the
company, proudly representing Italian excellence, could not miss the
chance to express once again their full potential. After the debut of their
successful Formula 4 program, Tatuus will once again try to deliver a
quick, easy to manage and economically sustainable package. The USF‐
17, which will be unveiled at the 2016 Indy 500, will mark a substantial
departure in terms of technology compared to the current Van Diemen‐
built USF2000.
The chassis, which will feature a carbon monocoque built according to
the latest FIA Formula 3 specifications, will be fitted with a 2‐liter
atmospheric Mazda MZR engine. It will feature some new additions to
respect the new American standards like Zylon anti‐intrusion panel.
There will also be room a six‐gear paddle‐operated gearbox, a cutting‐
edge LCD Cosworth steering wheel and four pot PFC brakes.
The Pro Mazda ‐ PM 19 ‐ will use the same platform in order to help the
teams to optimize the costs and control the performance steps. That will
result in more power added thanks to the Mazda Skyactiv powerplant, a
more sophisticated aero package with a revised floor, a three‐element
rear wing and and adjustable front flaps.
«Gianfranco and the entire Tatuus team really went above
and beyond in the RFP process to earn this bid», said Scott Elkins, the
race director for both categories and an American racing veteran. «The
attention to detail in their proposal and easy acceptance of existing
Andersen Promotions' partners really give us high expectations for these
cars and we are ecstatic to have them as partners for many years to
come».
«Since we first met almost 20 years ago, I have known Gianfranco De
Bellis and the Tatuus brand of cars and have the highest respect for their
product and performance», said Dan Andersen, owner and CEO of
Andersen Promotions. «To enter into this new venture with them as
partners is exciting and I know they will deliver a very high quality, safe
and fast race car – a car that career‐minded drivers from around the
world will see as a real step up from other open‐wheel series cars. The
Mazda Road to Indy trains drivers well, and this new race car will only
enhance that training for the future».
USF‐17
USF2000 race director Scot Elkins, Mazda's John Doonan and series CEO Dan Andersen discuss the new USF-17