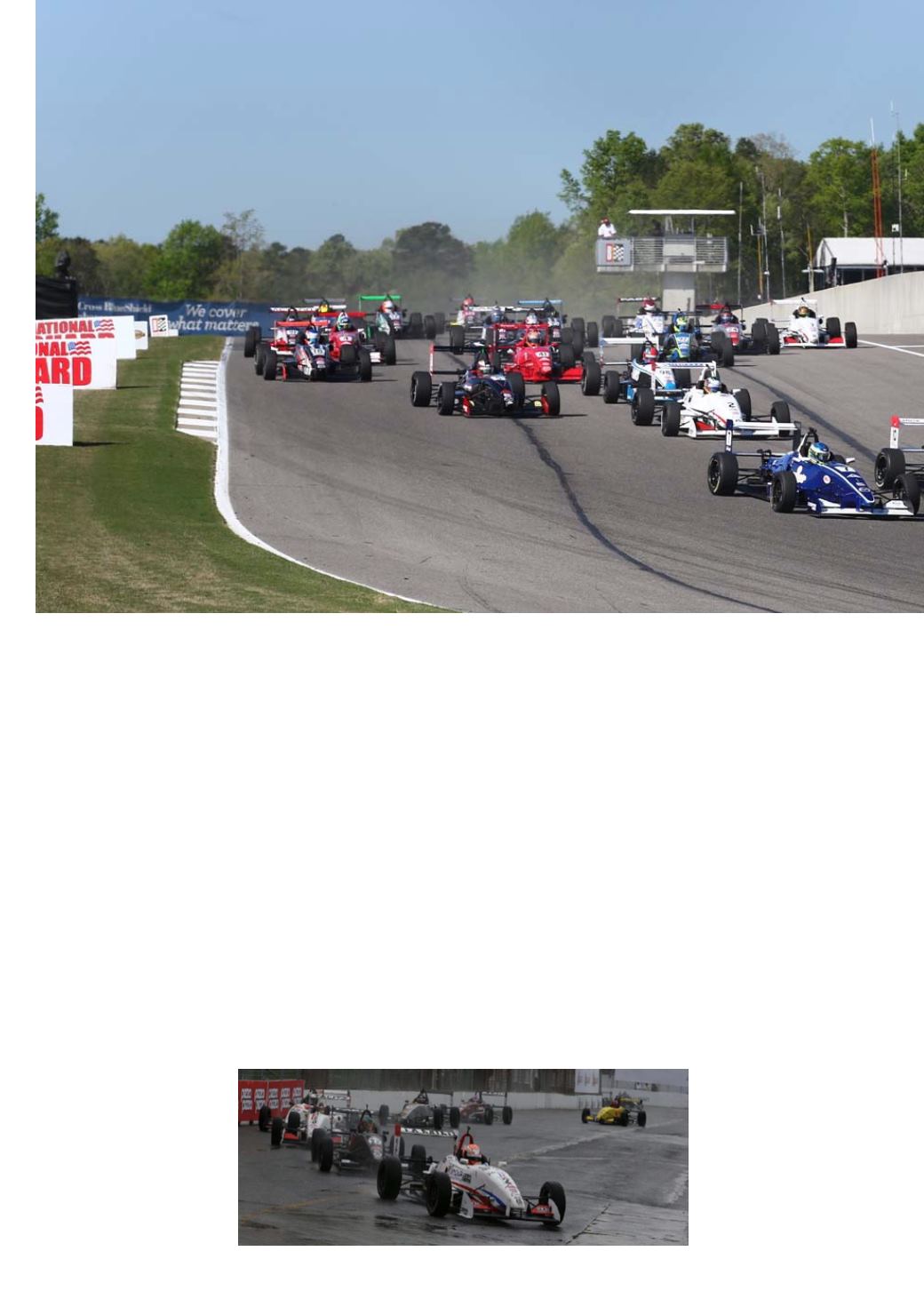 12
by Marco Cortesi
When it comes to IndyCar dreams, the Mazda Road To Indy program is
the number one choice. The three‐step ladder, created in collaboration
with the Japanese manufacturer, is almost entirely managed by Andersen
Promotions after their acquisition of Indy Lights from IndyCar which still
overviews the program. The outstanding feature is represented by the
monetary assistance offered to the champions for making the step to the
upper categories. The monetary bonuses are actually good enough to
cover a large part of the required budgets in an effort to make driving
skills the deciding factors. The ladder also has a karting program in the
Rotax Max Challenge, while the USF2000 series is the starting point in
single seaters. The USF2000 champion receives a 200.000 dollar bonus
towards Pro Mazda which, albeit superior in terms of performance, is still
quite far away from the European counterparts.
Bonuses up to one million dollars
The Pro Mazda Champion is awarded 500.000 dollars, good enough to
cover half of the budget required for the Indy Lights championship, which
is a turning point in terms of skills involved. The teams and equipment are
top‐class, and the drivers can experience driving on ovals for the first time.
The Indy Lights Champion gets one one million dollars, enough to cover
the budget needed for three or four IndyCar outings, including the Indy
500. With plenty of room for leaving a strong impression, more
opportunities might then be on the way.
Urrutia on the move
Just a few drivers took steps in all four series before lining‐up in IndyCar.
Sage Karam, who won the USF2000 series in the program's opening year,
managed to find a top‐level gig in 2015 with Chip Ganassi Racing. He also
dominated the 2013 Indy Lights championship. Tristan Vautier won Pro
Mazda in 2011 and Indy Lights in 2012, eventually securing an IndyCar seat
with Dale Coyne Racing last season. While Matthew Brabham got a little
lost after securing titles in USF2000 and ProMazda, he is now set to make
his Indy debut in 2015. Gabby Chaves took full advantage of his bonus for
winning the 2014 Indy Lights championship and managed to secure a
season‐long ride with Herta Autosport. The most interesting prospects
coming from the Road To Indy program are currently Spencer Pigot, who
will be driving for Rahal Letterman Lanigan Racing in selected 2016
IndyCar rounds after bringing home this season's Indy Lights title, and
Santiago Urrutia, who is looking forward to bring Uruguay back to the top
of the American open‐wheel panorama and follow in the footsteps of the
late Gonzalo Rodriguez. After winning in Pro Mazda, he will be lining‐up
for the 2016 Indy Lights championship.