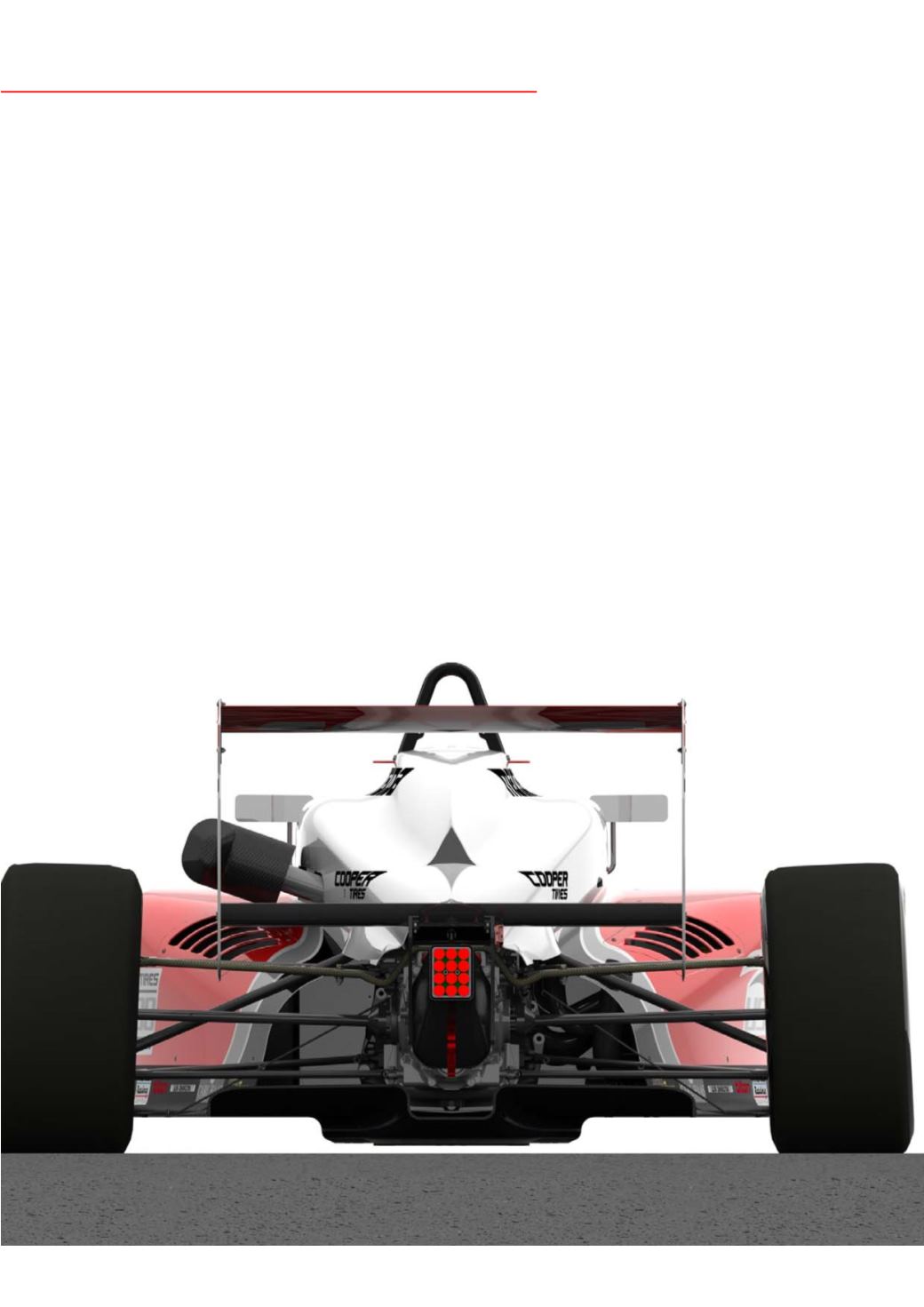 26
CHASSIS
Full carbon composite and aluminum honeycomb monocoque
manufactured by Tatuus Racing meeting current FIA F4 safety
standards, including side impact panels, front and rear impact
structures, HANS-compliant IndyCar head restraint, front and rear
wheel tethers, upgraded uprights, and upgraded front bulkhead
structure for USA specific oval racing circuits.
ENGINE
Mazda developed 2-litre MZR (175 HP) prepared by Elite Engines,
with maximum torque of 160 Ft/Lb., using a fly-by-wire throttle
system and a Cosworth SQ6 engine management system.
BODYWORK & AERODYNAMICS
Unique USF2000 side pods and engine cover, carbon composite
diffuser, adjustable twin element rear wing and single plane
carbon ber front wing and USF2000 specific front and rear
endplates. All bodywork carbon fiber construction.
WHEELS
13" forged American Racing wheels, Cooper tires
BRAKES
Performance Friction Brakes BR24 4-piston monobloc caliper with
274.0mm discs on both the front and rear axles. Driver-adjustable
brake bias.
STEERING WHEEL
Cosworth CFW277 with integrated dash
and gear change paddles.
ELECTRICAL
Cosworth Omega L2 Plus Data Logger linked via CAN to Cosworth
SQ6 ECU and GCU. Option to upgrade to Pro Mazda data
system, Omega Pro, at added cost.
GEARBOX
Sadev SL75 six-speed sequential transmission fitted with optimized
USF2000 gear ratio set controlled by a Magneti Marelli gearshift
system.
SUSPENSION
Twin wishbone suspension with pushrod actuation to Dynamic
Suspension 1640 three-way adjustable dampers and a range of
adjustable front and rear anti-roll bars. Springs provided by
Hyperco, with six spring rates available, interchangeable for front
and rear axles. Upgraded front and rear uprights for USA specificc
oval racing. Ride-height, camber and toe adjustment on both axles
with roll center, anti-squat and anti-dive adjustments on rear axle.
FUEL SYSTEM
Premier Fuel Systems 40 liter FT3 fuel cell
ENGINE CONTROL UNIT
Cosworth SQ6 including integrated engine and gearshift control
systems.
DIMENSIONS
Wheelbase: 2750 mm
Front Track: 1560 mm Rear Track: 1510 mm
Weight: 500 kg (less driver and fuel
Technical Specification