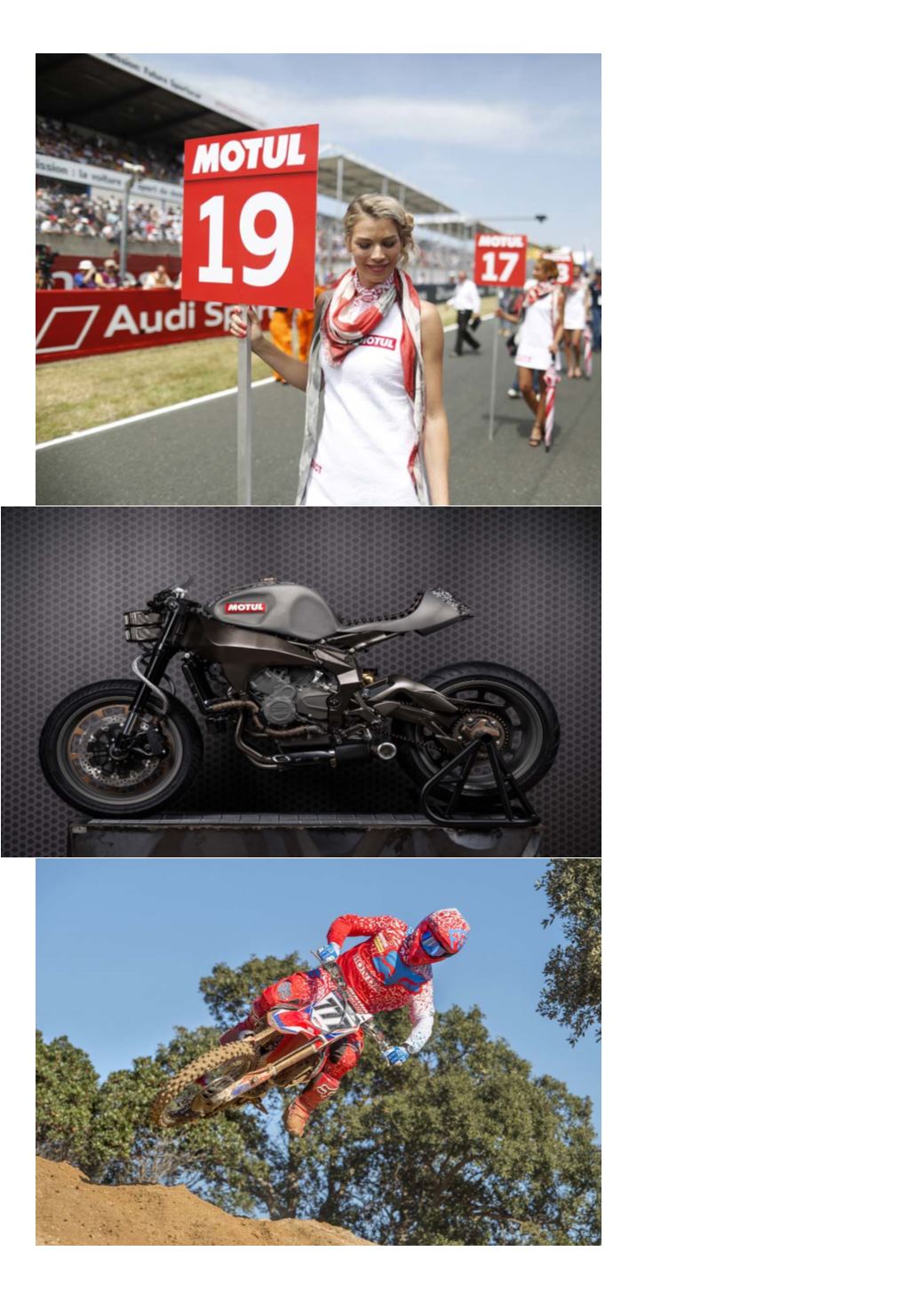 30
How important is to combine
performance and environmental
responsibility?
"The commitment of Motul to the respect of
the environmental policies started with the
foundation of the brand, introducing some
high-performance lubricants that use
vegetable, non oil-derived additives. In
addition, Motul has developed a product line
named BIO that guarantees an 80 percent
biodegradability (test CEC L - 33 - A - 93).
Among them, BIO 2T, the Estere-based
synthetic lubricant for motorbike engines. The
environmentally friendly line includes the
cleaning products like Moto Wash, a
biodegradable and motorbike-specific cleaner
for any kind of surface. The choices made by
Motul in terms of environment led the
company to choose fully recyclable plastic and
metal packaging solutions. Regarding the
certifications, Motul is aligned to the ISO 9001
standard for the quality management systems
and ISO TS 16949 for automotive quality".
What are the most interesting and rapidly
expanding markets?
"In a globalized and highly-international
competitive scene, we have to think to a new
way fo defining the markets using the online
sales phenomenon as a new key. As a matter
of fact, the e-stores have eliminated borders
and barriers. The competition on the web
leads us to an even stronger presence on the
territory in order to provide services that are
more and more in-line with the development
of the automotive field. In the last year, for
example, the countries where it's possible to
buy Motul products hit the 100 mark. A really
important accomplishment that draws a new
starting line for a further growth".
You are currently involved in 600
international-level championship. What
has been the most rewarding endeavour
and what are the plans for your future in
motorsports?
"Competition has been part of our company
heritage for more than 160 years.
The Motul name has been part of the
wonderful world of motorsport since its
inception, a world that always rewarded the
company with many satisfactions and a lot of
success. In addition to the collaboration with
Tatuus, Motul is involved in world-class
competitions like the 24 Hours of Le Mans
(auto and moto) FIA World Endurance
Championship, Super GT, Blancpain
Endurance Series, Dakar, Le Mans Classic,
MotoGP™, WorldSBK, World MX, FIM
Endurance World Championship, IOM TT,
MOTUL FIM Ice Speedway Gladiators World
Championship and many more".