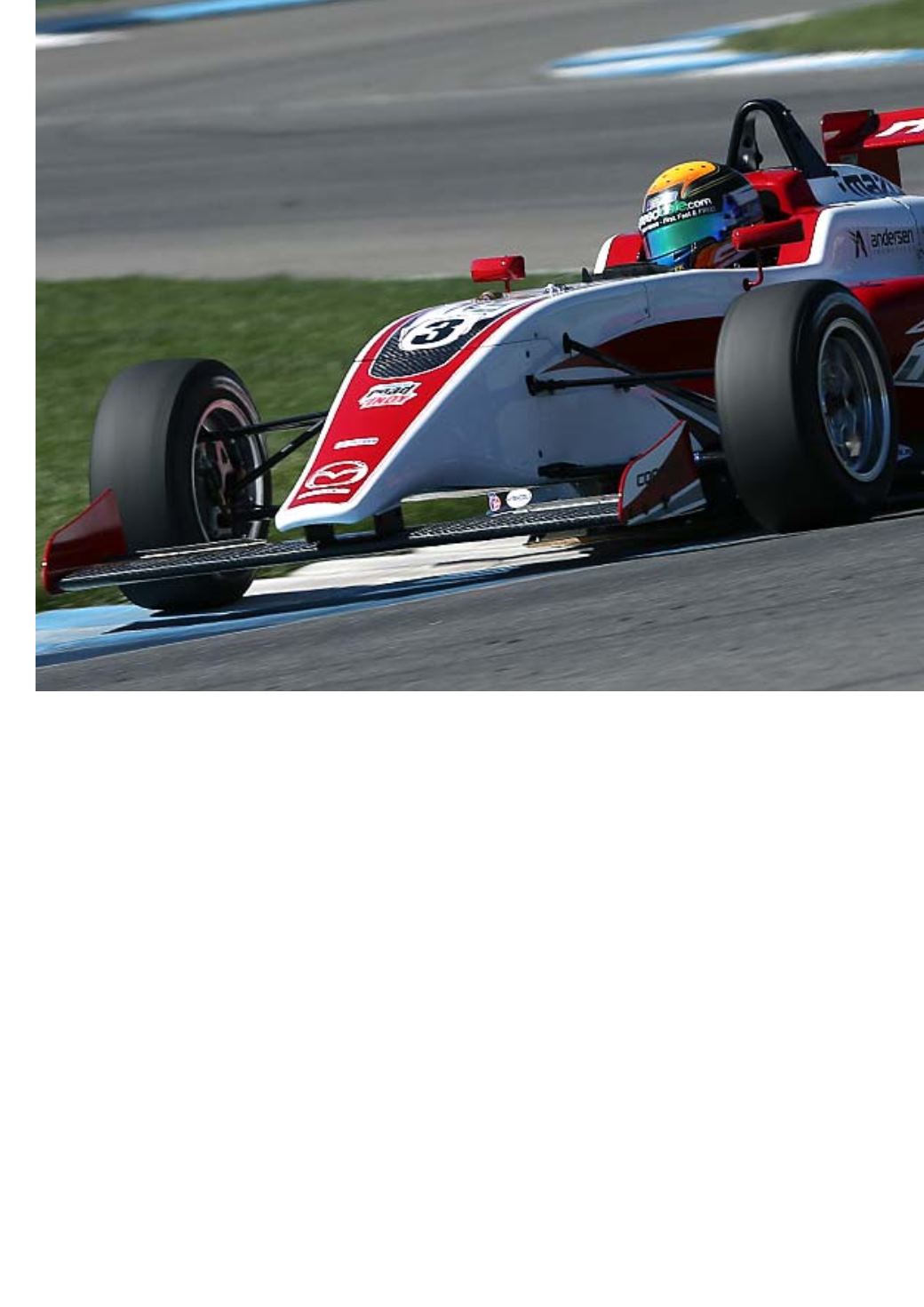 4
by Stefano Semeraro
Tatuus got off to a rocket start in their new
American adventure. The new Tatuus USF‐17
machinery passed its first test with flying
colors last November at Indianapolis. The car
is set to make its debut in the single‐make
USF2000 championship, the first step of the
"Mazda Road to Indy" ladder to the IndyCar
Series. The feedback was enthusiastic and the
many orders received by the Italian
manufactured confirmed the initial
impressions. Tatuus has already sold all the 35
chassis built so far.
The sixth Chris Griffin Memorial event gave
teams and drivers the chance to sample the
USF‐17 in action with 43 drivers on‐track in
the 8 sessions available for three series, also
including Indy Lights and Pro Mazda. Nine
teams went on‐track, four of them making
their debut, in perfect weather conditions. A
15‐year‐old from North Carolina, Neil
Verhagen topped four sessions out of eight
with an unofficial mark of 1'24"866, more
than one second clear of the official track
record set last May in 1'26"015.
Second place overall went to Matthew
Brabham. The 2012 series champion drove for
Cape Motorsport Wayne Taylor Racing.
Teenagers Kaylen Frederick and Robert
Megennis also spent some valuable time on‐
track while Andre Castro (Newman Wachs
Racing) set the fastest lap on Saturday. Trevor
Estep also impressed, driving the Tatuus USF‐
17 fielded by one of the new teams in the
series, Exclusive Autosport.
«I really like this car», said Verhagen at the
end of the test. «My confidence was
increasing lap after lap and, together with the
team, I soon started to understand how to to
tweak the set‐up, lapping quicker and
quicker».
Matthew Brabham shared the same views:
«It's an huge step forward compared to the
previous car, and it will definitely help young
drivers to understand how to drive a single
seater very quickly. You drive it like a kart,
but it reacts like a Formula Ford so it's a
perfect developmental machine». The teams
were equally impressed as confirmed by
Augie Pabst of Pabst Racing: «Tatuus,
Dynamic, Elite Engines and all the other
partners did an amazing job and this fantastic
package is the result. It's a different car
compared to the older one, and it's better
under all aspects».
The opening round of the 2017 season,
scheduled over 8th rounds, will take place on
the 11th and 12th of March at Saint
Petersburg. At Palmetto, Florida, a shootout
is currently being held involving 18
contenders from all over the world (Australia,
Mexico, India, New Zealand and more…). The
winning driver will be awarded a 200.000$
scholarship for the 2017 season.
The great feedback gathered by the USF‐17
persuaded the promoters to anticipate the
launch of the other car designed by Tatuus for
the Mazda Road to Indy program, designed
for the 2018 Pro Mazda series. Although the
unveiling was originally planned for May
2017, the new racer will be showcased this
month at the Indianapolis PRI, the world‐
level exhibition and trade show involving
American and international motorsports.