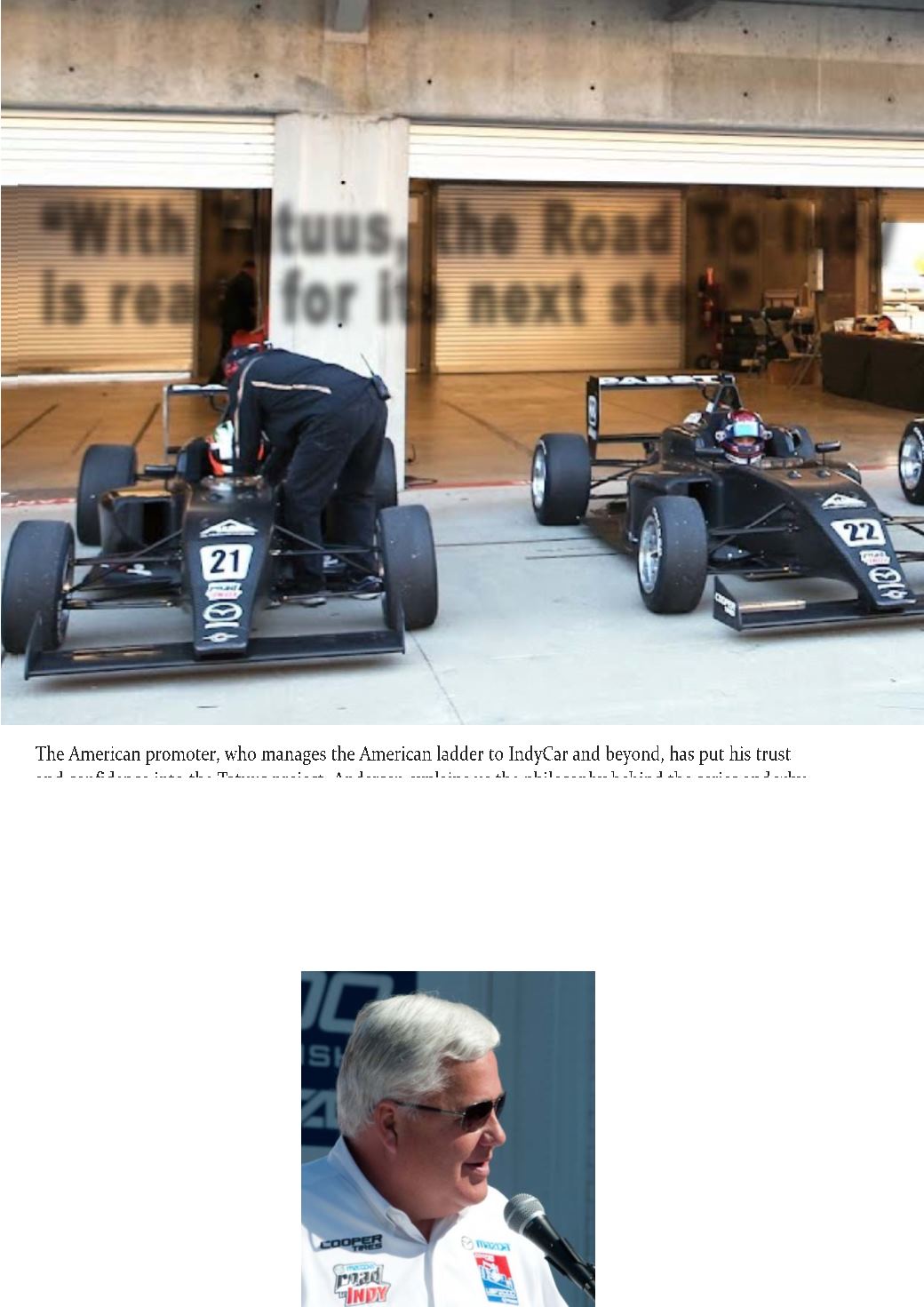 6
The Interview/Dan Andersen
The American promoter, who manages the American ladder to IndyCar and beyond, has put his trust
and confidence into the Tatuus project. Andersen explains us the philosophy behind the series and why,
when he was called to resurrect USF2000, he decided to call his old Italian partners
‐ Mister Andersen, what can you tell us about the Mazda Road to
Indy and its philosophy?
«The Mazda Road to Indy exists to provide proper and complete
training for career‐minded open‐wheel drivers while also training
teams,
engineers, mechanics and many other connected individuals. The
results are very positive. The top ranks of
racing are populated with graduates who are
succeeding as drivers or professionals in a
variety of positions
within racing. Our training of drivers is not
just on‐track. We make a
serious effort to provide media training,
fitness training, data training
and training in other specific areas that a
professional driver will need.
We train on road courses, street circuits and
ovals to fully prepare our
graduates for IndyCar».
‐ What are the main features of the Cooper Tires USF2000
Championship powered by Mazda and the Pro Mazda
Championship presented by Cooper Tires?
«The Cooper Tires USF2000 Championship Powered by Mazda is, for
many drivers, the first professional step of their career ladder. Our
series includes all three circuit types and a scholarship package to move
them up to the next rung. The budgets to
run a season are extremely reasonable, and
the new USF‐17 car contains all the tools and
performance characteristics needed to
properly prepare a driver. The Pro Mazda
Championship Presented by Cooper Tires
takes the performance up a bit, moving from
175 HP to 275 HP, with added aero elements
and larger tires to continue the progression
in a driver's training. Competition gets
keener, and the scholarship package
increases to provide funding for the step to
Indy Lights».
"With Tatuus, the Road To Indy
is ready for its next step"
