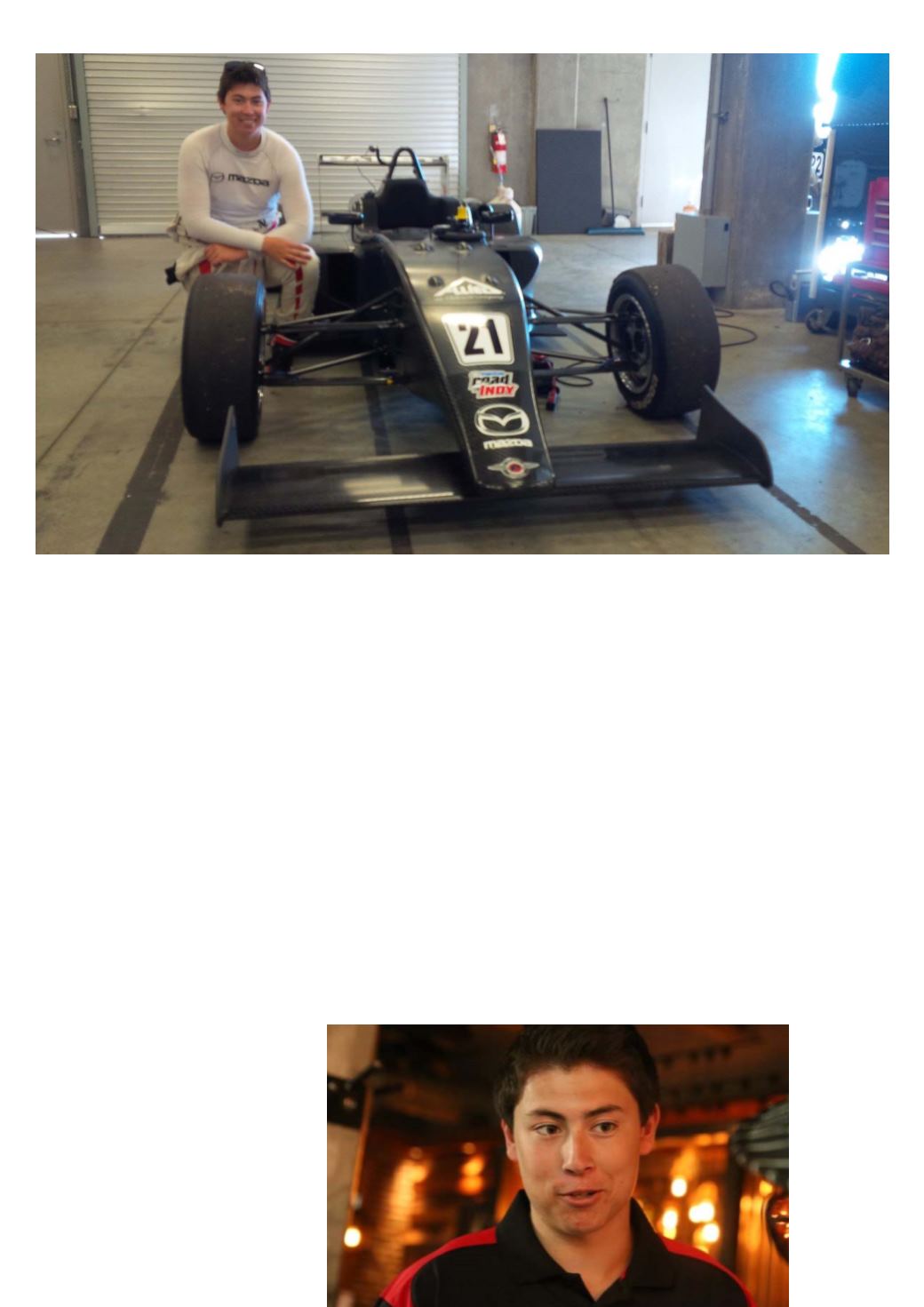 10
The interview/Dakota Dickerson
"You just have to be perfect"
We asked the young American driver to tell us more about his experience
behind the wheel of the new USF‐17 at the recent Cooper Tyres test
‐ Can you tell us your first driving
impressions about the new Tatuus car?
«My first impressions of the car were extremely
encouraging. It truly is a proper race car that is
up to date with modern technology. Updated
electronics, carbon monocoque, bigger brakes,
the list goes on and on. The platform itself
seems to be stiffer than the old car which in turn
allows us to carry more rolling speed through
the corners. A different body and aero package
also resulted in better top speed which is always
great.»
‐ What are the the main strengths of the
USF‐17 racer?
«There were a lot of plus sides to the new car.
Within the cockpit, there is a lot more room
which is great for a tall driver like myself.
The new paddle shifters coupled with a 6‐speed
gearbox makes life much easier and is
extremely smooth. Mechanically, this car is
extremely efficient under braking.
The brakes zones are much more compressed
now due to how quick the brakes stop the car
up. Along with this, the car has a lot more
mechanical grip compared to the old car.»
‐ Do you consider the 'Road to Indy' program
a successful way to raise young pilots in the
US?
«Absolutely. The Mazda Road to Indy Presented
by Cooper Tires is the only open‐wheel ladder
series in the U.S. that provides a clear path to
the Verizon IndyCar Series. They provide not
only over 2 million dollars worth of scholarships,
but also the career guidance on and off the track
to assist in your success within the racing
industry. Mazda, Andersen Promotions and
Cooper Tires have put together a world class
program to assist young drivers in achieving
their dreams.»
‐ Would you like to experience European
competition in the future? What is your
favourite series?
«I was fortunate enough to get a taste of what it
is like to race overseas through the Team USA
Scholarship, and it definitely had me wanting
more. The FF1600 races that I competed in were
an absolute blast and I would like to participate
in similar races again.»