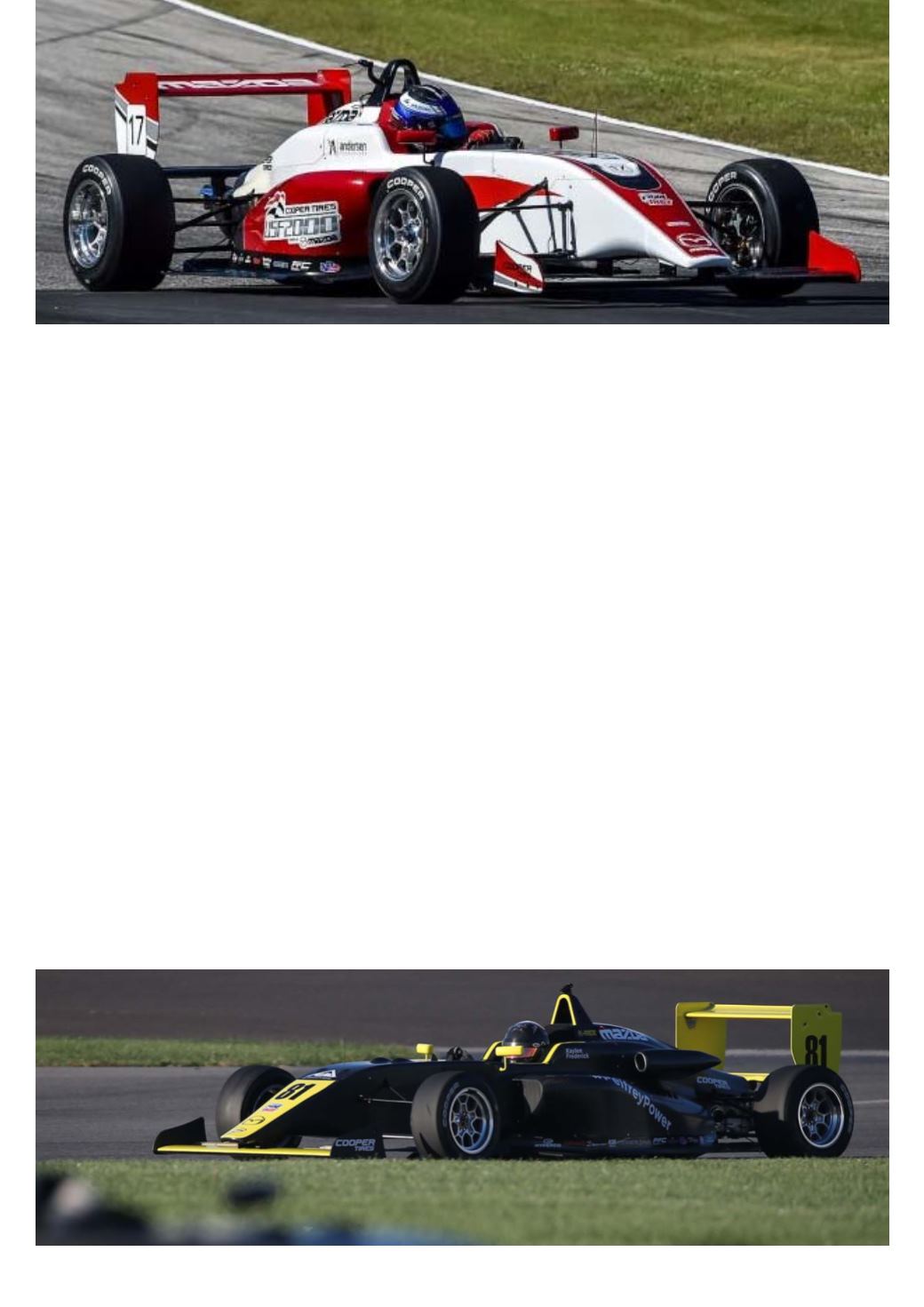 ‐ What are the main features of the Cooper Tires USF2000
Championship powered by Mazda and the Pro Mazda
Championship presented by Cooper Tires?
«A difficult question as I necessarily can't have favorites! The returning
drivers will have an edge due to experience, but for USF2000, the new car
will be a great equalizer. The champion that emerges from the $200,000
Mazda Scholarship Shootout in December will be funded into USF2000
for 2017 and coming out of that intense competition will mean that he or
she is a driver to watch. In Pro Mazda, our USF2000 champion (Anthony
Martin from Australia) moves up and he will be very competitive as he
tries to move through Pro Mazda and into Indy lights in one season. It
will be fun to watch!»
‐ How did the partnership with Tatuus begin and why did you turn to
this Italian company for your latest endeavours?
«In the 1990's, I owned and operated the USF2000 series and during those
years we had open chassis regulations, meaning that there were six or
seven different manufacturers providing chassis to our teams.
Tatuus entered the series (I believe in 1998) and immediately demonstrated
that they built a superior race car. I sold the series in 2001, and the
subsequent owners went to a "spec" chassis and I lost touch with Tatuus.
In 2010, INDYCAR asked me to become involved in a resurrection
of the USF2000 series which had ceased operations in 2006.
I did so, and when the time came to introduce a new chassis, Tatuus was
immediately on my list of companies to receive a proposal from. I never
forgot the car they hadn introduced back in 1998, and always held them in
very high regard».
Do you have any funny memory to share about your friendship with
Gianfranco De Bellis?
«Tatuus brought a fantastic and fun loving group of staff to the
US in 1998 and 1999, and we enjoyed them very much. I do recall a soccer
(football) game we hosted at Mid‐Ohio between the Italians and the
world, and I played and I believe Gianfranco did as well. The Italians won,
though it could have been because the "world" team spent too much time
drinking during the stoppages!»
‐ After the first on‐track tests at Indianapolis, what is your opinion
about the new USF‐17 by Tatuus? What are the aspects that you
appreciated the most?
«The USF‐17 is a remarkable race car, providing so much for a great
price point. It accomplishes what we sought ‐ using less aero downforce
which will result in closer and better racing and, of course, better
training. The quality is as I expected, top notch Tatuus workmanship, and
the features include everything a young driver of today seeks. The reviews
following our recent test at Indy were all positive, and we think this car
will completely change the series for the better!
What will the new 2018 Pro Mazda Championships car need in order
to succeed?
«Our design for the updates include more aero (and adjustments
for the driver), more HP and more tires. We are looking at gearbox
enhancements and a step up in dampers as well. The idea is to better
prepare drivers for the step into Indy Lights, and I am confident that the
PM‐18 will do just that.»
‐ The cars built by Tatuus and Dallara are a normal sightseeing in
American competition. In 2016, F1 was joined by an American team,
Haas GP. Do you think there will be more partnerships and
cooperation between Europe and the USA in the future?
«That would be my hope. We have really improved the training that
drivers in the Mazda Road to Indy are receiving and hopefully our
graduates will seek opportunities worldwide, and world teams will see
opportunities here in the United States».
8