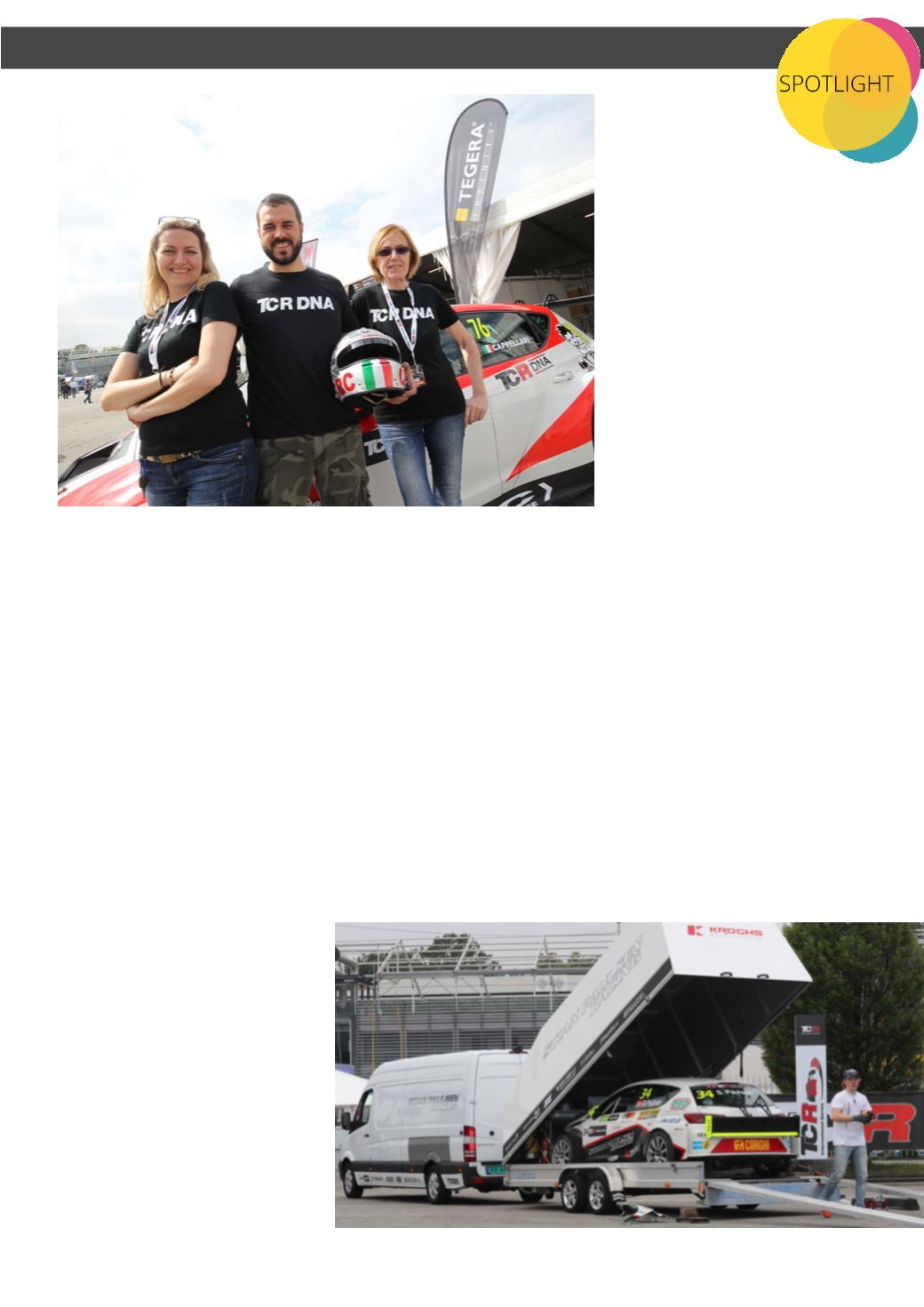 3
STANDINGS
SPOTLIGHT
Wandering around the TCR paddock in
Monza, a new slogan could be seen; a
slogan that perfectly captures the
'can-do' attitude of some of the
independent competitors who don't
have the resources of the big teams.
The slogan was 'TCR DNA' and it
applied to the two SEAT León cars of
Stian Paulsen and Daniele Cappellari,
but it's expected to pop up many more
times before the season is over.
Cappellari is a regular in the TCR Italy
series – in which he finished fifth last
year – but Monza marked his first
appearance in the International Series.
The slogan could be seen emblazoned
both along the side of car and on his
T-shirt, but both the Italian and his
Norwegian rival embodied the slogan
in almost everything they did that
weekend and beforehand.
"We are just two people, me and my
girlfriend Fabiola, and we only used a
total of four tyres over the entire
weekend," explained Cappellari. "The
only thing I did was switch the front
tyres to the back for the second Race.
For me, the TCR International Series is
the top level of what I can do and I
TCR DNA – something
more than skin deep
the broken SEAT and the downbeat
message "I'll be back, but I don't know
when…" suggested that the one-week
gap before Monza wouldn't be enough
to repair the car.
"I got back to our base in Germany
about 2am on the Saturday night,"
said Paulsen. "I didn't get much sleep
and on the Sunday morning, I said to
myself, 'okay, let's see how bad the car
is' and then I began to fix it. It wasn't
the best preparation, but at least we
made it."
Without the kind of budget enjoyed by
other teams, Paulsen's team consists of
Stian himself, his mum and dad and
some friends. "We prepared the car in
Norway, but maybe we started a little
too late because we had to find the
money to buy the operating kit and
everything. The preparation isn't
perfect, but we're here. I have a three-
year plan and so I have to learn as
much as possible at every race and go
from there."
Social media is clearly important to
both drivers, with Paulsen sharing the
highs and lows of his season with a
series of vlogs. The determination
shown by the pair to compete at the
highest level of the TCR pyramid
surely confirms the accessibility of the
series while the hashtag #TCRDNA is
one that will be worth watching for as
the season goes on.
wanted to come to this, my home
event, to be a part of it."
It was a similar story at the far end of
the giant tent that served as the TCR
paddock. Stian Paulsen is competing
in all of the European rounds in a bid
to qualify for the one-off TCR Trophy
Europe event at the Adria
International Raceway in October, but
a badly damaged car after the Spa
event meant that goal was in jeopardy.
A dejected Paulsen posted a video to
his Facebook page after Race 2 in Spa;