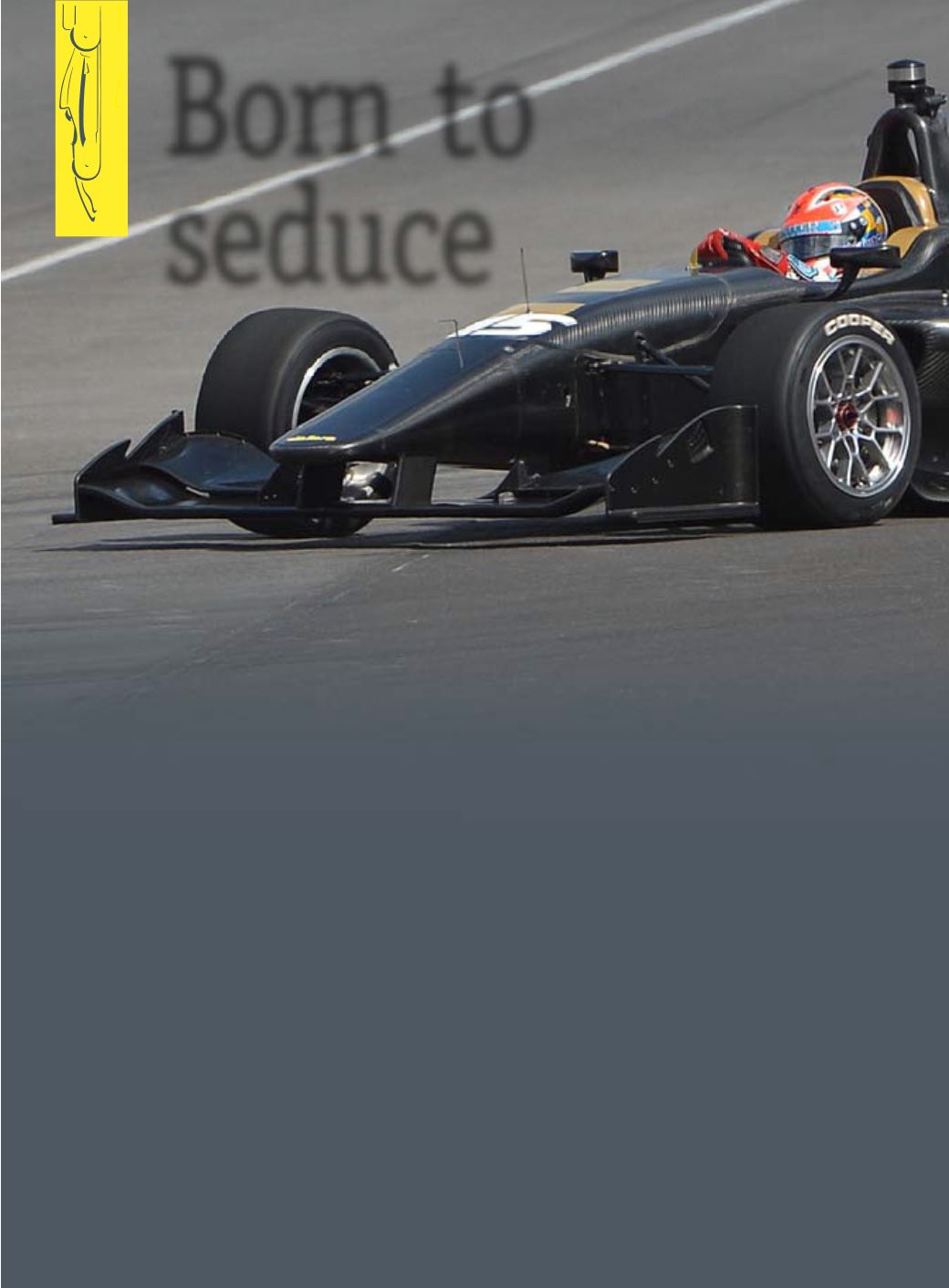 2
Indy Lights
T
he 2015 Indy Lights season is
getting closer, and everybody is
ready for a new season of the
IndyCar feeder series. The last tests are
scheduled in these days and in
January, and the much-anticipated
next season of the series, promoted by
Dan Anderson, will be starting in
spring. Stefano De Ponti, who heads
the USA operations of Dallara, we'll
discover how the collaboration between
Varano and Indianapolis developed, and
understand what we can expect for a
series aiming for a re-launch. «
The
structural parts, the most important for
the safety of the driver, like the tub and
the front nosecone are built by Dallara
in Italy
- explains De Ponti -
the other
components are made in the USA. Some
are built here at our headquarters, while
one third of the total parts come from
local suppliers, especially in Indiana.
Dallara USA is still a pretty new
company but we're improving our
structure and a specific area with an
autoclave, oven, cutting table, modeling
and carpentry is available to produce
the composite parts
». Head of the
project is Antonio Montanari, whose
interview is also included in this issue,
and Indianapolis hosted an interesting
Italian-American task-force.
«
Here at Indianapolis
- continues De
Ponti -
I contacted an engineer, Alex
Timmerman, who acts as a technical
reference for Dallara USA. He deals with
Project Leader Montanari and is the
American interface regarding the
customer service with the Indy Lights
teams and promoters. We also involved
Owen Snyder. In addition of being the
brother-in-law of the Michael
Schumacher of Sprint Cars, Steve Kinser,
he won Indy twice as a crew-chief of Al
Unser Jr and Eddie Cheever. Snyder
followed the assembly and the technical-
logistic aspect of the parts. Considering
quality control, administration and
logistics, four people were involved full-
time here in the USA»
.
«
When we design a new product we
always try to get the best cost/benefit
ratio
- says De Pont -
in America,
Dallara is on the front line in terms of
customer service. We don't have
distributors for the spare parts, or
relationship with the teams is direct. If
something doesn't work, we are the
people who have to solve the problems.
Here everybody likes to tingle with the
products, staying on the edge of the
rules. We have do make sure that the
car has a considerable quality and that
it's safe. And given that the quality
always has a price tag, our challenge is
to keep the costs down. In the United
States, as everywhere, due to the world
crisis there are less and less sponsor
circulating. Although motorsports didn't
lose interest in general terms, the other
disciplines represent competition in
terms of securing the funding
».
The key of the new Indy Lights success
also relies on a ladder project that can
take the American drivers by their
hand and help them learn in an effort
to reach the top level in open-wheel
racing, IndyCar.
Born to
seduce
D
ALLARA
USA
IS EVERY DAY MORE AN INTEGRAL PART OF
A
MERICAN RACING
,
AND THE
I
NDY
L
IGHTS
REVAMP PROGRAM FEATURE THE
I
TALIAN COMPANY AS ONE OF ITS MAIN STARS WITH THE DESIGN OF
A NEW CAR FOR THE
2015
SEASON
. S
TEFANO
D
E
P
ONTI GUIDES YOU THROUGH THE BIRTH
,
THE DEVELOPMENT
AND THE DELIVERY OF THE CAR
-
WHICH WAS LABELED AS
"
SEXY CAR
"
BY PROMOTER
D
AN
A
NDERSON
-
AND
TELLS US MORE ABOUT HOW THE FACTORY
'
S TWO BASES IN
I
TALY AND
A
MERICA
. A
REALLY INTERESTING
RELATIONSHIP ALSO FOR TEAMS WITH GREAT RACING TRADITIONS LIKE
C
ARLIN
M
OTORSPORT