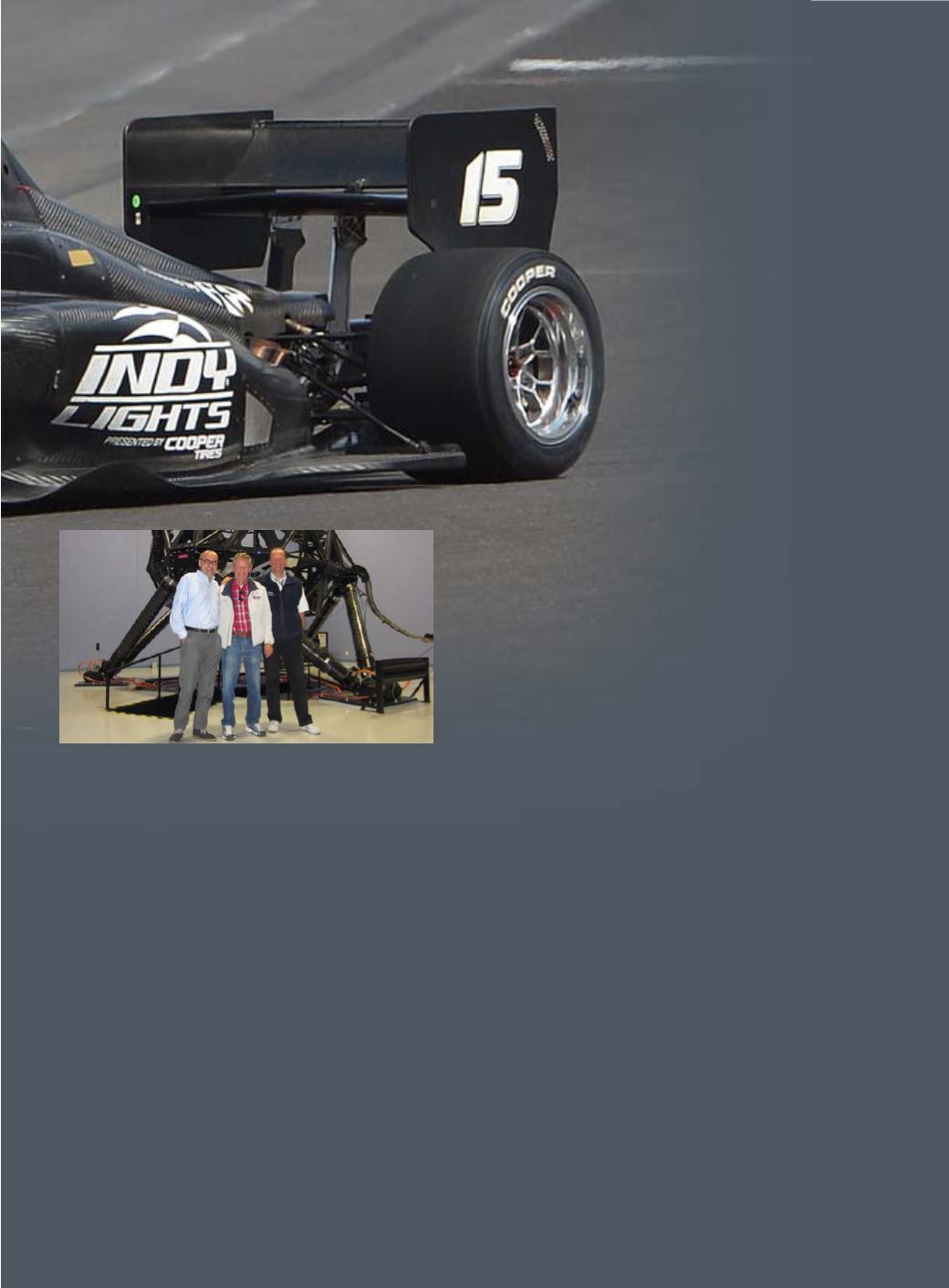 3
«
Everything that was designed for
IndyCar in terms of safety and worked
was implemented on the Indy Lights, if
the rulebook allows. Regarding the
safety aspect, the car is actually a mini-
IndyCar. The project is managed by Dan
Anderson, who is a racing manufacturer
and fan and imagined the ladder to the
IndyCar. An educational program for
mechanics, drivers and engineers that
can take them up to the IndyCar Series.
He and Tony Cotman, the Technical and
Race Director for the Indy Lights, kept
in contact with Antonio Montanari and
his team while they designed and built
the car. It's a very interesting project,
and a less complicated one from the
"political" standpoint because there are
no manufacturers involved. We
submitted some renderings explaining
the possible solutions to Anderson, and
he chose what he defined "sexy car". We
already delivered several units. Last
week 3 or 4 left to complete the first 10-
car bench that will be testing on the 16
and 17th of December at Palm Beach
».
The start of the season will be on
March 28th at St. Petersburg, Florida,
and the addition of prestigious British
team Carlin Motorsport is something to
rely on.
«
I can anticipate that there will be a
great field at St. Petersburg
- confirms
De Ponti -
and the arrival of Carlin
Motorsport is great. It shows that they
found in Indy Lights the right package
for their USA activities. And it definitely
opened the door to more additions. The
way of imagining racing in the USA is
different compared to Europe. The
average American is conservative and
once there is a good product, is kept for
years and years. There is slightly less
development and innovation compared
to Europe, but it's a successful business
model
».
The Indy Lights project also represents
an interesting opportunity from a
driver's point of view as it deviates
from the original project. «
The Indy
Lights spirit was created in 2002 - the
previous car was delivered that year and
lasted until the 2014 season - and the
goal was to draw drivers from Sprint
Car racing and bring them to single
seaters and NASCAR. For several
reasons, this plan didn't work. Thanks
to an external promoter like Dan
Anderson, the championship is now
looking forward to a new path. It's a
good instrument to learn the driving
technique on the ovals - don't forget
that the Indy 500 is still the main
race of the IndyCar season - and to
familiarize with the American circuits
that are very different from the
european ones in terms of layout,
bumps and type of asphalt. The
arrival of Carlin means that the the
American way of racing is getting
rediscovered. The classic approach was
like: in America you race on ovals,
with concrete walls that can get you
hurt. But we must not forget that
Indy Lights is still the second fastest
series in the world, with one-hour
races and average speeds of 185-189
miles per hour. A good Indy driver
must learn how to drive fast with 15
or 16 drivers at his sides, relying on
his spotter, who tells him what
happens around him from the
grandstands and also suggest the race
strategy. This is a completely
unknown element in Europe, and it
surely increases the competence level
of a driver
».
The Indy Lights development project
was also able to benefit from the
Dallara Simulator installed earlier
this year in its American version.
«
The Simulator goes really well
-
confirms De Ponti -
and we are using
it a lot. In these days we are
planning an Open Day with a car
model available to drivers and
engineers of Indy Lights and Formula
Mazda. In addition to that, Louis
Scwitzer's nephew will be presenting a
plate dedicated to his grandfather
».
Dallara is each day more committed
to extra-racing projects and there is
plenty of work for De Ponti and his
staff.
Stefano De Ponti,
Head of Operations,
Dallara Usa,
Together with Al Unser
and Andrea Toso
in front of the
brand-new simulator
launched
in Indianapolis