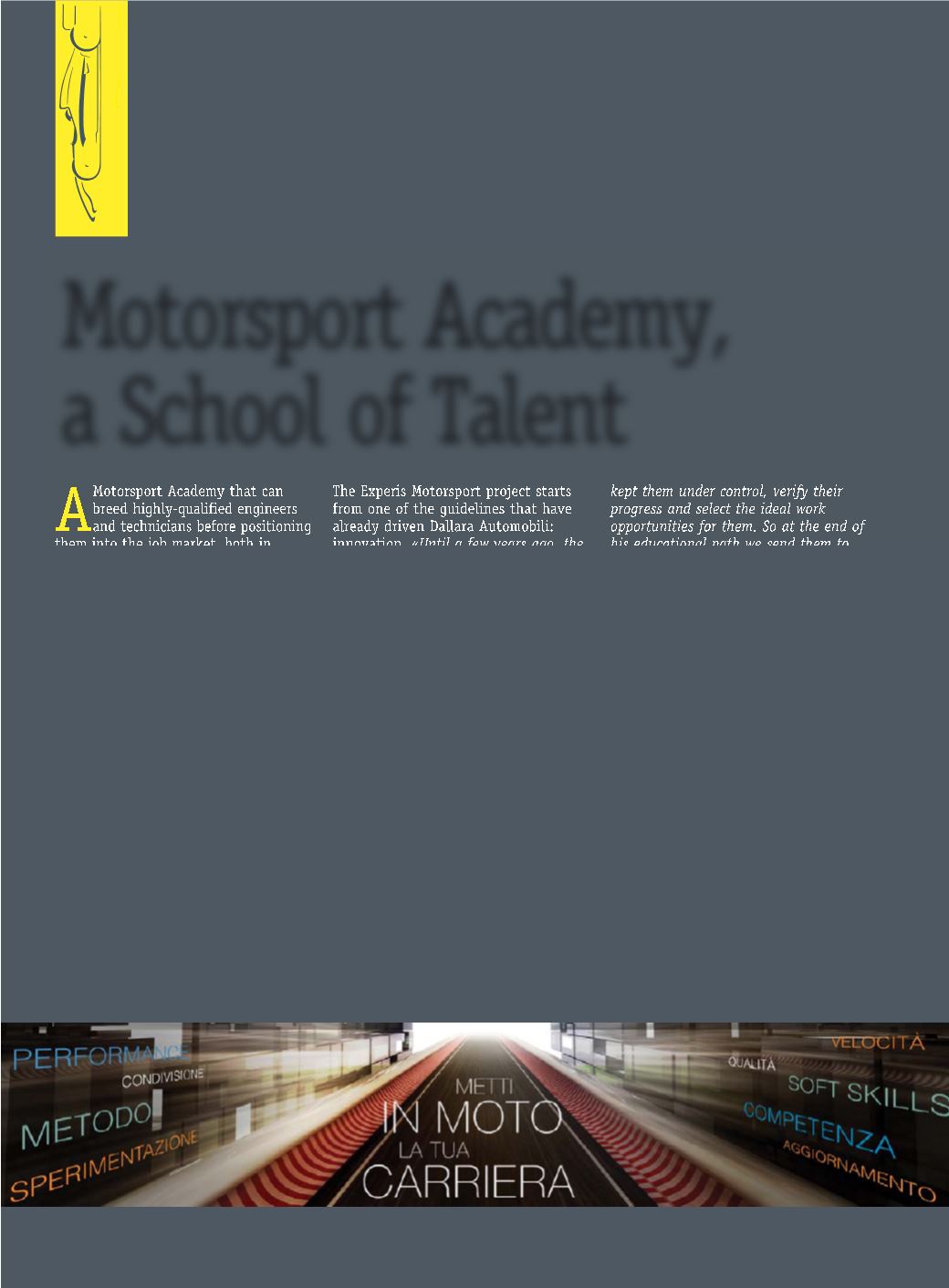 30
A
Motorsport Academy that can
breed highly-qualified engineers
and technicians before positioning
them into the job market, both in
Emilia-Romagna and at international
level, responding to the needs of the
companies and re-launch the Italian
Motor Valley. It's a dream that will be
turned into reality from the next 23rd
of December, when the new
headquarters of Experis Motorsport, a
division of Manpower, will be
inaugurated. Their goal will be to train
and deliver to the best motorsport
companies in business the talents they
need and often struggle to find.
«I didn't hesitate to choose Dallara as a
partner» said Luca Giovannini. The
manager was born in Maranello and
spent 12 years working for Ferraris,
before becoming the Director of Experis
Motorsport and the Motorsport
Academy. «
The base was an agreement
over the values. People stand first
and they have to be deep, have ideals,
dedication, and passion for what
they work on. These concepts
are shared by Andrea Pontremoli
and Filippo Di Gregorio
».
The Experis Motorsport project starts
from one of the guidelines that have
already driven Dallara Automobili:
innovation. «
Until a few years ago, the
teams and the companies wanted some
highly-experienced people
» continued
Giovannini. «
Now things have changed.
Even in Formula 1, the rules are tighter
and the budgets are so precise that
made convenient hire people coming
from outside motor racing but that have
other competences. People who can plan
and reduce the expenditures with a
more industrial approach without losing
the ideas and the craftsmanship that is
proper of racing. So I asked myself: why
I have to drive myself crazy to find
competence that aren't available on the
market when I can breed them in three
years exactly like my customers want?
So this large investment, about 300.000,
was started in an effort to turn an idea
into a practice that will change the
world of education. For the first time we
will provide, in the same offer, training
and placement. Nowadays, you do
either, while each time a new intern
makes it to the Academy, he or she
immediately becomes a candidate. We
kept them under control, verify their
progress and select the ideal work
opportunities for them. So at the end of
his educational path we send them to
the companies for rehearsal
».
The classes include maximum
15 or 20 people per course, with
extremely high-level teachers and
learning opportunities that nobody
else can offer, mainly thanks to
Dallara.
«
The courses comprise 140 hours in a
weekend formula every two weeks. The
guys will have to work very hard to
reach the goal but who will succeed, will
definitely get a great boost. The
teaching body will be a mix of
University Professors that already
collaborate with the companies and
professionals that already work in
motorsport. Dallara will provide us the
wind tunnel, their simulator and the
technicians needed for the workshops. Of
course, the program won't be available
for everybody and the selections will be
very tight. The candidates will have to
send their resume to the research and
selection team that will then go on with
the placement. Once verified their
Motorsport Academy,
a School of Talent
I
N HIS NEW HEADQUARTERS
, E
XPERIS
M
OTORSPORT
,
A SPECIALIZED DIVISION OF
M
ANPOWER
,
WILL BREED HIGHLY
-
QUALIFIED ENGINEERS AND TECHNICIAN
,
AND FIND THEM AN EMPLOYMENT
AMONG TEAMS AND COMPANIES
. S
ERVING AS A MAJOR INSTRUMENTS WILL BE FOUR HIGH
-
LEVEL COURSES
THAT WILL TAKE ADVANTAGE OF THE
D
ALLARA
S
IMULATOR
, W
IND
T
UNNEL AND PERSONNEL
OF
D
ALLARA
A
UTOMOBILI
,
THE MAIN PARTNER OF THE INITIATIVE
. A
LONGSIDE THE HIGH
-
LEVEL
COURSE THERE WILL BE A RE
-
QUALIFICATION PROJECT TO RE
-
LAUNCH THE
E
MILIAN
M
OTOR
V
ALLEY