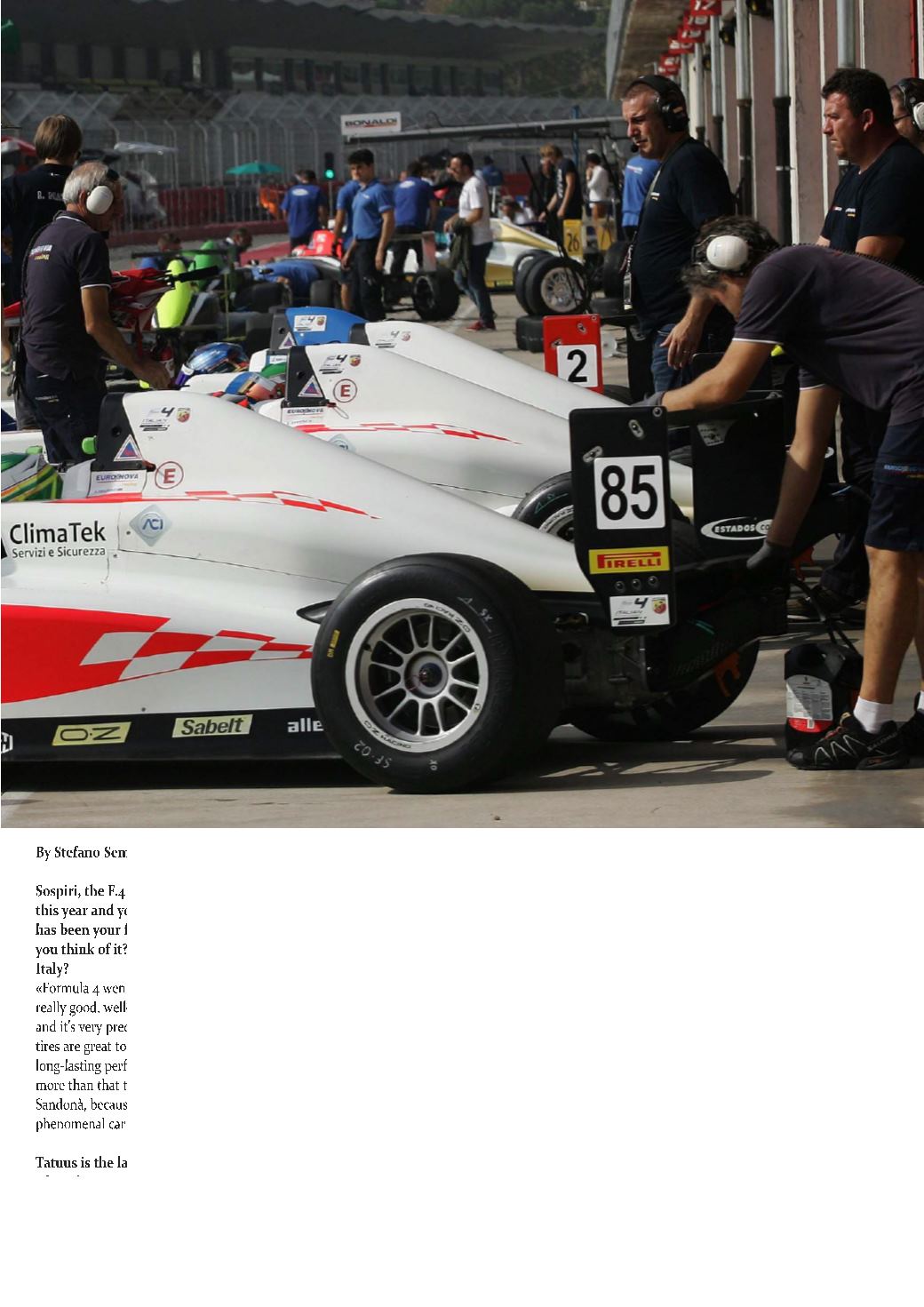 27
By Stefano Semeraro
Sospiri, the F.4 Italia championship took‐off
this year and you immediately joined. What
has been your first impression and what do
you think of it? There will be a future in
Italy?
«Formula 4 went well for everybody. The car is
really good, well‐suited to teach the young guys,
and it's very precise going into the corners. The
tires are great too, with a good peak and then a
long‐lasting performance. Congrats to Pirelli, but
more than that to Gianfranco De Bellis e Artico
Sandonà, because they put together a
phenomenal car in a little amount of time».
Tatuus is the largest manufacturer
of single seater cars for the developmental
championships. Euronova has a good
relationship with them between
Formula Renault, the now‐defunct
Formula Abarth and Formula 4....
«We started collaborating with Tatuus in
2001/2002 with the F.Renault 2.0. Their strength
is in the professionalism and intelligence they
put in everything they do, and in the
communication they are able to establish with
teams. They offer an extremely high professional
level, they are number 1!»
Do you think that the Tatuus cars, F.Renault
and F.4 can be improved further or they are
ok just the way they are?
«The F.4 is already at a great level. The only
thing I feel I can suggest was might be to leave
even more freedom to the team in using more
components and settings, for example for bump‐
stops, but we can say that the car is perfect just
the way it is. It's studied for the 15 year olds but
it can teach something also to a guy who is 18 or
20. Regarding the F.Renault, the Tatuus kit has
been a giant step. Simply, now it's a car, and it
wasn't before. I don't see many possible
improvements. Unfortunately, the FIA rules
make it a little stocky and heavy. The Abarth was
a real racecar, with the right weights, but it
didn't comply to the FIA requisites».
Euronova has been committed on three
different fronts, Auto GP, F.Renault NEC and
F.4 Italia for quite some time. What does
that mean in terms of logistics and
commitment?
«We have been running in three different
championships since three or four years. It's
hard, not difficult though because I can count on
some great guys, exceptional engineers, Gianluca
Gradazzi that takes care of many aspects and my
wife who manages the logistics. So we can split
the three teams and still give our 100%.
Considering that we have always been among
the top two or three teams in all the
championships, I think we deserve some credit».
