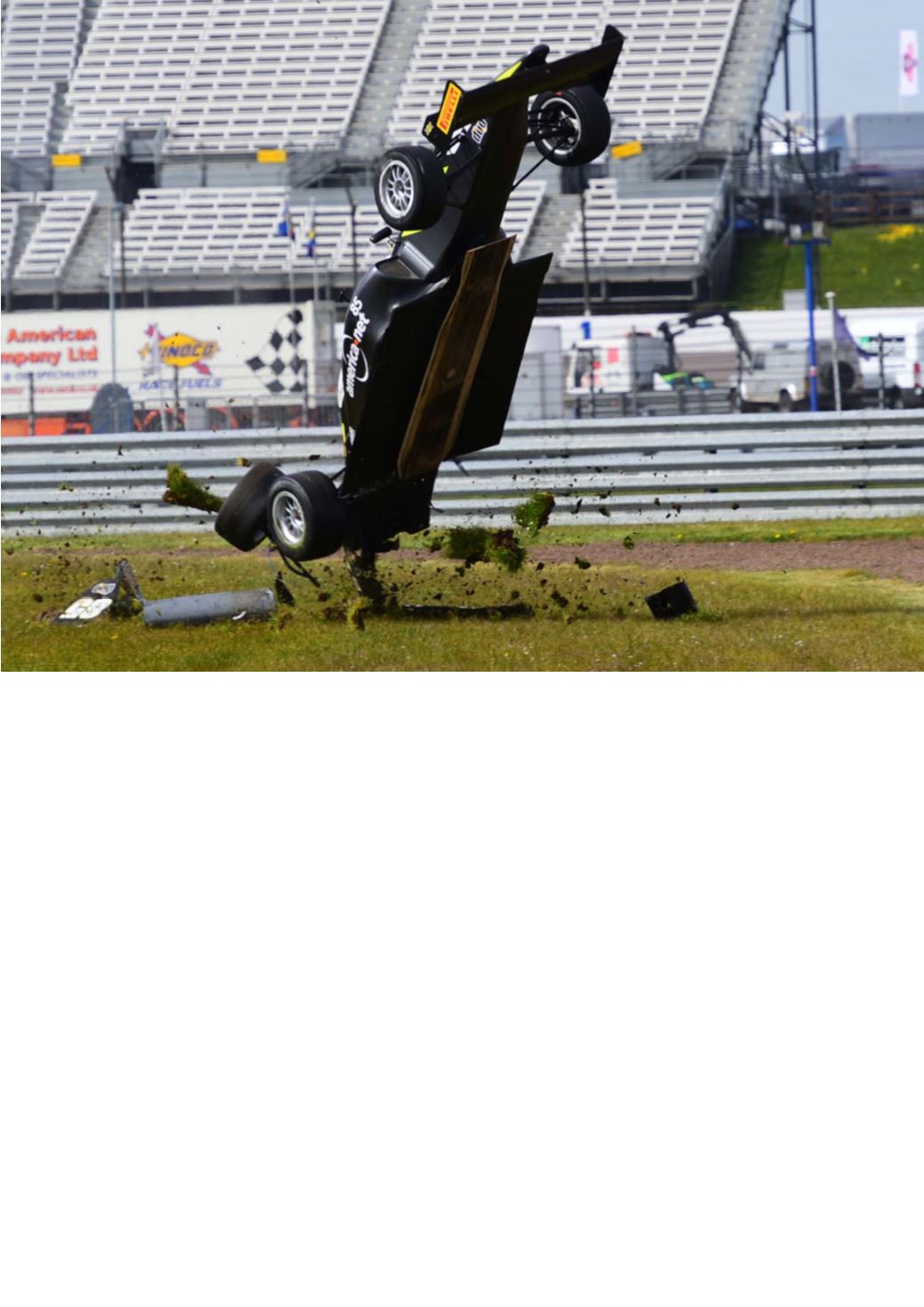 The new series, promoted by Jonathan Palmer, is an ideal bridge between F4 and F3.
The first few rounds featured a lot of balance on-track and a great show. A confirmation that the Tatuus chassis
is reliable and well-performing under any point of view
6
By Jacopo Rubino
The 2016 season featured the much anticipated
return of the prestigious British Formula 3
brand, opening a new path for the FIA project
for an "F3 Light" platform to bridge the gap
between national Formula 4 championships
and the European Formula 3 series. Jonathan's
Palmer MotorSport Vision must be credited for
this innovation. The British company decided
to take a huge technical step for the series
which was formerly known as BRDC F4. The
2016 grids have welcomed a new Tatuus car,
with a carbon fiber chassis, a 2-litre Cosworth
engine with 230 horsepower and Pirelli tires.
The package proved successful straight away,
and was welcomed with interest by drivers and
insiders for the high performance and its low
management costs.
The schedule features eight rounds, including
a trip to the world-renowned Spa-
Francorchamps venue in Belgium, and the
three opening events were already held at
Snetterton, Brands Hatch and Rockingham
respectively. As a further confirmation of the
spectacular nature of the series, 7 drivers
scored race wins in 9 rounds. The
championship standings, that had a new leader
after each round, is now led by Ricky Collard
(Carlin) with 186 punti, followed by Toby
Sowery (Lanan) and Matheus Leist (Double R).
Lando Norris and Enaam Ahmed, among the
most promising talents of the British
panorama, also left a strong impression.
The Tatuus car also showcased its extremely
high safety standards. in race 2 at Rockingham,
Enzo Bortoleto was involved in an incredible
first-lap crash, rolling his car after a contact.
The 17-year-old Brazilian, who was extricated
from the cockpit by the stewards, suffered no
physical consequences. He also lined-up
for race 3 and was even awarded the
"Driver of the Weekend" for the highest
numbers of overtakes completed.
"It has been an huge crash, and I thought that
the car would have been in much worse
condition. Actually, the damage wasn't that
significant", said Bortoleto.
Reco r d sa f e t y s t anda r ds
f o r t he B r i t i sh Ta t uus
Enzo
Bortoleto