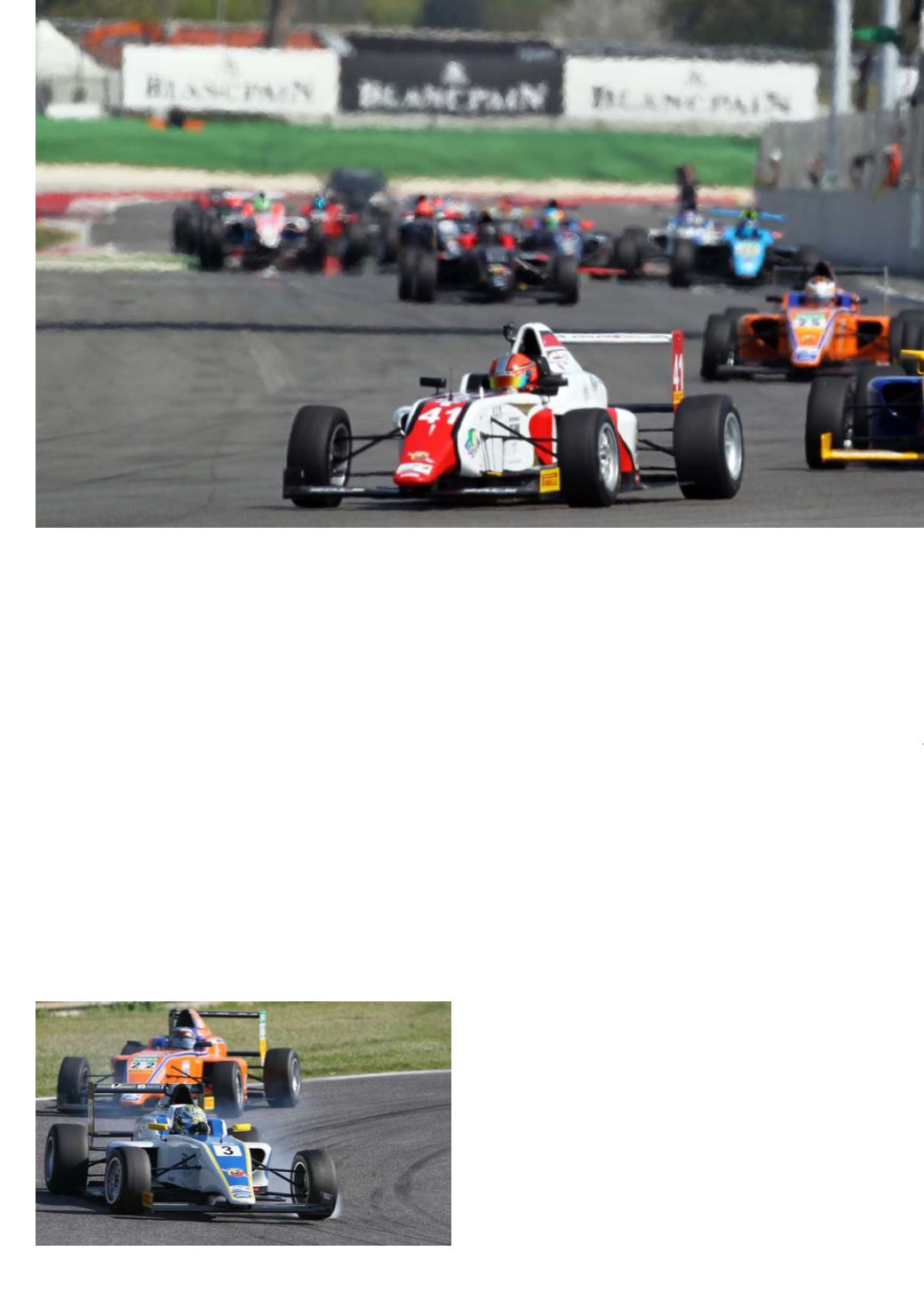 10
By Jacopo Rubino
Two rounds are already in the books for the third edition of the Italian
Formula 4 Championship. The progenitor of all the modern F.4
championship, started in 2014 and featuring the well-appreciated
Abarth-powered Tatuus racecars, set a new record with 41 entries on-
track at Misano. The increase in car counts was expected since last
winter, forcing the promoters to adapt the format in order to meet the
requests.
A kart-like format
to develop the drivers' skills
Qualifying are now held in two 20-minute groups. According to the
laptimes, the pack is split in three groups (A, B and C) that line-up for
the three eliminatory heats. Every driver runs in two of them, and the
total amount of points set the field for Sunday afternoon's feature race
which includes all the cars. The new system, inspired by kart racing,
made the driver experience even more demanding and challenging. A
driver must race smart not to jeopardize the entire weekend with a
single mistake. Also, the tire management throughout the whole
weekend has become crucial. And that's the reason why the results
must be never taken for granted.
Schumacher, Siebert
trade the championship lead
The opening round of the 2016 series was held at Misano, captivating the
attention of media from all over the world. The presence on-track of Mick
Schumacher was the magnet and catalyst. The young German, at his second
Formula 4 season after racing only in Germany last year, decided to join
forces with the reigning champions of Prema. The son of the great Michael
Schumacher performed up to the expectations, cruising to two wins in race 1
and 2 before delivering a stunning recovery in the feature run. Schumacher
was leading the championship, but Prema decided to jump the second
round at Adria due to logistic concerns. His chances are still intact though,
as the new rules enable the drivers to drop the 5 worst results. The new
series leader is Marcos Siebert, with 103 points. The Jenzer Motorsport
Argentinean scored one pole and two wins in 2016, and has turned his
consistency into a powerful weapon.
Guzman, the surprise
Baiz, the king of Adria
The main surprise came from Mexican Raul Guzman, fielded by DR
Formula, who delivered great performance and spectacular moves. Guzman
scored two wins and without his race 2 retirement at Adria, while he was
fighting for the lead, he could have been on top in standings. The round in
Veneto showcased the chances of Mauricio Baiz, who cruised to victory in
the opening heat and in the feature race with the Mucke Motorsport team.
Cunati, the best rookie
and the best Italian so far
The Italian contingent, featuring eight drivers this season, has found its
leader in Simone Cunati. The Como-based racer, lined-up by VSR, has
often been a feature at the front, but probably got less good results than
deserved despite the two overall podiums achieved. He is leading the
rookie competition though, followed by BVM Indian contender Kush
Maini.
Simone
Cunati
Raul
Guzman