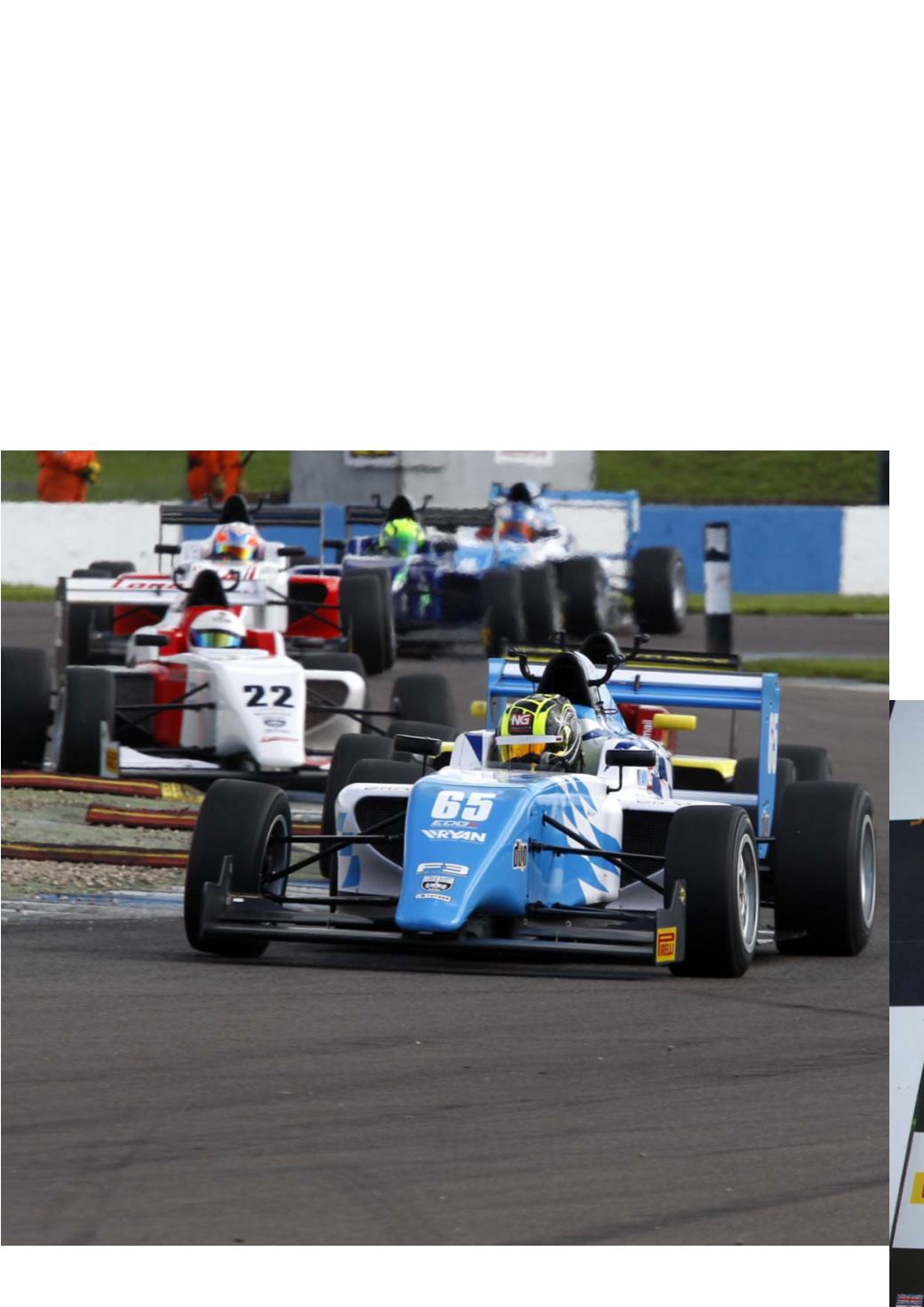 10
by AdamMcDaid
The British Formula 3 Championship has long
been seen as a proving ground for F1 hopefuls
of the future, with former champions such as
Ayrton Senna, Mika Hakkinen and Daniel
Ricciardo amongst its alumni. However, after
spiralling costs and ever decreasing grids led
to the series abandonment in 2015, it looked as
if that history had come to an abrupt end.
However, former F1 driver Jonathan Palmer's
MSV operation eyed the gap in the market and
enlisted Tatuus to produce a new car for its
BRDC Formula 4 Championship, featuring a
more advanced aerodynamic package and
upgraded engine. So successful was the
creation put together by Tatuus and MSV with
lap times not far from European F3 pace that,
ahead of the 2016 season, the championship
acquired the British F3 name with the support
of the FIA to provide the perfect feeder series
from FIA F4 categories to European F3 and
GP3.
A high‐quality international grid was
assembled for the 2016 BRDC British F3 season
with renowned single‐seater outfits such as
Carlin, Fortec Motorsports and Double R
Racing joining the category. Lando Norris, a
rising star in the motorsport world, shone
early on in his part campaign as the
championship visited the UK's best circuits
such as Brands Hatch and Oulton Park before
heading to the daunting and fearsome Spa‐
Francorchamps in Belgium as the bumper grid
of drivers were pushed to their limits.
Four drivers, including Australian Thomas
Randle and Brit Toby Sowery, were the main
protagonists in the title fight but eventually it
came down to just two drivers; Carlin's Ricky
Collard and Double R Racing's Matheus Leist.
Collard held a comfortable lead heading to the
season finale at Donington Park but a
dramatic opening race saw the pendulum
swing in Brazilian Leist's favour. Collard came
to blows with Leist's compatriot Enzo
Bortoleto as he attempted to make up ground
lost at the start of the race and, with Leist
winning the first encounter of the weekend,
his advantage in the overall standings was
overturned and he couldn't recover on the
final Sunday of action.
It was a dramatic end to what was a superb
year in BRDC British Formula 3, as the Tatuus‐
Cosworth car performed flawlessly across a
demanding 24‐race season. The praise was
forthcoming from both drivers and team
members, with Renault Sport F1 driver Jolyon
Palmer, who tested the car prior to the start of
the season, saying: "You can tell straight away
that it is a great racing car.
Enaam
Ahmed