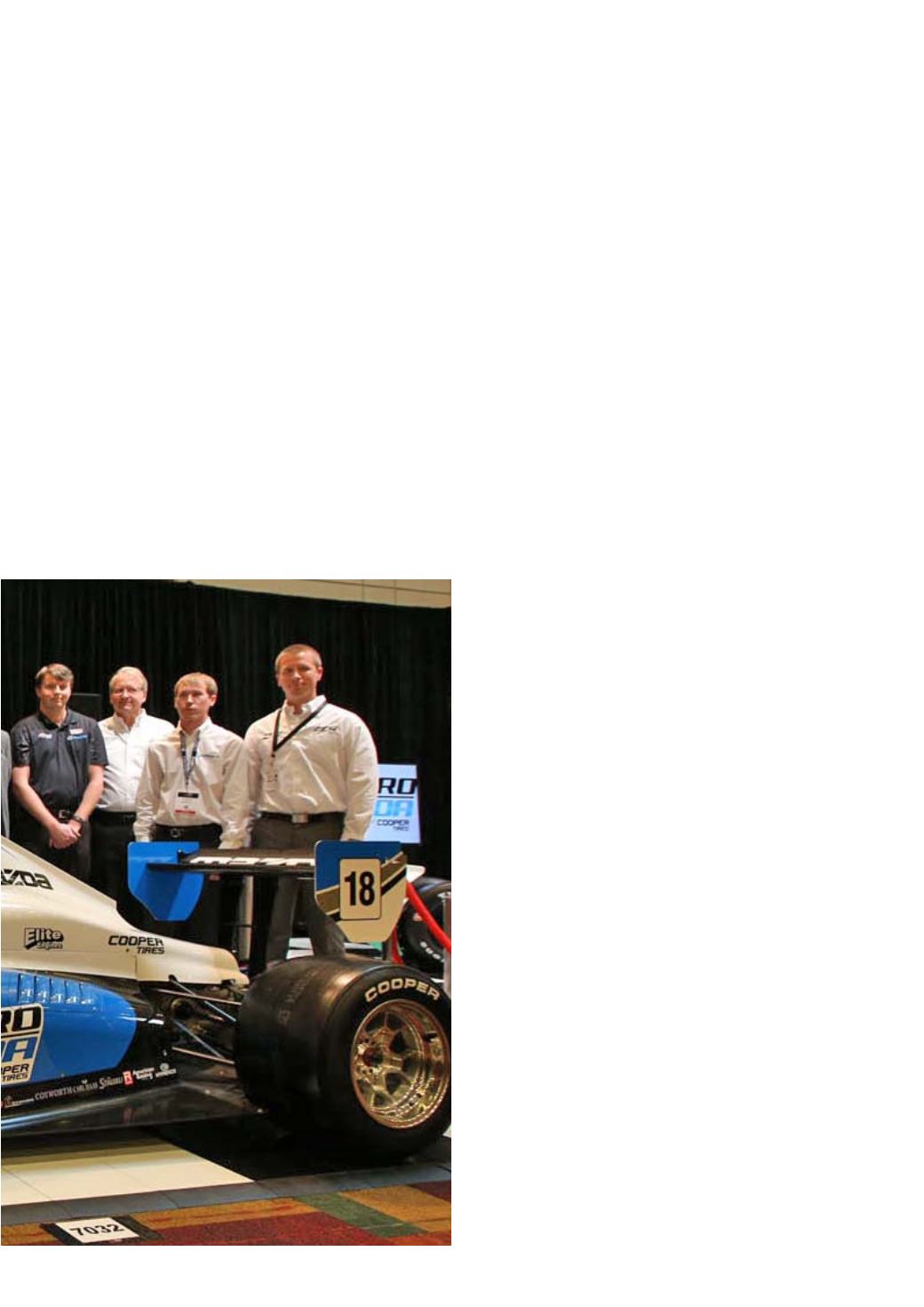 7
Are you satisfied with how the Indy Lights Presented by Cooper Tires
is coming through?
"With all the incentives in place (the added Mazda scholarship to the
winner, the top‐three drivers get Indy Lights Presented by Cooper Tires
tests and the Rookie of the Year gets a new Mazda street car) it's a great
package. It's a transition year so we must get the word out there. I think
we'll see more drivers as the season goes on. There is a huge opportunity
for drivers to take advantage of this season".
Do you think the Tatuus PM‐18 is the right car to develop great
driving skills in the young drivers? And why? Have you had the
chance to test the new car?
"Absolutely. If you put 2017 aside and look to where we think the PM‐18 is
going to fall in regards to lap times, it will be a very linear progression from
USF2000 to Indy Lights. That car is going to be fast, with more
horsepower, more grip and more downforce than the USF‐17. It's going to
be great. The Tatuus USF‐17 is a great progression, especially for drivers
coming into the series from karting. It's very quick and it drives more like a
go kart. As you progress toward INDYCAR through the Mazda Road to
Indy Presented by Cooper Tires, you get more horsepower and more grip
and this progression shows that. The PM‐18 is a progression from the USF‐
17, with upgrades to the engine, bodywork, tires and wheels. It's been well
thought out, with great people working on the program both from
Andersen Promotions and Tatuus. I can't wait to see the PM‐18. Testing will
start this summer, but with all the computer simulations and the
performance of the USF‐17, we have a good idea of what it's going to do.
We have the platform already, we're just adding to it. We have been
incredibly impressed with the performance of the USF‐17. The feedback
from drivers has been great and the level of competition is extremely high.
It will be quite the season as the teams and drivers develop".
Which is in your opinion the major strength of the series?
"The incentive package that Andersen Promotions put together with
Mazda is a great strength for the series. You don't see this kind of package
anywhere else in the world".
Is there any young driver that you can identify as a top pick for the
future?
"If I had to pick one, I would have to say the Mazda Scholarship driver this
season, Anthony Martin. He won USF2000 last year and has proved he can
win races so he'll be someone to keep an eye on. I also think Nikita
Lastochkin will be tough – he's very aggressive. It's hard to pick against last
year's champs, Team Pelfrey. But it's going to change throughout the
season. There are some very good drivers in this series and they will
progress as the season goes on, and I think we'll see the same thing in
USF2000. Spring Training has been a great chance to see how the teams
and drivers are coming along".
You are a former driver and a race director: can you compare for us
the old and new generations of drivers? For example: is there more
fair‐play now or in older times?
"The kids from this era are predominately coming from go karts, instead of
sprint cars, so it's a different world. The biggest difference is more
simulation work, from iRacing to whatever. These kids get good by sitting
in front of a monitor at home. If you'd told me that when I was driving, I'd
have told you that you were crazy. But I've seen it over and over and it
works. Add that to the karting background and they're phenomenal right
out of the box. That's why we see such competitive fields. That's fun to
watch. It's hard to believe how well it transfers to the real car. I don't think
the attitudes have changed all that much over the years. You see the kids
that take it seriously and are very professional, versus the kids who are
more relaxed about it. That's just the way life is. I'm impressed with most
of these kids. What we're trying to do on the competition side, from
INDYCAR all the way down to USF2000, is the way we officiate. We want
these kids to know exactly what to expect from the entire Mazda Road to
Indy. We want these kids to know what they can and can't do on the
racetrack. It will never be black and white, but we're trying to take away
more of the gray area. That's our goal and we're making good strides. We're
not all about penalizing drivers, but we want to be able to explain to them
and make them understand what works and what doesn't".
The whole Mazda Road to Indy ladder system – as well as IndyCar ‐ is
run on Italian‐made cars: why 'Italians do it better' for American
single seaters cars?...
"I think Tatuus put together a great car that makes sense financially, that is
easy for the teams to work on and understand, but still with a great deal of
technology and performance. If you can do that, at the right price, you
have a winner and obviously, that's happened here. It's been a home run so
why would you choose anyone else? When you look at some of our
competition, I really believe this is a much better experience".
As a racing fan, would you like to see more F.1 GPs in the US and
some IndyCar races in Europe?
"To be completely honest, I'm not really an F1 guy, so I think the Austin
race works just fine. But INDYCAR in Europe again? That would be cool to
spread our wings. It would be great to see a race stick, but there are so
many great tracks that I'd love to see them race at".