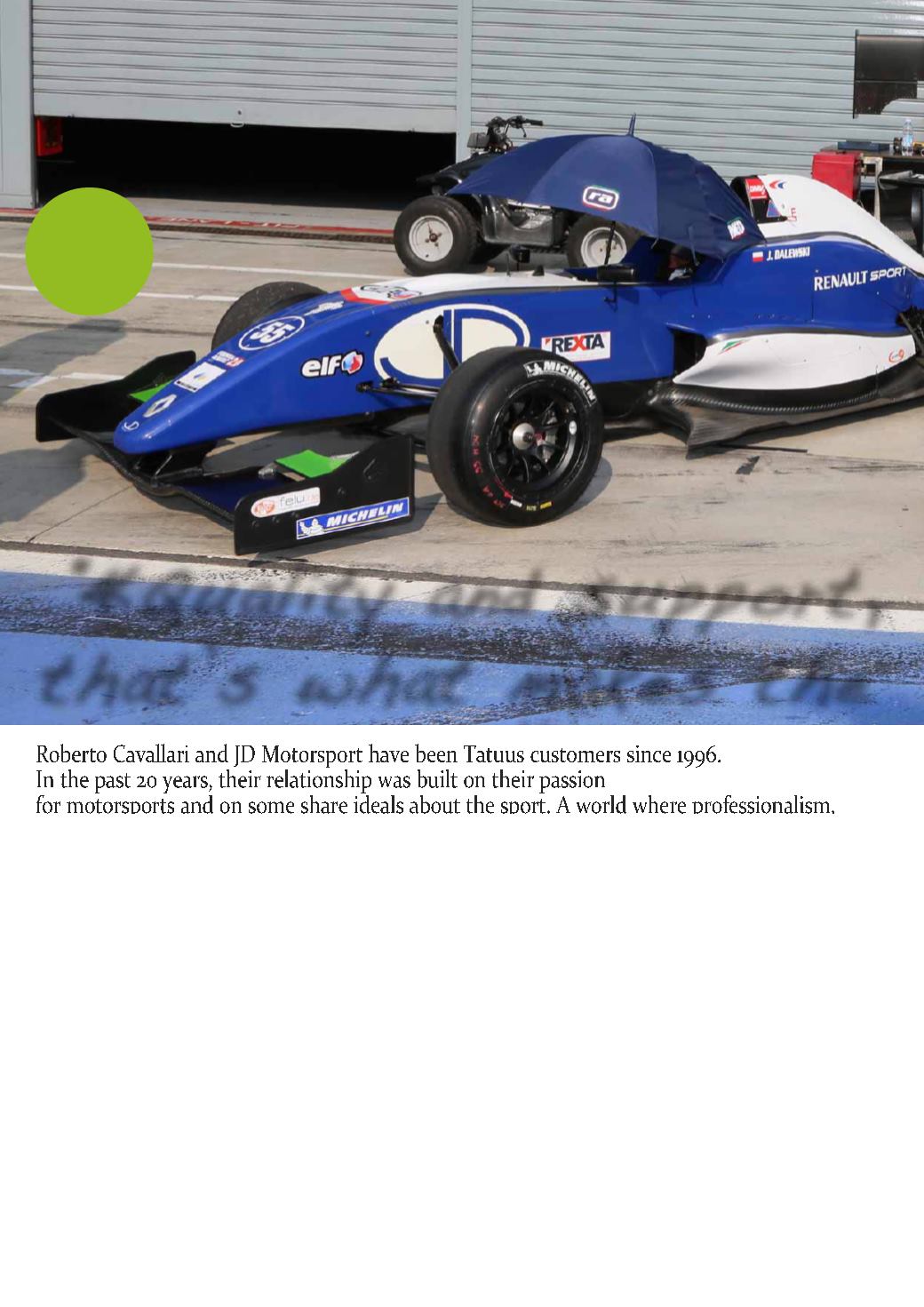 26
by Marco Cortesi
Roberto Cavallari is the heart and soul of JD
Motorsport, a longtime success story in
developmental motorsports. A pioneer in
Formula Renault, the team scored their first win
when the series was still open to chassis
competition. JD found their place in racing
thanks to the consistent results scored
throughout their history, in Formula Renault,
Formula Abarth and Formula 3.
How long have you been working with
Tatuus?
«We've been working together since 1996, in the
earliest stages of Formula Renault with open
chassis. Tatuus had developed a chassis for that
rulebook and we were honoured to represent
them as a works team. In 1996, 1997 and 1998 we
won triple titles as a works team, before repeating
in 1999 as a customer squad. In 2000, they started
supplying the spec chassis for the championship
and our history continued. We have always had at
least one Tatuus car in our workshop».
How did it start?
«It was 1995 and I was the Technical Director of
RC Motorsport. We've seen a lot of Tatuus
racecars here starting ranging from the first
Formula Renault to the Formula Master, the
Formula Abarth and then again the Renault.
We also joined forces for the development of
their prototype. There's good chemistry
between us. With Gianfranco De Bellis we use
to call each other quite often to share advice.
There's a long‐standing trust relationship that
have been going on for years with both De
Bellis and Artico Sandonà».
How can a chassis manufacturer makes the
difference in motorsports?
«I believe that in racing in particular, but maybe
also everywhere else, Italians deserve some
credit for always paying a particular attention to
the technical details and to the relationship
with their customers. They can be close to the
customer's or team's needs in every moment
and every situation. That's what we found with
Tatuus and in terms of making the difference,
listening to the customer's advice for the future
is also key. I think this is, in general terms, the
strength of Italian manufacturing. We're second
to none in motorsports and our technical ability
Many teams decided to be back in Formula
Renault when Tatuus was reappointed as
the single chassis supplier. Why?
«When Tatuus is in the game, a team feels
more… protected. With the tough times we're
Roberto Cavallari and JD Motorsport have been Tatuus customers since 1996.
In the past 20 years, their relationship was built on their passion
for motorsports and on some share ideals about the sport. A world where professionalism,
attention to the details and customer support make the difference