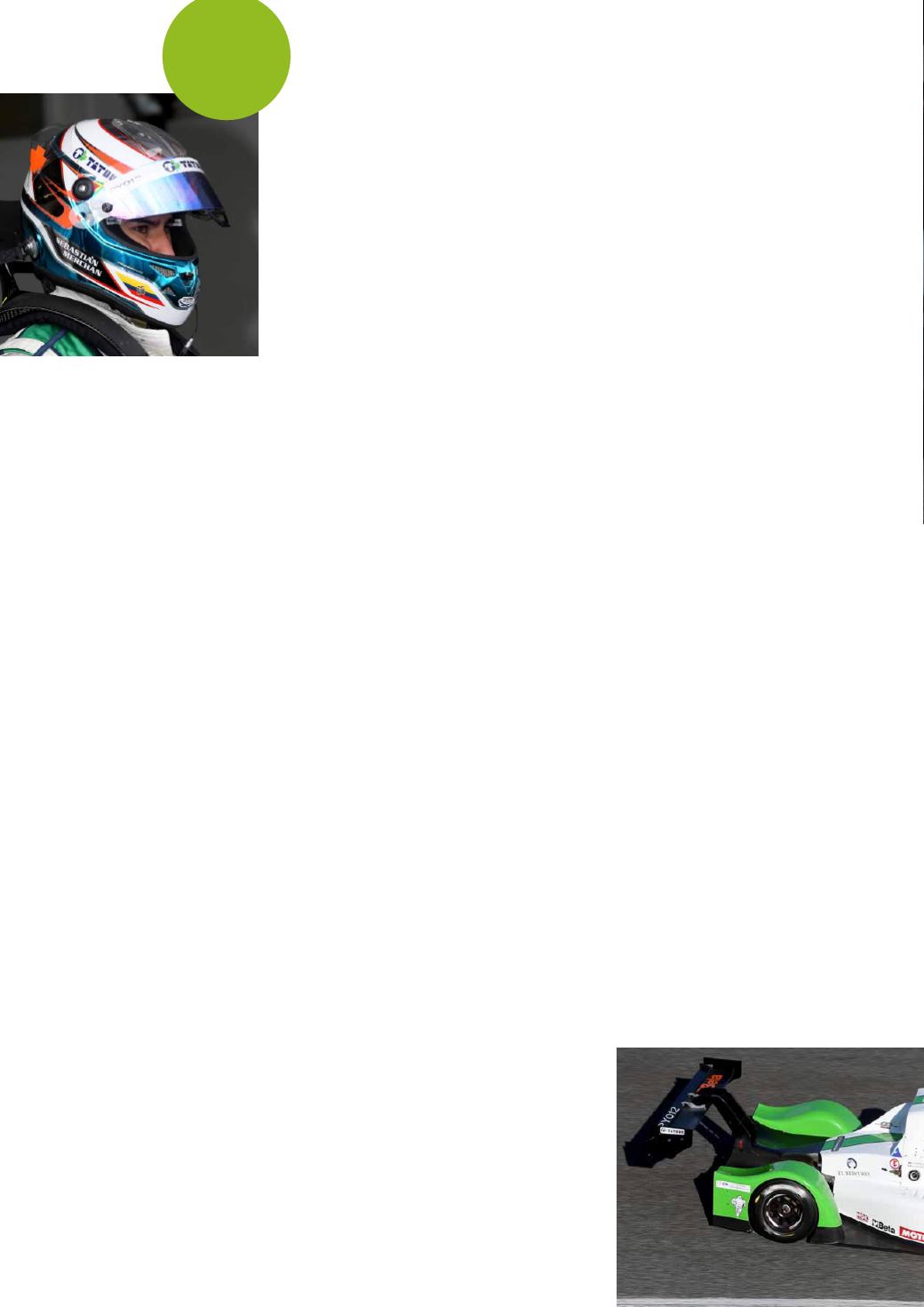 20
The 27‐year‐old driver from Cuenca has become a racing fan when he was really
young, following his father, also a driver in his rally and touring car outings. After a
brilliant karting career and thanks to the Ferrari Driver Academy program, he found
a ride and a new family with Tatuus, taking part in last season's VdeV series. He
stopped by to share thoughts about the Italian team and country
by Stefano Semeraro
Sebastiàn Merchàn, tell us a bit of your
story: how did your passion start and how
did you make your way to racing?
«My racing history started thanks to my
father, who was a rally and touring car driver.
I was always with him at the races and my
passion for racing started back then. I began
racing when I was 6. In Ecuador, karting was a
new sport and I was the youngest guy in the
smaller class. I became national champion at
my first year, then I won two more South
American championships, both in karting.
When I was 15, I started to drive prototypes
and won the national championship in
Ecuador twice, while two years later I started
driving in F. Renault, F. Abarth, F. 3000,
continuing my career both in America and in
Do you have heroes in racing?
«In Formula 1, Ayrton Senna, Michael
Schumacher and Fernando Alonso are my
favourites. Their ability to push the cars to the
limit and fight in every situation is amazing. I
also admire Sebastian Loeb, who won a lot in
rallying and was able to combine with Citroen
in an indestructible car/driver pairing».
You raced in Italy quite some times. How
did you get here and how's your
relationship with the country?
«I really consider Italy as my second
homeland. I raced many times here starting
from when I lined‐up for the Andrea Margutti
karting trophy in Parma, I was 11. I also raced
with CRG, where I joined Robert Kubica and
Nico Rosberg as a team‐mate. I came back in
2006 to race in the F.Renault Winter Series at
Vallelunga and then join the Euroseries 3000.
Then last year I made my way back again to
drive the Tatuus prototype. Your culture is
fascinating and I always try to study it when I
have some spare time. Then I deeply love your
food, it's fabulous, and I have to say that all
the people I met have been sensational with
me. I'm happy I have been welcomed this way
to continue my racing career".
What are your best qualities and the weak
spots still to correct?
«I don't like to make mistakes, go off‐track or
crash, so I try to keep a careful driving style
without taking too many risks or stressing the
car too much. When I was at the Ferrari
Driving Academy, thanks to my success in the
South American F.Abarth Series, I worked
with Francesco Pon, who showed me that by
"disconnecting" the brain a little more on‐
track and being more aggressive I could
become a more compete driver. I always think
to these words and now when I hit the track I
try to be as fast as possible without damaging
How did your relationship with Tatuus
start?
«The first contact came during the Formula 3
test at Fiorano with the Ferrari Driver
Academy, when I met with Gianfranco De
Bellis and the whole team. We had some talks
over my future. At my age, staying in open‐
wheel racing didn't have much sense and
Tatuus was developing a prototype I was really
intrigued to race. Thanks to the good offices
of Luca Baldisserri I signed a contract, and I'm
very pleased with the choice because Tatuus is
like a family to me. I like their work system
and how they organize their activity. Staying
with them on a regular basis and visiting the
factory every made me learn new things. I
really want to thank Gianfranco for giving me
the opportunity to race with Tatuus».
How was your season in the VdeV
championship? What do you like the most
about prototype racing?
«Considering that I had raced open‐wheel cars
for most part of my career, moving to
prototypes hasn't been too complicated. It
wasn't difficult to adapt myself to the driving
style considering that this car isn't too much