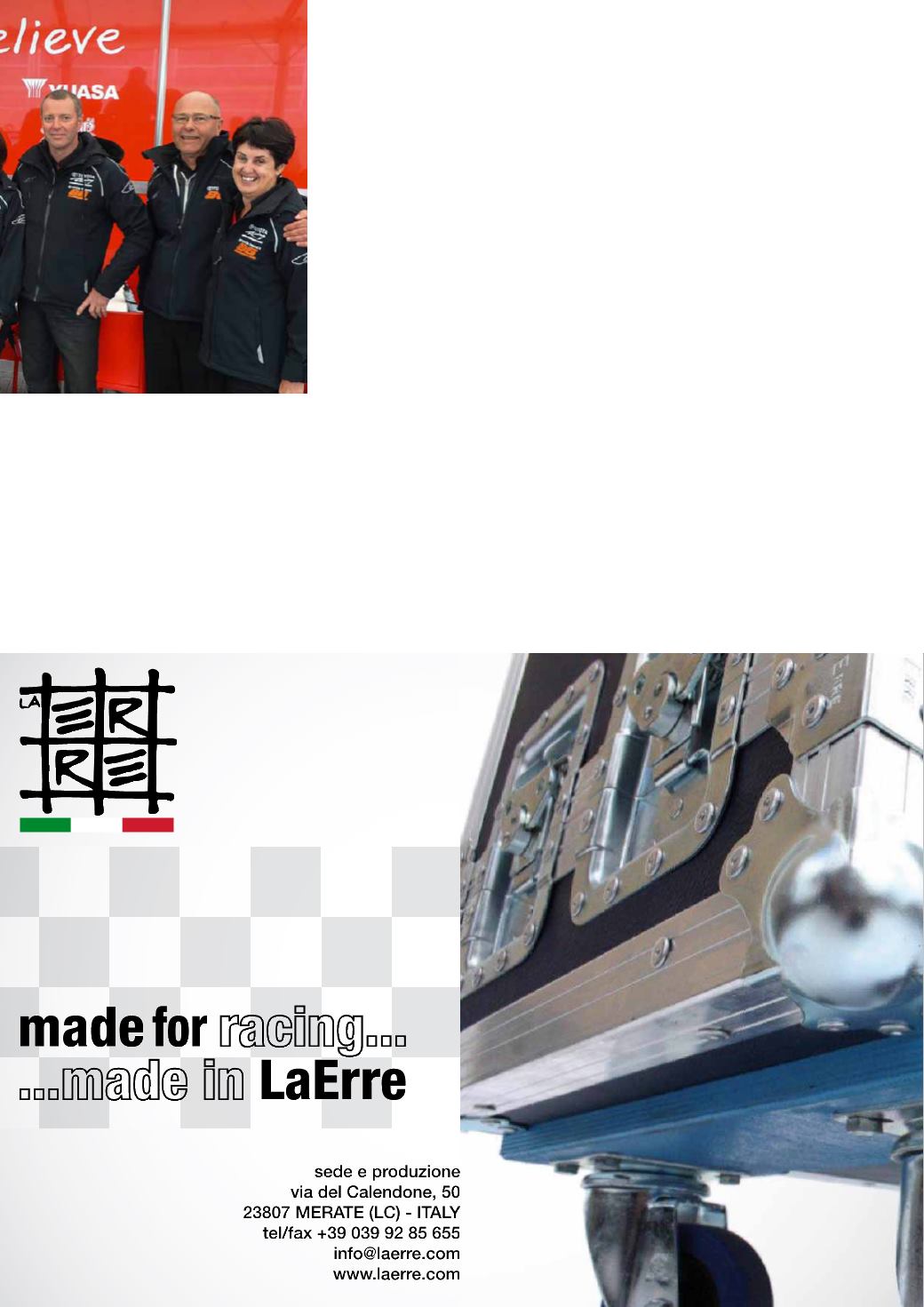 manufacturers too, but both Toyota New
Zealand and us love to be loyal and we
appreciate this long relationship based on
mutual trust. So we never thought about
You know Italy well. What did you
impress you the most when you visited
Tatuus and, in general, of our country?
«Tatuus has good facilities and a solid and
committed staff which we liked a lot.
Regarding Italy... it has the second best
coffee in the world... we have the best! Of
course, there are many great cities in terms
of architecture and a long motorpsort
tradition. Chris Amon is the main supporter
for our series and raced with Ferrari at the
end of the 60's. Also, Bruce McLaren and
1967 F.1 World Champion Denny Hulme
came from New Zealand so we have some
Despite the fact that unfortunately for Italy,
the All Blacks are too strong, we also share
What are the strongest vantage points for
Tatuus as a manufacturer?
«As I said earlier, they produced a very
reliable car for us, and it also has a very
good‐looking design. It also has some
features that make it easy and practical to
Are there plans for a new car in the
future? What will it look like?
«We will be introducing a new car for 2015,
and once again it will be designed by Tatuus.
We expect a great advancement in terms of
the design, with many attractive features that
will be attracting a lot of young drivers in the
What is the most important thing that
New Zealand needs to progress in racing
even further?
«We have to focus on maintaining a stable
series here in New Zealand to enable drivers,
mechanics and teams in general to have fun
while learning how to race cars at a very
Do you mind a personal question?
What are the upsides and downsides in
managing TRM as a married couple?
«The positive side is that we have
to talk and stay close to each other for 24
hours a day. The negative side... is that we
have to talk and stay close to each other for
24 hours a day! In other words, it is very
interesting even though talking of work for 24
hours is not ideal. We're very passionate
about our jobs in motorsport, but we also
have two kids and many other interests.
That kind of helps us to pull the plug