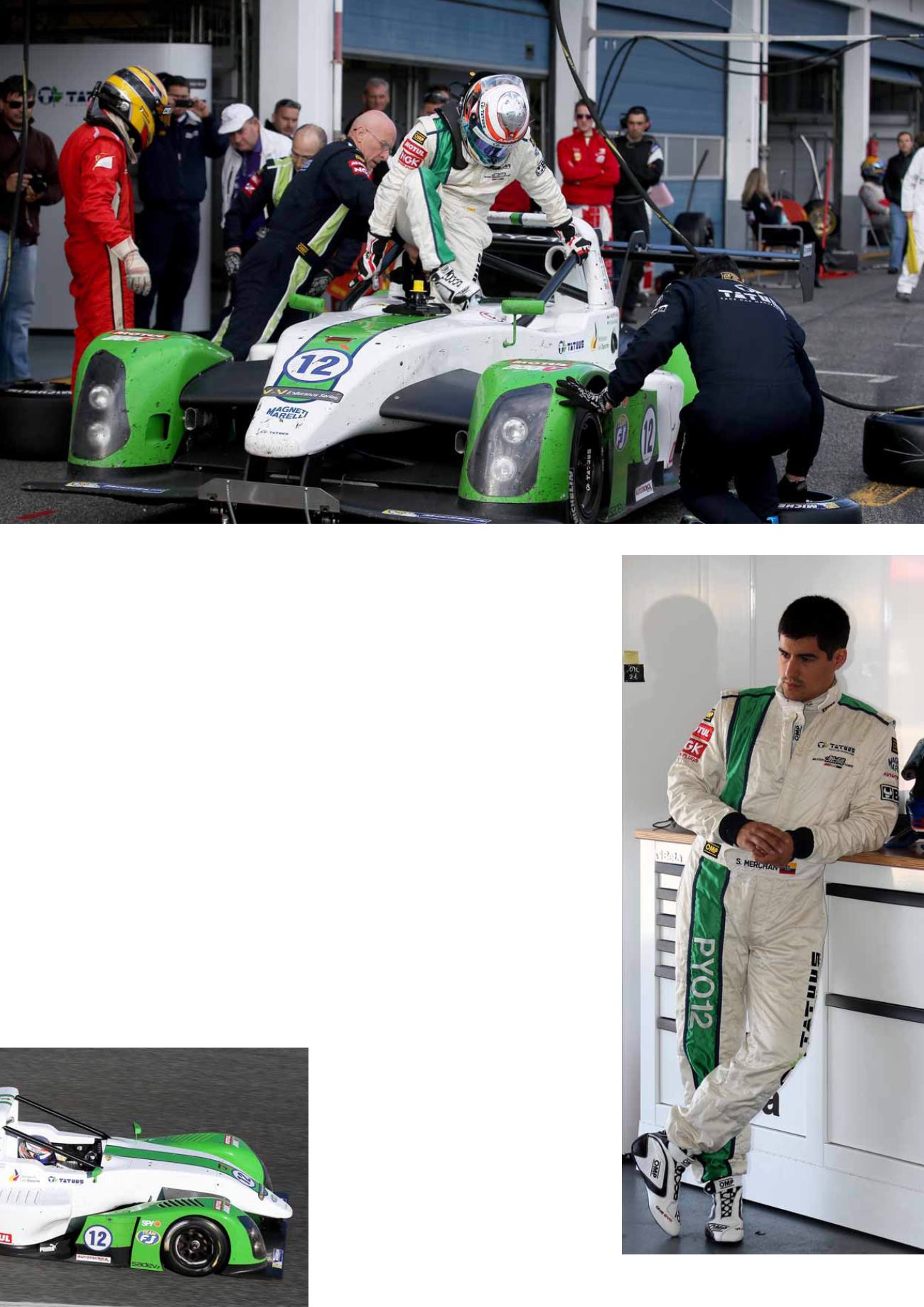 21
different compared to a single seater. On the
other hand I had to adapt myself to the length
of the races, to tire management, to the fact
that you have to race with a full tank of fuel
and without stressing the brakes throughout
the whole distance. You need to be more
"passive" without losing speed. I like the
championship as it has many cars and a pretty
high competitive level. It's enabling me to
grow as a driver and acquire new skills».
Let's talk about your Tatuus prototype,
what were its most impressive features?
«I like the prototype's project. Its refined
design it's very good‐looking off the track,
while it's fun to drive in racing conditions. The
aerodynamic downforce makes it very stable in
fast corners. Its compact outline means that
the weight distribution is easier to manage. In
addition to that, it's a very safe car in case of
crashes. I like to drive this type of car because
it lets you take it to the limit and you can keep
it there without signs of premature wear».
What are the team's strongest points?
«In my opinion, the continue development
between the races. Engineers and mechanics
make us shave some tenths of a second each
time we are on‐track. The car is extremely
reliable and we really have all what it takes to
succeed. They are able to disassemble and
assemble the car completely between each
session, and when a problem appears, they fix
Will you return to VdeV this season? What
are your goals
«I'm evaluating what is the best solution for
me together with the team. I would like to
keep racing in the VdeV because I'm ambitious
and I want to try and aim for the
championship. Last year, I put some
experience under my belt and learned the
tracks so I'd like to go for the title in 2014. It's
a very tough task but with this kind of team,
we can make it. We're evaluating some more
options with the Tatuus chassis and we hope
for a new project to develop in a positive way».
You will be driving prototypes in the
future or you aim for a comeback in single
seaters?
«I would love to race with open‐wheelers, but
my career is headed towards sport prototypes
and GT cars also due to my age. They are very
competitive championship with a lot of world‐
level manufacturers competing. I hope time
will prove this is the right path for my
Before the start of his sports car career
Sebastian Merchan drive in the Euro Series 3000
and Italian F.Renault