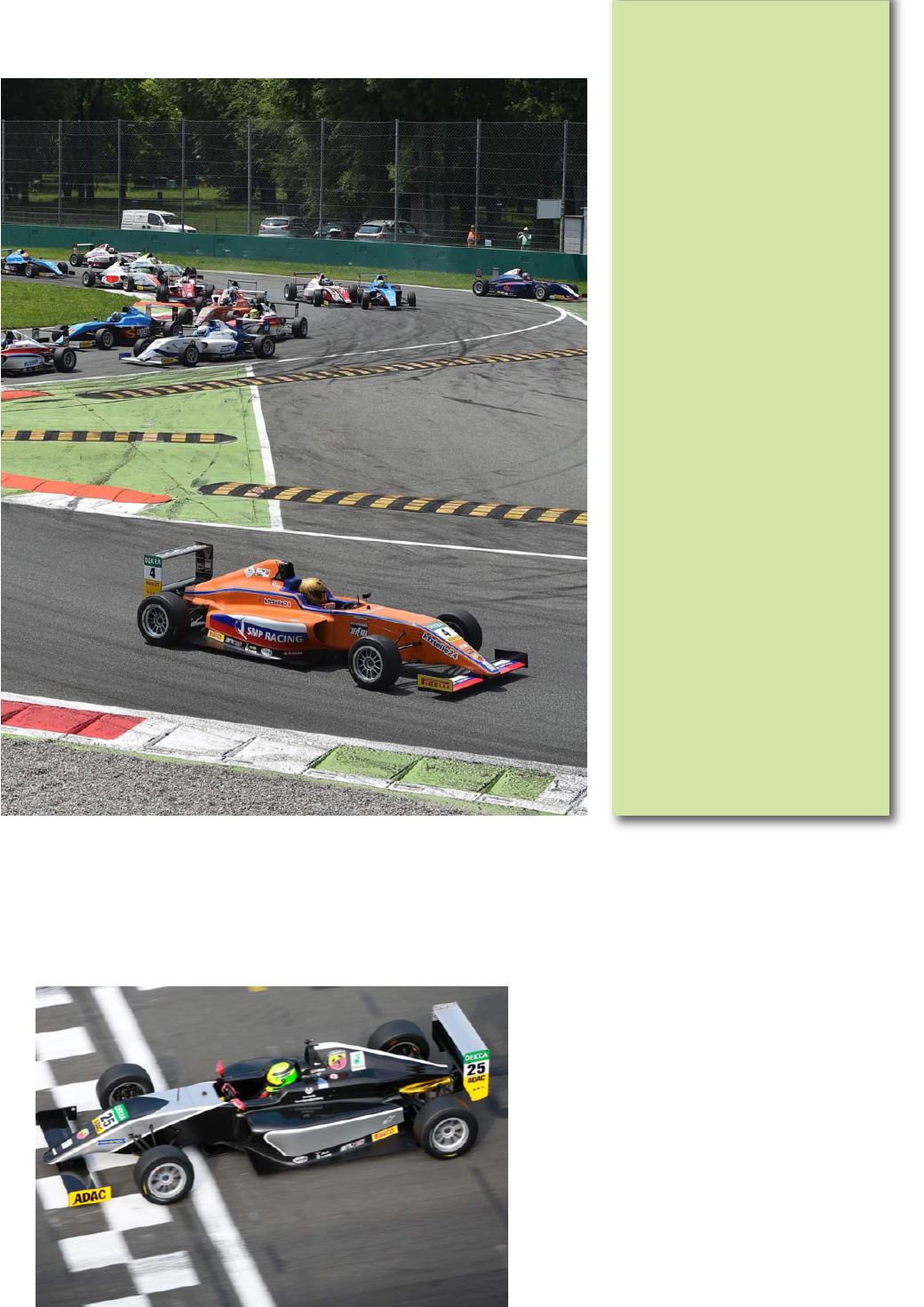 27
F.4 ITALIA
1 – Ralf Aron 331
2 – Guan Yu Zhou 223
3 – Robert Shwartzman 212
4 – David Beckmann 176
5 – Marcos Siebert 112
6 – Diego Bertonelli 83
7 – Bar Baruch 83
8 – Joao Vieria 81
9 – Nico Rindlisbacher 69
10 – Marino Sato 62
ADAC F.4
1 – Marvin Dienst 347
2 – Joel Eriksson 299
3 – Joey Mawson 297
4 – Robert Shwartzman 167
5 – David Beckmann 166
6 – Tim Zimmermann 152
7 – Janneau Esmeijer 136
8 – Lando Norris 131
9 – Ralf Aron 120
10 – Mick Schumacher 92
SMP F.4 NEZ
1 – Niko Kari 449
2 – Vladimir Atoev 296
3 – Nerses Isaakyan 234
4 – Aleksanteri Huovinen 229
5 – Alexey Korneev 191
6 – Nikita Troitskiy 149
7 – Niclas Nylund 136
8 – Ivan Matveev 131
9 – Nikita Sitnikov 104
10 – Alexander Maslennikov 66
Schumacher & Newey Jr.
a guarantee of quality
In the ADAC F.4 Series, the title eventually went to Marvin
Dienst from HTP Junior. The 18‐year‐old German, lining‐up
for his third year in open‐wheel racing, already made his
debut in the FIA F.3 European Championship in the final
round of the season at Hockenheim. In his quest for title, he
defeated Joel Eriksson and Joey Mawson. The German series
also featured Mick Schumacher, son of seven‐time Formula 1
champion Michael, and Harrison Newey son of Red Bull's
legendary designer Adrian. Last but not least, the SMP Series
was won by Finn Niko Kari, who scored seven wins and 12
second places over 21 races. Kari left a strong impression at
his maiden season after kart racing. He already showed his
interest for a possible move to European F.3 competition,
having scheduled a series of tests with Formula 3 cars.
.
Mick
Schumacher