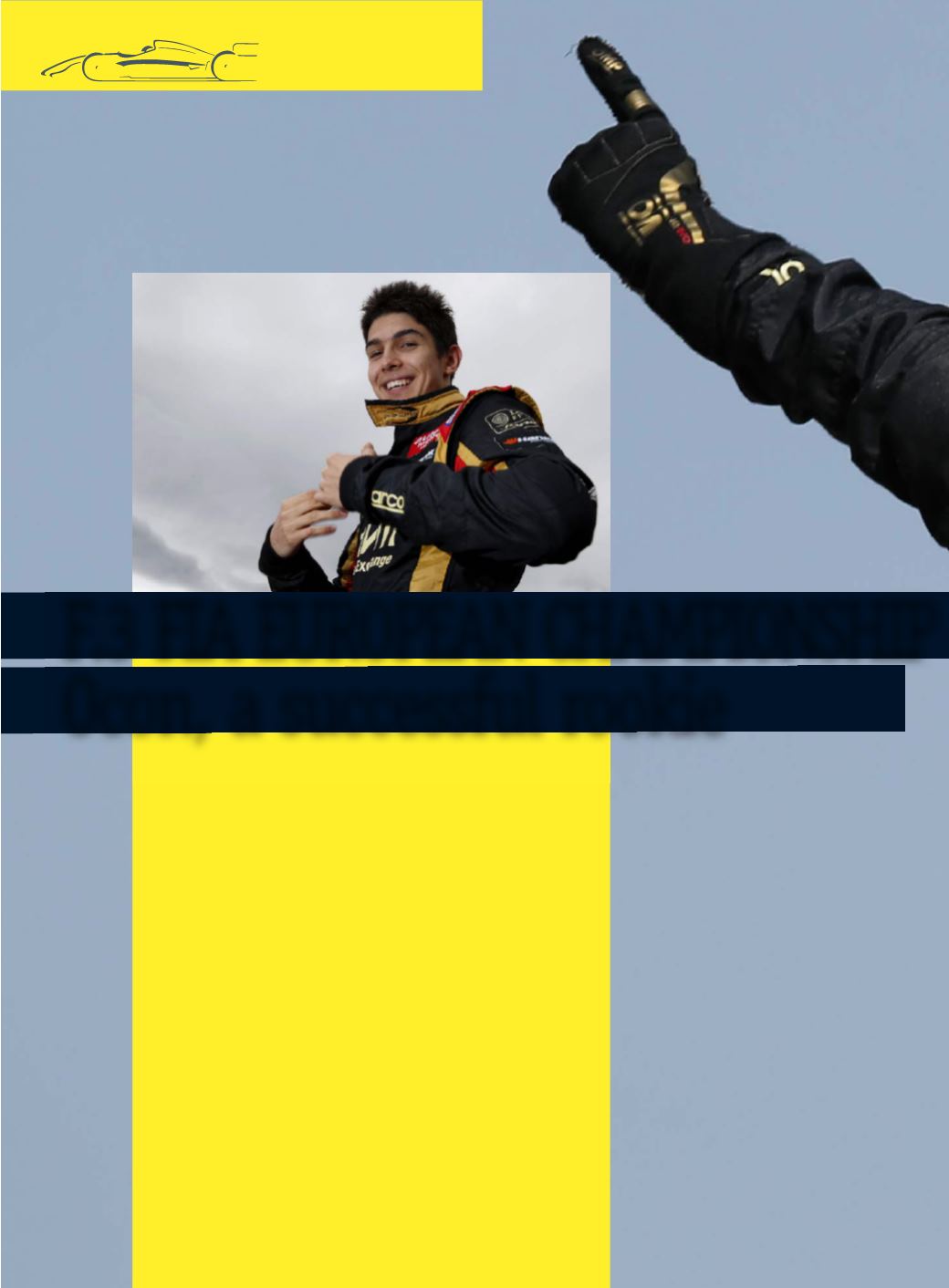 18
F.3 FIA EUROPEAN CHAMPIONSHIP
Ocon, a successful rookie
I
t isn't easy to see a driver prevail at the end of his rookie
season.
Esteban Ocon
was able to win the extremely tough
FIA F.3 European championship at his first try, driving a
Mercedes-powered Dallara for Italian squad Prema Powerteam
and beating Tom Blomqvist and Max Verstappen. A Frenchman
of Spanish descent, Ocon has been bred by the Junior Lotus
program since his karting days, he was off to a phenomenal
year. Coming from the F.Renault 2.0 where he proved stunning
in the first two years, Ocon quickly adapted to the driving style
required by a Formula 3 Dallara by working in an analytical
fashion while being precise in testing, quick in qualifying
condition and almost impossible to tame in terms of race pace.
In the 33 races he entered, Ocon won nine times but made the
difference with the 18 other points finishes he gathered
throughout the season. The total, including the wins, go up to
27, an exceptional number. He cruised to title with one round
to spare and also entered the international Macau Grand Prix.
Unfortunately, he was involved in a contact with Blomqvist and
forced to retire. Now Ocon is ready to join the GP2 Series with
the Dams Renault-powered Dallara. At Abu Dhabi, he was one of
the fastest guys on-track in collective testing, and at the
middle eastern track he also had the chance to drive a Formula
1 Lotus. Just a few weeks earlier, he had sampled a 2012
Formua 1 Ferrari at Fiorano as an award for his European FIA
Formula 3 title.
2014 Dallara
champions