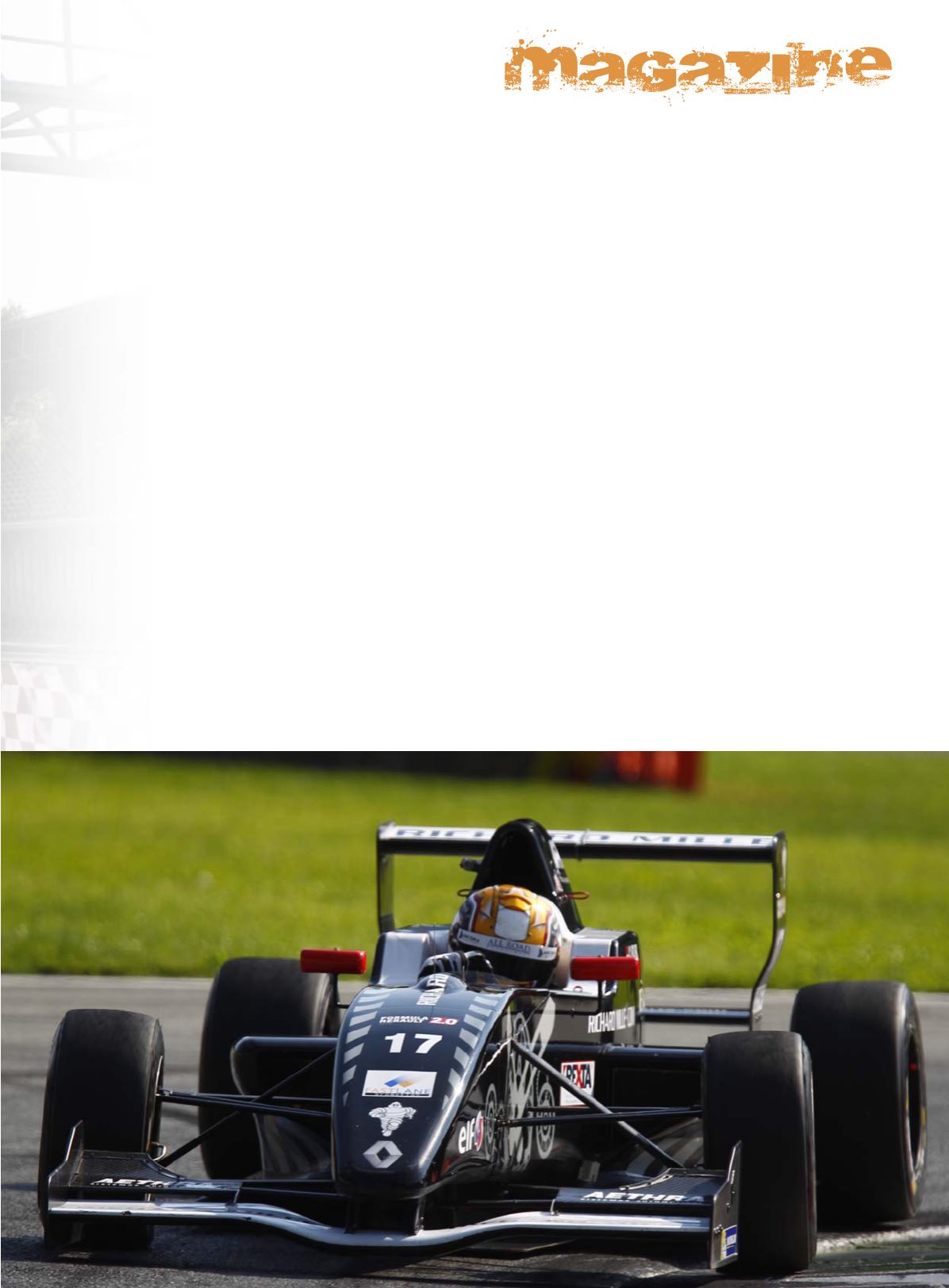 Charles Leclerc came from karting and
made his F.Renault ALPS debut. After a
short time to regroup, he cruised to victory
in ALPS and went consistently on the
podium in Eurocup competition. Born and
raised in Monaco, he's part of the "young
driver" camp of Nicolas Todt. A man who
brought many talented drivers to success.
The 16-year-old racer shared some
thoughts about his experiences,
expectations and motivations.
How the season is going? Are you
"At the moment, it's going really well. Im
second in the ALPS championship and
we're improving race-by race. In the
Eurocup, in the first round I entered at Spa-
Francorchamps I didn't know the track and
it hasn't been easy to navigate the pack,
while at the Nurburgring, a track that I
already knew, it's been better and the
results came with a podium finish. Although
I have to say that the level is quite high".
What's the main difference between
ALPS and Eurocup for a driver?
"The difference is the competition at the
top. In ALPS, if you have a gap of three or
four tenths, you're still close to the top,
while in the Eurocup you slip far away.
That's why the ALPS is a good for learning,
while at the Nürburgring, while there are a
lot of quick drivers like Nyck de Vries, there
is also the chance to improve and get a
good result at the end of the weekend".
Was it difficult to move from karting to
"It's a completely different world. In karting
everything is agitated, here your much
more calm. Technically-wise, for example
the braking is something that has nothing
to do with it and that you have to learn
again. But more than that it's the
environment. You need to have an open
mind and listen to the engineers. On a kart
you rely on the feeling, while here you have
a lot more telemetry, and if you listen what
is told to you, you learn tons of things. Sure
it's difficult having to change what you
And for the close-quarter battles, does
"It's different, also in that compartment. In
kart racing there's no time to think. You
have to act quickly and based on instinct.
That's why there are more contacts and
crazy moves. In a car you have more time,
and usually the drivers act in a 'smarter'
How the relationship with Nicolas Todt
started and how does he help you?
"It all started when I won the Monaco Kart
Cup. Jules Bianchi, who is a friend of mine,
talked Nicolas about me. I met Jules when I
started at his kart track when I was 5. Then
we went for an appointment in Geneve and
then we started to work together in 2010.
For me his help is really important because
he takes care of the things that are not
driving so I can focus on that
What do you think of your former
karting colleagues that moved straight
"It's just another road you can choose.
Everybody can do what they want, but we
decided to follow the Renault path because
it's the best one. The level is high and you
can learn how to drive in extreme
competition, more than in Formula 3. In
Eurocup we're all in 3 or 4 tenths and every
rival can be quick soon. And for that
reason, who wins proves his talent".
You live in Monaco. What do you like
"I love it. There is always good weather, the
sea, great chances to train in open air. I
don't like to be shut in a gym. It's boring.
And Monte Carlo is the ideal solution".
When did you start thinking about a
professional career? Where do you
see yourself in the future?
Up to 2009 it was all about having fun, but
then I decided that I wanted to be a driver
and make it a job. So starting with the
International KF3 everything became much
more serious. I see myself in Eurocup for
next year probably. But for the rest, we
don't have goals, we proceed step-by-step
in a multi-year program".