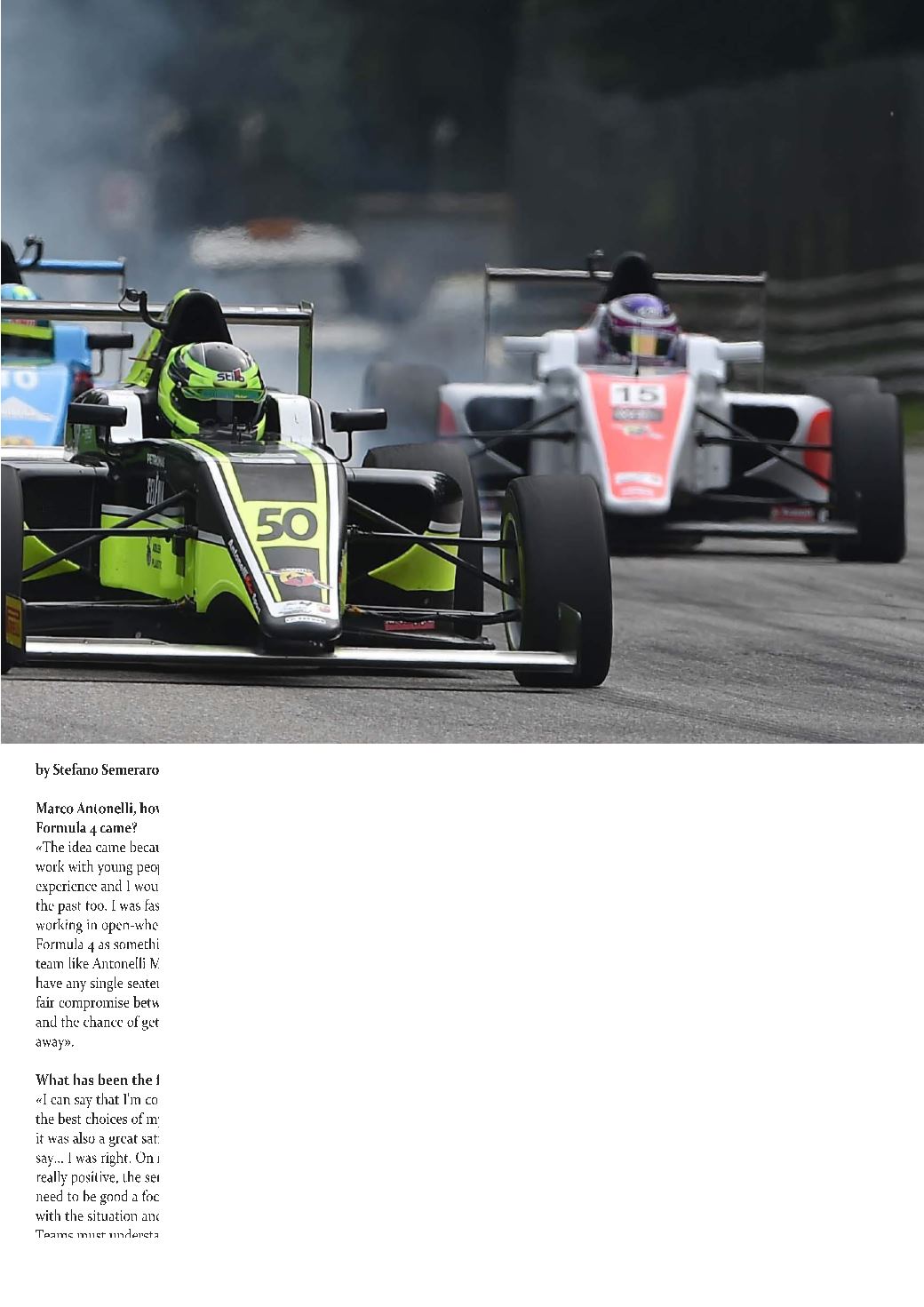 
21
by Stefano Semeraro
Marco Antonelli, how the idea to enter
Formula 4 came?
«The idea came because I've always loved to
work with young people. I like to share my
experience and I would have liked to do it in
the past too. I was fascinated by the idea of
working in open‐wheel racing and I saw
Formula 4 as something more suitable for a
team like Antonelli Motorsport that do not
have any single seater experience. It felt like a
fair compromise between the technical level
and the chance of getting good results straight
away».
What has been the feedback so far?
«I can say that I'm convinced I made one of
the best choices of my professional career. And
it was also a great satisfaction to be able to
say... I was right. On my side, the feedback is
really positive, the series is growing. We all
need to be good a focused in not losing touch
with the situation and keep the costs down.
Teams must understand that the budgets
nowadays get covered by high numbers, non
by a single element who is asked for amounts
of money that are not justifiable anymore.
Other championships grew up impressively
but also died pretty fast in the past. Formula 4
must last long, and teams have the
responsibility. It's always better safe than
sorry. As Antonelli Motorsport we are
committed in keeping the prices very close to
the standard set early by the FIA, while trying
to offer good quality. We are getting good
results and, if you work in the right direction
at reasonable prices, other people might be
attracted to the series».
Can you tell us more about your
relationship with Tatuus?
«The relationship started in a very relaxed way.
We were greeted in a fabulous way like if we
were long‐time customers. Their strongest
ability is to manage the customers by
providing there with all they need. That's a
very important aspect for teams. Concerning
Formula 4, Antonelli Motorsport was the first
customer to order two cars. I think they were
happy about that, because seeing a tin‐top
running team be the first to line‐up for a new
adventure gave a boost to the operations. It
showed that this was an outright winning
project».
Are there any challenges in running in GT
and open‐wheel racing?
«None in particular. We have different
operations for every championship we take
part in, and each of them is autonomous and
able to manage itself. My goal is also to offer a
chance to some talented youngsters that, after
a couple of years of constant learning and
improvement in single seaters, don't have the
needed budget to continue. So they start
looking to GT racing. The perfect example is
Matteo Cairoli. Last year I fielded him in the
Carrera Cup, then won the series. He's a
Porsche factory driver now».
You also field the Galbiati father‐son duo...
«The father started his career with me, and
he's the classic gentleman driver with a great
passion for motor racing. He couldn't afford to
Joao Vieira