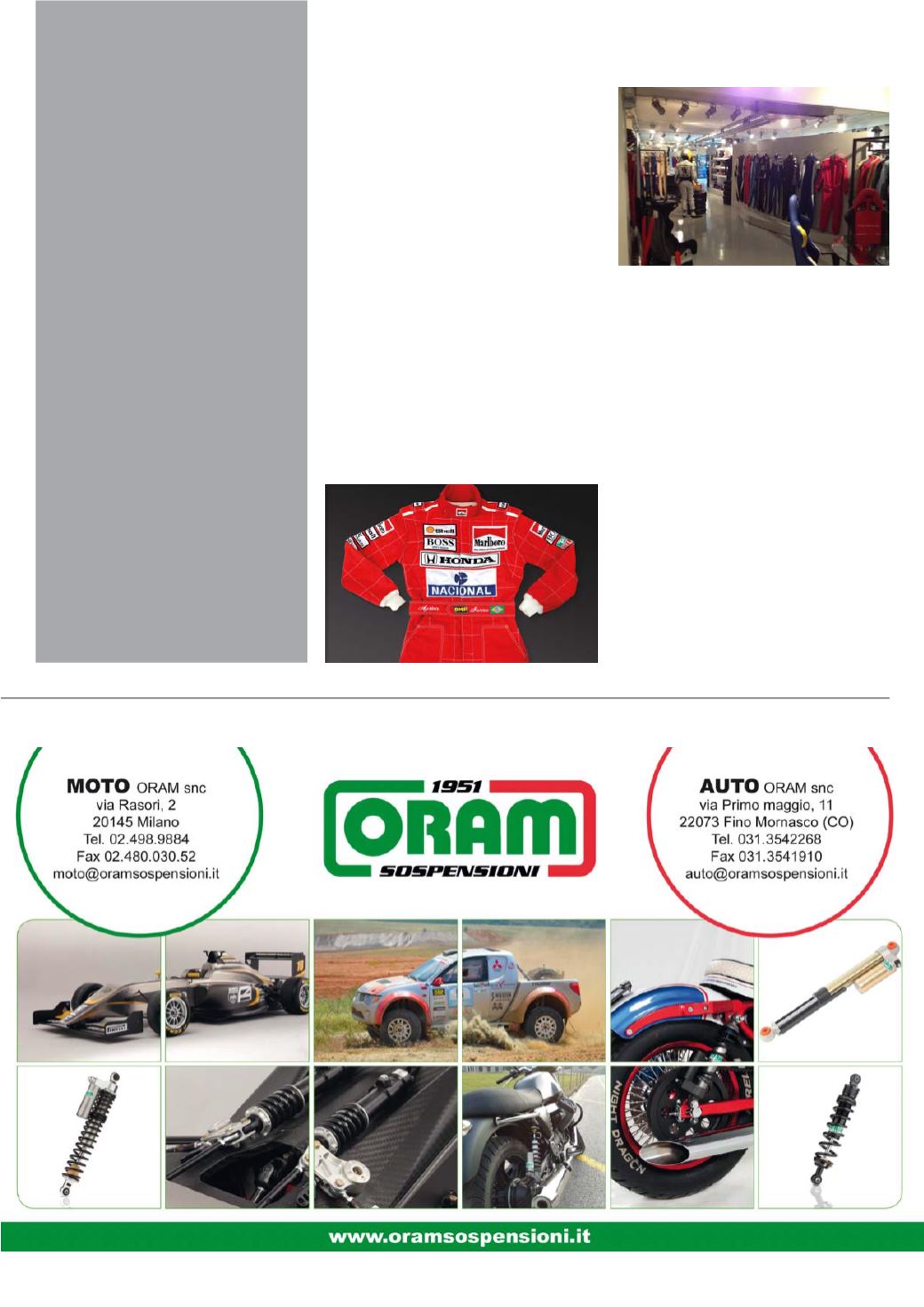 Prototype Tatuus car shows how Italy is still
home of some of the world's most excellent
motorsport companies».
Your customer base is known for their
absolute attention to detail. How did the
driver necessities change over the years?
«The constant performance improvement is
reached by reducing the weight and improving
the comfort. These are the main driver
requirements. They need light and comfortable
products without compromising on the best
safety standards. If we managed to produce the
smallest and lightest fire extinguishers in
motorsport history, we have also been
experiencing a notable success with our
underwear line fitted with an integrated cooling
system. Thanks to our patented "dry‐system" the
driver is enabled to reach better performance
levels».
A star performer
since 1973
OMP is a world‐leading company in the
design and production of accessories for
karting and motorsport. Founded back in
1973 in Genoa, the company has grown
consistently thanks to the success of their
products. Today OMP is one of the few
operations in the world to offer a
complete range of safety products for car
and kart competition to drivers and
teams, also for car assembly: from suits to
gloves, helmets, shoes and protections.
The first official OMP product has been a
roll‐bar for the Fiat 500, and from that
point on, the OMP products were chosen
by the winningest and most renowned
teams and drivers including Ayrton
Senna, Michael Schumacher, Gerard
Berger, Nigel Mansell, Tommy Makkinen,
Juka Kankkunen, Carlos Sainz. The OMP
products are now part of many world‐
class competitions. In February 2008, the
control of OMP was assumed by Gruppo
SAYE s.p.a. owned by the Delprato
brothers from Genoa.
Tough question: Senna or Schumacher? Who
is the most important driver in your brand's
history?
«They are both legends that lived in two
different eras of motorsport... and also in OMP
history. They both have been so great that it's
impossible to chose. But we're proud that both
of them decided to chose OMP».
In racing, it's inevitable to talk about safety.
What has been the most important
contribution by OMP, starting from the
famous Berger episode?
«OMP covers all the aspects of safety
in auto racing, and all of them has a key
importance. What counts more, a firesuit, a seat,
an helmet, a safety belt of a fire extinguisher?
For us, every time a driver exits from
a potentially serious crash unscathed
is an enormous success».